A Mumbai-based dealership, Anzen Kawasaki, is offering a three-year leasing programme – inclusive of 50,000km of mileage – on the Kawasaki Ninja 300, Ninja 400 and Z 900.
For the Ninja 300, the down payment is Rs 47,888, following which a monthly payment of Rs 15,990 has to be made. This will effectively have you paying Rs 5.75 lakh over the 3-year period, in comparison to an on-road (Mumbai) price of Rs 4 lakh. The lease scheme for the Ninja 300 also includes all services, oil, oil filters, all cables, brake pads, air filters, 5+5 zero depreciation interest, and warranty for the duration of the lease. Customers also have the option to buy the vehicle after 3 years at a cost of Rs 1 lakh.
Similarly, the Ninja 400 can be had for a down payment of Rs 1,24,990, with a monthly payment of Rs 19,990. For the Ninja 400, the lease includes all services, oil, oil filters and the same insurance and warranty as the Ninja 300. Over the three-year period, customers will be paying Rs 7.2 lakh in comparison to an on-road price of Rs 6.4 lakh, at the end of which the bike can be bought for Rs 1.5 lakh.
The Z 900, meanwhile, is available for a down payment of Rs 3 lakh with a monthly instalment of Rs 25,990. The parts and services included are the same as that on the Ninja 400 and the buying amount at the end of the lease is Rs 4 lakh.
The dealership has also informed us that registration and insurance will be handled by the dealership and the bike will be registered in the name of the customer. The deposit amount will be refunded at the end of the lease and a Rs 1,800 fee will be charged per week of delay on payments. Mileage covered after exceeding the 50,000km that's included in the lease will be charged at Rs 6 per km.
Also see:
2020 Kawasaki Z900 to be priced between Rs 8.5-9 lakh
2022 Kawasaki Ninja 400 video review
6530 Views|4 months ago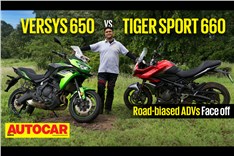 Kawasaki Versys 650 vs Triumph Tiger Sport 660 comparison...
6751 Views|5 months ago