Kawasaki is on track to become the first big Japanese manufacturer to offer an electric motorcycle. The company is in the process of teasing the prototype on its YouTube channel, with each one revealing key details. Two huge revelations come in the form of its name, which is Endeavor, and its gearbox - a 4-speed manual unit.
While Kawasaki did reveal that its EV prototype was equipped with a 4-speed manual gearbox at EICMA 2019, the latest teaser confirms that the Japanese brand has gone ahead with this set-up. The company has said that the "manual transmission not only allows a greater speed range, it also allows the rider to have greater input when operating the bike."
Kawasaki hasn't given out any details on the specifications of the electric motor or the lithium-ion battery pack, but an online source has said that it is expected to make around 26hp. The Japanese brand also hasn't revealed the weight figure, but has promised that the model will be "light, fun, and responsive."
The EV prototype has seen what looks like Ninja 300 bodywork, but we believe the final product will look quite different. This motorcycle would mark Kawasaki's entry in the EV space and it's highly unlikely that the brand will use dated styling for such a significant model.
What we can say for sure is that Kawasai is taking a very different approach to this space. While Harley-Davidson and Zero Motorcycles are targeting the high-end segment with its high-performance electric offerings, Kawasaki seem to be readying something that might be a lot more attainable.
Also see:
Honda, Yamaha, Suzuki, Kawasaki to work on unified standard for electric bikes
Quick News Video, September 17, 2023
2014 Views|2 months ago
2022 Kawasaki Ninja 400 video review
9665 Views|1 year ago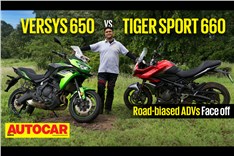 Kawasaki Versys 650 vs Triumph Tiger Sport 660 comparison...
10835 Views|1 year ago