In the April-July 2022 period, a total of 16,87,062 scooters have found a home. Of the nine manufacturers in the fray, four – Suzuki, Hero MotoCorp, Piaggio and India Yamaha Motor – have ceded market share, while the others have increased their hold.
As per the numbers released by industry body SIAM, scooter market leader Honda Motorcycle & Scooter India (HMSI) has recorded 78 percent year-on-year (YoY) growth with 8,12,086 units, which gives it a market share of 48.13 percent, up by about 2 percent from a year ago.
TVS Motor Company has made the maximum gains in market share in the first four months of this fiscal – it has increased its scooter market share to 24.18 percent from 20.04 percent in April-July 2021. In FY2022, with total sales of 8,66,851 scooters, TVS had a 21.62 percent market share. The company has doubled sales of 4,08,036 units in April-July 2022 to constitute 108 percent YoY growth.
TVS is seeing demand for all its four ICE scooters, and while the Jupiter, NTorq and Wego have contributed 3,64,095 units (up 105 percent/1,76,953), the Pep+ accounted for 28,913 units, up 64 percent/17,598. The company's sole electric scooter, the iQube, saw demand catapult 911 percent to 15,028 units from 1,486 a year ago.
Suzuki Motorcycle India is seeing slower growth with its Access in the past few years. The company's four-month sales of 2,21,931 units, comprising the Access, Avenis and the Burgman Street, are up 30 percent on year-ago numbers (April-July 2021: 1,70,313) but it sees a decline in market share to 13.15 percent from 17.41 percent a year ago.
It's the same with Hero MotoCorp: 1,04,885 units, which is a 15 percent uptick in demand, giving it a 6.21 percent share, down 3 percent on April-July 2021's 9.29 percent. Yamaha too is feeling the heat of the competition; while it sold 57,525 units (+60 percent), its share has slipped to 3.40 percent from 3.66 percent a year ago. Piaggio, at present, has a 1.02 percent scooter market share, down a tad from the 1.21 percent it had a year ago. The company sold 17,329 units to clock 45 percent YoY growth.
EV two-wheeler manufacturers make their impact
Of the EV two-wheeler manufacturers, Okinawa has topped with its e-scooter sales of 42,744 units in April-July 2022, up 260 percent on the year-ago total of 11,888 units. This has helped the company double its share in the overall two-wheeler market to 2.53 percent from the 1.21 percent it held a year ago. On the retail front, Okinawa is No 1 in the first four months of FY2023, with 35,386 units going home to buyers. Ola managed to clock sales of 31,729 units, placing it in a comfortable second place but still much below market leader Okinawa.
TVS' sole electric scooter, the iQube, saw demand catapult 911 percent to 15,028 units from 1,486 a year ago. Ather Energy sold 13,265 units, which marks over 200 percent YoY growth and gives it a market share of 0.78 percent. Bajaj Auto, which is gradually expanding its Chetak e-scooter sales network, has clocked 9,261 units in April-July 2022, up 437 percent, and has a 0.54 percent share of the overall scooter market.
Growth outlook: promising
The shift to BS6 emission norms necessitated an upgrade to the more expensive electronic fuel injection and has made two-wheelers costlier than they were two years ago, affecting the bottom of the pyramid on the consumer front. This is the reason why the past two years, which were impacted by the pandemic, saw demand sliding for entry-level scooters and commuter motorcycles. In comparison, the executive and premium segment products were not only unaffected but also saw decent growth.
Two-wheeler consumers are inherently cost-sensitive, and the high petrol prices as well as the lure of electric mobility, albeit at a higher initial cost, is also drawing buyers to electric scooters. Proof of this market trend is electric two-wheelers accounting for 3.6 percent of retail sales in Q1 FY2023.
Ola's figures are taken from the government's VAHAN portal which reflects the number of registrations.
Ather Bikes
Ather 450S
₹ 1.54 - 1.69 lakh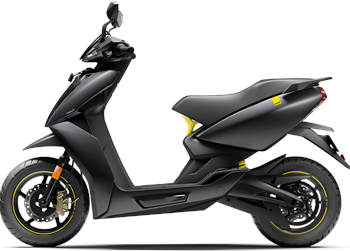 Ather 450X
₹ 1.63 - 1.64 lakh