Hero Electric, India's oldest and largest electric two-wheeler manufacturer, has reported its highest-ever annual sales of over 1 lakh units (1,00,123) in the calendar year 2022. The company is benefiting from growing demand for electric two-wheelers in the high-speed category and also rapid electrification of the last-mile delivery segment.
Hero's high-speed e-scooters to use Nidec motors from February
Currently setting up new manufacturing facility in Rajasthan
Hero Electric's product portfolio includes seven electric scooters, comprising the high-speed Photon LP, Optima CX (with single and dual battery), NYX HS500ER and three city runabouts – the low-speed NYX E5, Atria LX and Eddy. The company says it currently has a customer base of over 6,00,000 customers in the Indian market since it began retailing its products.
The company states it is "set to achieve its target of 5 million EVs in three years as it continues to invest in production capacity enhancement, expanding its dealerships, and training/re-skill PGOs (Private Garage Owners) to build an ecosystem. It targets to train/re-skill over 25,000 mechanics under its PGO initiative for an enhanced EV-owning experience. Addressing the needs of range anxiety, Hero has also set itself a target of building a comprehensive charging network by installing up to 20,000 stations through partnerships."
In line with its aim to enhance localisation, the company has tied up with Nidec of Japan, one of the world leaders in electric motors. Nidec's e-motors are to be deployed in Hero Electric's city speed range of e-scooters from February 2023. Nidec India is among the 75 component manufacturers approved for incentives under the government's PLI scheme.
On the manufacturing front, the company is adding new capacity to its 1,00,000 units per annum plant in Ludhiana, which was set up in 2012. In July 2022, it began manufacturing and rollout of its Optima and NYX e-scooters from Mahindra Group's plant in Pithampur, Madhya Pradesh.
Two months later, the EV OEM signed an MoU with the Rajasthan government to set up its mega EV manufacturing hub with an annual production capacity of two million units. Located in Salarpur industrial region, the facility is spread over 170 acres and will commence commercial production by end-2023. The upcoming facility will utilise state-of-the-art equipment, robotics and innovative technologies along with the use of sustainable and renewable resources like solar energy.
Hero Electric, which is aggressively driving expansion, currently has over 700 sales and service outlets and trained roadside mechanics on EVs. Hero is also very actively increasing its EV charging network and has recently tied up with Jio-BP to enable its customers to get access to that widespread charging and swapping network, which is also open to other vehicles.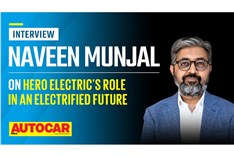 Naveen Munjal on Hero Electric and its future
3603 Views|1 year ago
Hero Electric AE-47 first look video
10959 Views|3 years ago