What is it?
Hero MotoCorp had a surprise in store for all at the Hero World 2020 event that was held a couple of months ago. It showcased a prototype of its upcoming adventure motorcycle, and by the look of it, this is possibly the most exciting motorcycle from Hero since the original Karizma! The concept motorcycle on display previewed what will be an ADV or dual sport motorcycle, but we have no idea what it will look like at the moment because the concept was sans bodywork. The positive side was that we could examine the underpinnings and the motor of the motorcycle quite closely.
While the actual launch is still a long time away, the prototype hints at a very compelling package. Let's not forget that Hero was the first to introduce an on/off-road motorcycle, the Impulse. It took them ages to come up with a successor, the Xpulse 200 - a pretty capable motorcycle let even though it is let down down slightly by a dull and slow engine. It showed that Hero can develop a well-rounded motorcycle that is easy to handle and also capable while riding off-road. The new 300cc motorcycle will only build on this capability.
What makes this bike so exciting?
There are so many things that suggest this motorcycle will be worth the wait. The first thing you'll notice about the new adventure motorcycle is the steel trellis chassis. This is the first time that a Hero motorcycle is using such a chassis type and it's understandable why given the advantages of a trellis frame. Compared to other types of frames, like a perimeter or cradle type, the trellis is much more rigid and light in construction. It is also simple to create, but at the same time, it remains quite effective. Given the nature of this motorcycle, the expected performance and the application, a trellis chassis comes across as an ideal choice.
Bolted on to this chassis is a brand-new, liquid-cooled, single-cylinder engine. Like the trellis frame, this is the first time that Hero has developed a liquid-cooled engine to power a production motorcycle. While the official power and torque figures are still under wraps, the engine displacement will be over 300cc but we believe it won't cross the 400cc mark. Performance wise, expect plenty of grunt, with a focus on useable power in varying conditions, including the city, on open highways and off-road trails. Our guess is that Hero's new engine will produce over 30hp, somewhere in the vicinity of the BMW G 310GS' engine. Hero is also expected to optimise the gearing on its bike for on and off-road scenarios. One of the biggest complaints on the KTM 390 adventure, its direct rival, is that it lacks bottom-end grunt. This is crucial while riding up steep, rocky trails.
How capable will it be off-road?
This is the really exciting bit. The Himalayan is too heavy and underpowered, and both the 310 GS and 390 ADV have proved to be disappointing as off-roaders. That means there is still a very real gap and this Hero might just be the bike to fill it. The fact that the bike has been conceived as a proper on/off-road motorcycle is a great start as it means it has the necessary hardware to go off the beaten path. Hero has employed a thick, long travel USD fork at the front and a link-type monoshock at the rear. Keeping the off-road intent in mind, Hero has given the motorcycle tube-type, wire-spoke rims that could be specced with either a 19-inch or a 21-inch front wheel, leading us to believe that Hero may offer the bike in two trims. The hardcore off-road or Ladakh -ready version will get the bigger, 21-inch wheel and could also feature comprehensive impact protection, compared to the other model. One thing to note is that none of the direct rivals, except for the Royal Enfield Himalayan, feature wire spoke rims, which is something you need on a serious off-road machine because spoked rims bend, while alloys tend to crack. On the flip side, since these are tube-type rims, fixing a puncture will be a tedious affair.
Other bits, such as the Bybre brakes are expected to be tuned keeping in mind the bike's on/off-road usage, and ABS expected to be switchable, at the rear.
Hero hasn't given out details about ground clearance but we expect it to be at least 200mm. As far as seat height is concerned, Hero says that like with the Xpulse 200, this bike will feature ergonomics that will make it accessible to shorter riders as reasonably possible.
Will the Hero Motorsports team play a role in development?
Motorsports plays a big role in helping manufacturers develop products for the masses and there's no question that Hero will tap into its motorsport arm's expertise. In fact, Hero is developing its own 450cc single-cylinder engine for its long-distance rally bikes. This new engine is developed alongside the Dakar motor and will surely receive some technical inputs.
Hero also has in its arsenal some talented in-house riders as well as a full Dakar team of riders including C.S. Santosh, and the feedback they can provide will be invaluable in setting up this machine.
How much will it cost?
If there's one thing Hero does well, it's VFM. Each Hero product is very well priced, and we see no reason why this one won't be either. At the moment, it's far too early to know what kind of features it will have, but we suspect Hero will prioritise off-road ability over complicated electronics. Then again, this could also be the first motorcycle in Hero's line up to feature assists such as cornering ABS and traction control! This is something only time will tell but we can expect that the bike will be positioned between the likes of the Royal Enfield Himalayan at one end, and the KTM and BMW at the other. Given the frame, suspension hardware and liquid-cooled engine, a price point of around Rs 2.5 lakh would make this a very juicy proposition.
While that may seem quite expensive for a Hero, it's also worth noting that our market is fast evolving. We're getting numerous products from brands like KTM, Husqvarna and Royal Enfield in the Rs 2-3 lakh price bracket and customers are starting to catch on. There's still a long wait before this bike becomes a reality, and we don't expect to see it before the end of 2021, or more likely by early 2022. By that time, Hero might just have the product at a well-selling price point!
Hero Karizma XMR video review
8313 Views|29 days ago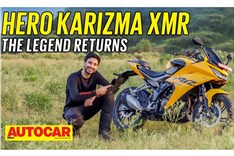 Hero Karizma XMR walkaround video
4222 Views|1 month ago
Quick News video: July 30, 2023
3099 Views|2 months ago