Pune-based Bajaj Auto has registered its highest-ever monthly export sales in November 2019 – 1,67,109 units – an 18.27 percent year-on-year growth (November 2018: 1,41,285). This robust export performance will help buffer the company's 14 percent sales decline in the domestic market in the month – 1,76,337 units (November 2018: 2,05,259). Domestic and export sales together – 3,43,446 units – make for a mere 1 percent YoY decline (November 2018: 3,46,544).
If there is one company, on two wheels only, which seems to be not so ruffled by the ongoing carnage in the Indian automobile market, then it is Bajaj Auto. Even as the motorcycle manufacturer rides out the storm in the domestic market, it stands secure in the fact that it is well buttressed by its strong export market performance.
For the year, till date (April-November 2019), Bajaj Auto has shipped a total of 12,58,087 motorcycles overseas, which constitutes 8.26 percent YoY growth (April-November 2018: 11,62,061). In the domestic market, cumulative sales for the eight-month period (April-November 2019) are 15,51,139, which is a 12.56 percent YoY decline (April-November 2018: 17,73,974). Cumulative domestic and exports mark a decline of 4 percent YoY (see data table below).
Earlier this year, managing director Rajiv Bajaj, had attributed the company's outperformance, compared to its rivals, to a carefully thought-out strategy – segment innovation, a sharp focus on exports, and a tight control on costs. This is helping the company to ride out the domestic storm which continues to blow fiercely in the face of the industry. Low-cost innovation has paid off handsomely, particularly in the 100-110cc commuter bike segment, where the CT100 and the Platina have won favour with buyers.
On the domestic motorcycle segment front Bajaj Auto is targeting a 25 percent market share. The company closed FY2019 with a market share of 18.69 percent (2,541,320 units), having notched 28.7 percent growth. The bike maker had 15.69 percent in FY2018 (1,974,577 units). In the first seven months of the ongoing fiscal (April-October 2019 period), the company has an 18.67 percent share.
Will the remaining four months see speedier product-led action from Bajaj Auto to help it get closer to that target? Watch this space to know more.
2023 Bajaj Pulsar NS 160, NS 200 video review
6370 Views|2 months ago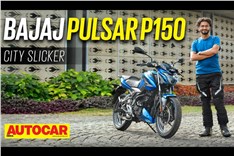 Bajaj Pulsar P150 video review
5223 Views|5 months ago
2022 Bajaj CT 125X video review
7554 Views|7 months ago