The Ather 450X and 450 Plus are pretty much the only electric scooters on sale in India today that support fast charging technology with a public fast charging network. The company wants that to change and has decided to open up its technology to other OEMs.
Aim to set up a unified connector standard
Will help boost fast charger network and EV adoption
Ather to not charge a penny
A unified two-wheeler EV connector for India
While there are numerous EV connector standards for cars, the two-wheeler market can't claim the same; perhaps with the expectation of the Chinese market. Tarun Mehta, co-founder and CEO of Ather Energy, tells us that the company had to design its own connector for its 450 scooter and is now looking at making its proprietary connector technology open-source for other OEMs to adopt.
The aim is to create a single EV connector standard, much in the way that the tech world has embraced the USB Type-C charging port. Ather says that the OEMs can continue to develop their own battery technologies and charging protocols, but the adoption of a single charging connector will have big benefits.
Benefits of a single charging connector
A unified charging connector design will mean far more charging options for customers. Currently, most electric two-wheelers have their own charging connector designs, which means they can only be charged using their own chargers. Many governments, including ours, have talked about doing so, but instead of waiting, Ather is now taking a step forward.
A unified design will not only mean that EVs from different manufacturers can use the same public fast charging network (Ather currently has over 200 public fast chargers), but it will also promote more widespread installation of chargers in residential building complexes.
Why is Ather doing this?
It might appear that there is no real benefit to Ather here, because the company is not charging OEMs any fees or royalties. In fact, Ather isn't just opening up its technology IP, but will also be setting up a dedicated support team to work with OEMs for integration. The company says it is already in talks with multiple OEMs and incorporating this technology will not be a significant engineering hurdle.
The primary advantage to Ather is that its public charging network will be of greater value if more EVs can use it, thereby enabling a faster expansion of the network. Overall EV appeal will also grow if customers can benefit from a wider charging network.
Click here to read our full road-test review of the Ather 450X.
Ather Bikes
Ather 450 Plus
₹ 1.41 lakh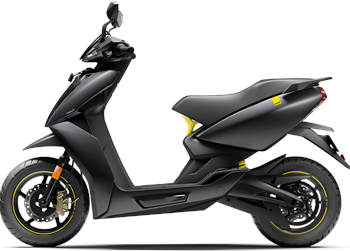 Ather 450X
₹ 1.63 - 1.64 lakh
Ather 450X Gen 3 video review
9835 Views|8 months ago
Yamaha Aerox 155 vs Ather 450X drag race video
16015 Views|1 year ago