The Indian two-wheeler market has had its fair share of electric scooters, but a majority of them have been low-performance, sub-250W offerings that couldn't exceed 25kph. Fast-forward to today – and while they're few and far between, there have been brands that have come up with much better-performing e-scooter offerings. We're going to take a look at two of these brands and see how Okinawa's new top-of-the-line model, the i-Praise, stacks up against the Ather 340 and 450 e-scooters on paper.
Battery and performance
Battery and performance
Ather 340 / 450
Okinawa i-Praise
Motor Power (Continuous/Peak)
2.8kW / 4.4kW / 3.3kW/5.4kW
1kW / 2.5kW
Torque
20Nm / 20.5Nm
NA
Top Speed
70kph / 80kph
75kph
Range
60km / 75km**
160-180km*
Battery Capacity
1.92kWh / 2.4kWh
2.9kWh
Gradeability
15 degrees (10 kmph constant)
22 degrees
*under ideal testing conditions
**road conditions
Okinawa has claimed some very impressive performance numbers on its i-Praise electric scooter. The larger 2.9kWh battery is supposedly capable of a range between 160-180km – almost thrice as much as what Ather has said the 1.92kWh battery on the Ather 340 is capable of with the scooter on Eco-mode. That being said, the ARAI test produced a result of 86km range on the Ather 340 and 107km on the 450. We're yet to test these numbers on these scooters personally, but for now, it's safe to say they will be capable of an average day's commute in the city with a full charge.
While the Ather 340 is powered by a motor that is almost twice as powerful, it appears that it falls behind the i-Praise in terms of claimed top speed. Ather claims a top-speed of 80kph on the 450 and during our test its performance felt unhindered, even with a pillion.
The scooters have Li-ion battery packs and can be charged via 5A sockets. What's worth noting is that the battery on the i-Praise can be removed, allowing for charging indoors, or the option to purchase a spare battery pack for emergencies or extended range.
Design and dimensions
Design and dimensions
Ather 340 / 450
Okinawa i-Praise
Front Suspension
Telescopic Fork
Telescopic Fork
Rear Suspension
Monoshock
Twin Shock Absorbers
Dimensions (LxWxH)
1800x700x1250mm
1970x745x1150mm
Wheelbase
1278mm
NA
Ground Clearance
160mm
175mm
Seat Height
765mm
800mm
Tyre Size (Front)
90/90-12 Tubeless
90/90-12 Tubeless
Tyre Size (Rear)
90/90-12 Tubeless
90/90-12 Tubeless
The Ather scooters sport a clean design language, which is further aided by the fact that they're available only in white. The Okinawa on the other hand, is slightly more in-your-face with its bright colour options and slightly bulbous front end. The 340 and 450 both have a more approachable seat height of 765mm compared to the 800mm on the i-Praise. The Ather scooters boast of commendable under-seat storage. In our test of the Ather 450 (that shares its dimensions with the 340), we were able to fit a full-face S sized MT helmet under its seat. The Okinawa offers only 7 litres of under seat storage. For reference, the TVS Ntorq 125 has 22 litres of boot space. In terms of ground clearance, the Okinawa is perched 175mm off the ground – 15mm higher than the 160mm on the 340. The Activa 5G, for reference, has a ground clearance of 153mm. A couple of other design aspects because of which Ather stands out are with its lightweight frame – which results in a total kerb weight of 118kg (on the 450) – and a centre of gravity which is claimed to be the lowest in the segment. Okinawa has claimed that the new i-Praise is 30-40 percent lighter than other EVs in its segment. However, we're yet to receive an exact kerb weight figure so how light it will be remains to be seen.
Features
This is where a lot of EV scooters stand out from their petrol-powered counterparts in the Indian market. All three e-scooters come with a host of tech. The i-Praise can be paired to your smartphone with the 'Okinawa Eco' app that has features like geo-fencing which allows the user to set a virtual perimeter for the scooter, beyond which you will receive a notification. Some other features are battery and trip status, and maintenance schedule details, among others. The LCD unit on the i-Praise is a simple digital cluster that displays basic information like speed, range, etc.
These features, however, are eclipsed by what the Ather 340 and 450 have on offer. The two scooters boast a 7.0-inch capacitive touchscreen that is rated IP65 (protection from dust as well as protection from low-pressure water jets). The display features a speedometer, odometer, trip meter, clock, average-speed indicator and an easy-to-spot readout for range. The additional features are positioned on three corners of the screen – a drop-down menu for settings and rider insights, one for navigation and the last for the park-assist feature. Park assist helps move the scooter in reverse at a speed of 3kph.
What is interesting is that Ather is constantly collecting location and riding style information – including GPS data through an internet enabled pre-installed SIM card – from every scooter to improve its development.
Availability and cost
For now, Ather is present only in its home city of Bengaluru. This is because it plans to set up its own EV charging infrastructure (dubbed AtherGrid) in each city that it will sell its products in. The company is accepting pre-orders in Bengaluru and at the moment, Karnataka is the only state it can be registered in. The Ather 450 has an ex-showroom price of Rs 1.42 lakh. However the Ather website claims that thanks to the FAME India subsidy, it costs lesser – Rs 1.20, ex-showroom, with insurance resulting in an on-road price of Rs 1.30 lakh. Similarly, the Ather 340's original Rs 1.27 lakh price tag drops to Rs 1.05 lakh after the subsidy, and it has an on-road price of Rs 1.15 lakh in Bengaluru.
The i-Praise on the other hand can be purchased from over 200+ authorised Okinawa distributors across the country. The scooter was recently officially launched at an ex-showroom price of Rs 1.15 lakh (after the benefits of the subsidy) and dealers tell us that it costs Rs 1.24 lakh, on-road Bengaluru.
Summing it up
In our country, scooters are meant to be convenient and practical. The i-Praise seems to offer good mileage and outright performance, and at the moment, it is the only one to be available in multiple cities across the country. You could raise the argument that both these scooters sport price tags you wouldn't usually see on a scooter for sale in the Indian market. However, having ridden the Ather 450 we have a better understanding of what the brand has to offer – the tech and quality the scooter comes with is certainly unlike anything else this segment has seen.
Ather Bikes
Ather 450S
₹ 1.54 - 1.69 lakh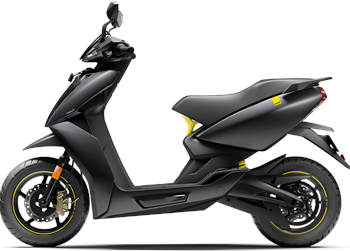 Ather 450X
₹ 1.63 - 1.64 lakh