Kawasaki has launched the 2022 KX250 and KX450 dirt-bikes in India
KX250 now Rs 56,000 costlier than before
KX450 price has gone up by a massive Rs 80,000
Both get a hydraulic clutch
If you want to buy a true-blue motocross bike in India, your choices are very slim. The exception to this rule has been Kawasaki, which has been offering some of its motocross models in our country for a few years. The company has now launched the 2022 KX250 and KX450 motocross bikes at Rs 7.99 lakh and Rs 8.59 lakh (ex-showroom) respectively.
While the prices may seem rather exorbitant against the displacement figures of these machines, one must keep in mind that these are extremely focused, purpose-built bikes that are ready to hit a dirt track the moment you purchase them. Their rates are also not too different than someplace like the UK, or even the motocross-mad USA, where the KX450 costs the equivalent of Rs 7 lakh. So the prices in India are actually rather fair.
Then there's also the fact that these motorcycles aren't street-legal, so there is no registration, tax or insurance amount to pay. What this means is that the ex-showroom price is also the on-road price. Nevertheless, both bikes see a rather sizeable price hike over their predecessors. The KX250 is Rs 56,000 more expensive than the KX250F that was offered earlier. But this pales in comparison to the KX450's Rs 80,000 increment!
Nevertheless, for the fortunate few who have a passion for motocross and can afford these machines, it's nice to have them on sale officially.
2022 Kawasaki Ninja 400 video review
6391 Views|4 months ago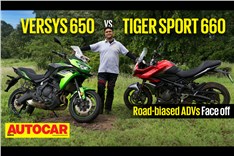 Kawasaki Versys 650 vs Triumph Tiger Sport 660 comparison...
6650 Views|5 months ago