Royal Enfield's Hunter and Classic 350 rule the middleweight sales charts, and Bajaj's answer was to team up with Triumph to create the new Speed 400. We bring the three together.
Yes, you're right. The Triumph Speed 400 is nothing like the Royal Enfield Classic 350, but that doesn't change the fact that this bike was born to battle with Royal Enfield. That is the main reason why Bajaj priced the Triumph so shockingly low. While the Speed 400 is priced close to the Classic, in reality, it's the Hunter 350 that is the closer RE when it comes to appearance and character. That's why we've brought RE's second bestselling bike (after the Classic 350) here as well.
While Royal Enfield is the clear target for Bajaj, there are a few other potential rivals like the Honda CB350s and the Jawas and Yezdis. However, those bikes simply haven't been able to match the Enfields, not just in sales figures but also in our previous comparison reviews. And as for the new Harley X440, that will have to wait till we get the bike to properly test in a few weeks' time.
For now, this comparo is aimed at all those tens of thousands of potential RE customers that Bajaj wishes to steal away, after all, the two Enfields here alone account for 40,000-50,000 sales per month.
Speed 400 vs Classic 350 vs Hunter 350: engines
Specs have never been important to Royal Enfield customers, so we're going to largely focus on what sort of riding experience these bikes have to offer. Be that as it may, the spec sheet cannot fully be ignored, so let's immediately address the fact that it is a complete knockout for the Triumph in this regard. With its 4-valve liquid-cooled motor, the Speed 400's 40hp is exactly double the power of the REs. It also churns out much more torque, although the Triumph's torque is produced higher in the rev range.
But then you ride the bikes and you'll realise that while the Triumph is way faster, the engines on the REs feel a lot more special. In fact, these engines are a big part of why you'd want to buy one of the new-age RE 350 in the first place.
The new-generation Classic 350's motor still has a slow-revving feel with a clearly-felt thump, especially at low revs. Thankfully, unlike the old bikes, this never translates to vibration and harshness, even at high speeds, and the company has done an amazing job with balancing feel and refinement.
The Hunter's engine is very similar on paper, but RE has given it a slightly more responsive nature. It's still a thumper, but doesn't feel as lazy as the Classic engine, and this is a better match for the Hunter's more modern-feeling chassis. Both the Classic and Hunter feel fantastic at an 80kph cruise and both can just about hold a 90-100kph without feeling overly stressed. Anything above that though is slow progress with the top speed being around 120kph, which is nearly 50kph lower than what the Speed 400 can achieve.
In comparison, the Triumph engine won't leave you with lasting memories of its sound or feeling, but you will never stop being impressed by how it performs. Think of near KTM 390 levels of speed, but with less than half the effort. That combination of a powerful yet easily accessible midrange along with a light chassis makes the Triumph a very nice bike to ride in our crowded, chaotic conditions.
The Triumph certainly lacks the character and absolute bottom-end performance of the Enfield motors, but it's still very easy and peaceful to ride at low speeds. In fact, with its additional 6th gear, tractable engine and relatively shorter gearing, the Triumph can hold one or two gears higher than the REs at any given speed. It also has a noticeably lighter clutch than both the REs do, and while you will feel a little more warmth coming off the engine, there is no uncomfortable heat even in jammed traffic, at least in the monsoon.
In fact, of all the performance-oriented 350-500cc bikes on sale in India, the Triumph is probably the easiest and nicest to ride in our conditions. The only thing in favour of the heavier REs in the city is that they have a tighter turning radius.
What's also worth pointing out is that any RE owner considering a shift to the Triumph should prepare themselves for a new world of performance. 0-100kph takes just 6.7s on the Triumph while the Classic 350 needs an additional 9.5 seconds. All three bikes are quite close when it comes to fuel efficiency.
Speed 400 vs Classic 350 vs Hunter 350: seating comfort
While the Classic's engine is certainly a charming thing, the whole experience is elevated by how you sit on the bike. At 191kg, it feels larger, wider, heavier and more substantial than the other two. With its commanding riding position and that retro instrument area and hooded headlamp, the Classic has perhaps one of the most iconic rider's points of view in the motorcycling world, which only adds to the special feeling.
Meanwhile, the Hunter is at the other end of the spectrum. Larger riders will fit on it, but it is the smallest feeling bike here in terms of both width and height. This can be good or bad depending on your needs. Shorter folks will enjoy the fact that it has the lowest and most friendly seat here, but larger riders will probably want a bike that feels bigger than this.
The 176kg Triumph finds the middle ground. It certainly feels bigger than the Hunter, but it's not a large bike in general. And while it is only 5kg lighter than the Hunter it feels considerably lighter on the move. As for pillion comfort, the Classic is definitely the best, with the Triumph coming in second and the smaller Hunter feeling its size.
Suspension-wise, the Classic has that typical soft and plush feel that you would expect, while the Triumph has a surprisingly absorptive and composed suspension set up that deals with our bad roads very well. Unfortunately, the same can't be said for the Hunter because the rear dual shocks are too firm for this bike's own good.
The result is a stiff and jittery ride on anything but smooth and well-made roads. On the upside, the Hunter is a sweet handling bike with a surprisingly sharp and reactive front end. But it's still no match for the Triumph, which gives you more confidence, more capability and more speed. As for the Classic, it has no interest in silly things like attacking corners, but it will put up with it if the rider is rude enough to insist and it never feels nervous or unwilling.
Speed 400 vs Classic 350 vs Hunter 350: design and features
Handling is all well and good, but one of the big reasons people buy bikes like this is the design and feel-good factor.
The Classic is a design legend and we really don't need to go into detail about what makes it so widely loved. What we will say is that it's nicely put together with appealing quality all around and a solid, almost unbreakable feel. The Classic is available in multiple colour options and can even be had with alloy wheels if you want the peace of mind of tubeless tyres.
The Classic has easily the most special rider's POV of these three.
The Hunter is also a handsome motorcycle with a nice stance and a pretty unique-looking rear end. However, next to the Classic, and especially the Triumph, the Hunter feels more simple and built to a cost, which it is. Crucially though, the Hunter never feels cheap.
Clocks on the Triumph look smart and are comprehensive.
But neither of these bikes can match the sheer quality and attention to detail lavished over the new Triumph Speed 400. The Triumph also packs in features like traction control, LED lighting and an immobiliser, which further adds to the value quotient. It is a good-looking bike, but even if you don't love the design, you cannot discount the Speed 400's sheer feel-good factor. And that element of pride of ownership is a very important thing when you're trying to make a bike that will tempt people away from Royal Enfield showrooms.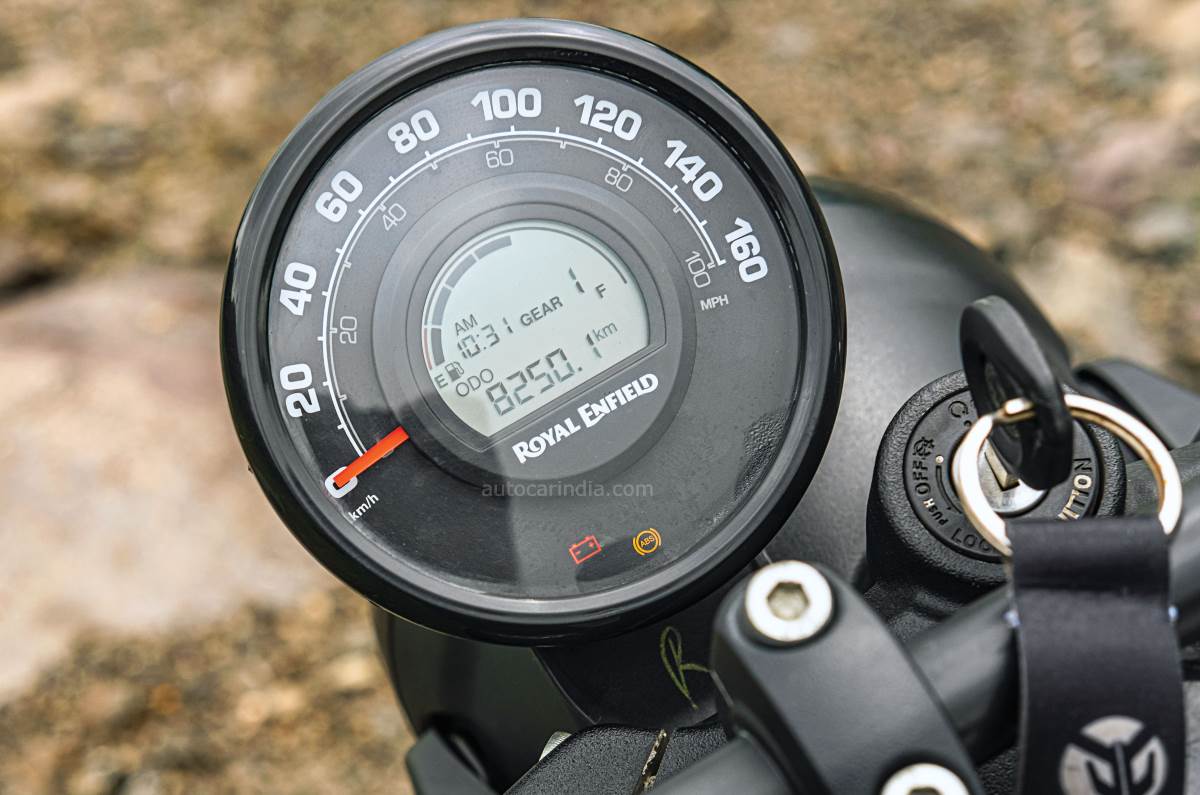 Hunter's digi-analogue display shows gear position.
Speaking of, the new age RE's have proven their reliability and they have a huge after sales network. That is one area where Triumph still has to prove itself.
Speed 400 vs Classic 350 vs Hunter 350: verdict
It goes without saying that the superbly priced Rs 2.33 lakh Triumph will surely help in growing the premium bike market in general. But while it is priced very close to the Classic (Rs 2.21 lakh for this top Chrome variant), the latter has its own set of loyalists and I'm not sure how many will want to migrate.
The Hunter is a lot more closely matched, but Royal Enfield pulled off a genius move with its low pricing. With prices ranging from Rs 1.49 lakh-1.74 lakh, it's so much more affordable that the Triumph might be out of budget for many Hunter buyers.
It goes without saying that if you can make the stretch, the Triumph is a much nicer bike than the Hunter and it's easily worth the extra money. In fact, it's so far ahead that you'd be tempted to compare it with the KTM 390 Duke, although that's a different story that you can read here.
As for the Classic though, that's where things get more complicated. Obviously, if you want performance, there's no question here. But for someone who likes to take life in at a more gentle pace, there is nothing in the Indian bike space that feels as enjoyable as a Classic 350. My fondness for this bike only grows with time and it makes even the most dull daily commute an experience to look forward to.
On the other hand, the Triumph is also an exceptionally impressive motorcycle at a stunning price. As a do-it-all, performance-oriented bike that's easy to live with, this is now the gold standard in the Indian market.
To make a decision between these two will be more about being honest with yourself about what kind of experience you want and, based on that, either one of these bikes will make you very happy. But if I were forced to stand here and pick one, it would have to be the Triumph for the outstanding value, desirability, performance and usability it brings to the table.