Price hikes are nothing new, nor are limited period introductory offers; however, the last year saw automotive industry implement very frequent and large price hikes. For instance, in the period between January 2021 and April 2022, the automotive industry has seen five rounds of price revisions by many manufacturers. So what's going on? Why the hikes and by how much have car prices risen?
Seller's Market
The ongoing global semiconductor crisis has severely impacted vehicle supply and production across the globe, and with buyers returning post the COVID-19 downturn, carmakers are easily selling whatever they produce, thus in essence, turning the industry into a 'seller's market'.
Mid-spec Kiger automatic is dearer by a whopping Rs 1.05 lakh.
Not only are the models selling out but the supply-demand mismatch is so high that, for many popular models, waiting period are running into months and some even a year or more. So much so that for most carmakers delivery date is the new discount, and with customers eagerly awaiting their cars, manufacturers aren't under any pressure to maintain competitive prices.
The sole variant of the Gurkha has seen a Rs 90,000 increment since launch.
Additionally, due to the economy's constant inflationary tendency, input and raw material cost has steadily risen. This has put a lot of pressure on manufacturers who have just come out of many cost challenges like the COVID-19 disruption and the enforcement of stricter safety and emission norms.
The Hikes
Here's a look at some of the major launches between January 2021 and January 2022, and the rise in their prices:
Car price hikes (January 21-22)
Model
Launch Price
Current Price
Max Hiked Amount
Highest % Hike
Maruti Celerio
Rs 4.99 lakh-6.94 lakh
Rs 5.25 lakh-7.00 lakh
Up to Rs 26,000
5.2%
Tata Punch
Rs 5.49 lakh-9.39 lakh
Rs 5.67 lakh-9.48 lakh
Up to Rs 34,000
6.1%
Renault Kiger
Rs 5.45 lakh-9.55 lakh
Rs 5.84 lakh-10.39 lakh
Up to Rs 1.2 lakh
6.1%
Skoda Kushaq
Rs 10.49 lakh-Rs 17.59 lakh
Rs 10.99 lakh-18.19 lakh
Up to Rs 50,000
4.8%
VW Taigun
Rs 10.50 lakh-17.50 lakh
Rs 10.99 lakh-17.99 lakh
Up to Rs 50,000
4.8%
Force Gurkha
Rs 13.59 lakh
Rs 14.49 lakh
Up to Rs 90,000
6.6%
Hyundai Alcazar
Rs 16.30 lakh-19.99 lakh
Rs 16.34 lakh-20.14 lakh
Up to Rs 22,000
1.3%
Kia Carens
Rs 8.99 lakh-16.99 lakh
Rs 9.59 lakh-17.69 lakh
Up to Rs 70,000
4.1%
MG Astor
Rs 9.78 lakh-16.78 lakh
Rs 9.98 lakh-17.72 lakh
Up to Rs 35,000
2%
Tata Safari
Rs 14.69 lakh-21.45 lakh
Rs 15.24 lakh-23.45 lakh
Up to Rs 1.05 lakh
4.9%
Mahindra XUV700
Rs 11.99 lakh-21.59 lakh
Rs 13.18 lakh-Rs 24.58 lakh
Up to Rs 1.81 lakh
8.4%
Skoda Octavia
Rs 25.99 lakh-28.99 lakh
Rs 26.29 lakh-29.29 lakh
Up to Rs 30,000
1%
Citroen C5 Aircross
Rs 29.90 lakh-30.40 lakh
Rs 32.73 lakh-33.78 lakh
Up to Rs 3.38 lakh
11.1%
The Renault Kiger – launched in February 2021 – has seen its prices go up by about Rs 50,000-60,000, depending on variant. The Kiger RxT turbo-CVT sees the highest increment of Rs 1.2 lakh – or 14 percent over its launch price – pretty extraordinary for what is a compact SUV.
The duo of Kushaq and Taigun have seen Rs 50,000 hike in six months.
Similarly, the Tata Safari has also seen a price hike in the range Rs 70,000-80,000 for most variants. Of course, the price of the top-spec Safari today is much higher than at launch, but that's due to the addition of several special edition models such as Dark and Gold Editions. However, the then top-spec Adventure AT variant is now dearer by as much as Rs 1.05 lakh.
The Mahindra XUV700, which got everyone talking with its very competitive launch price, too, has seen a large hike. Waiting periods for the XUV700 extends up to nearly a year in certain cities and select variants of the XUV700 are now dearer by over a lakh, with AX7 diesel-AT Luxury variant seeing a maximum increase of Rs 1.81 lakh over its introductory price.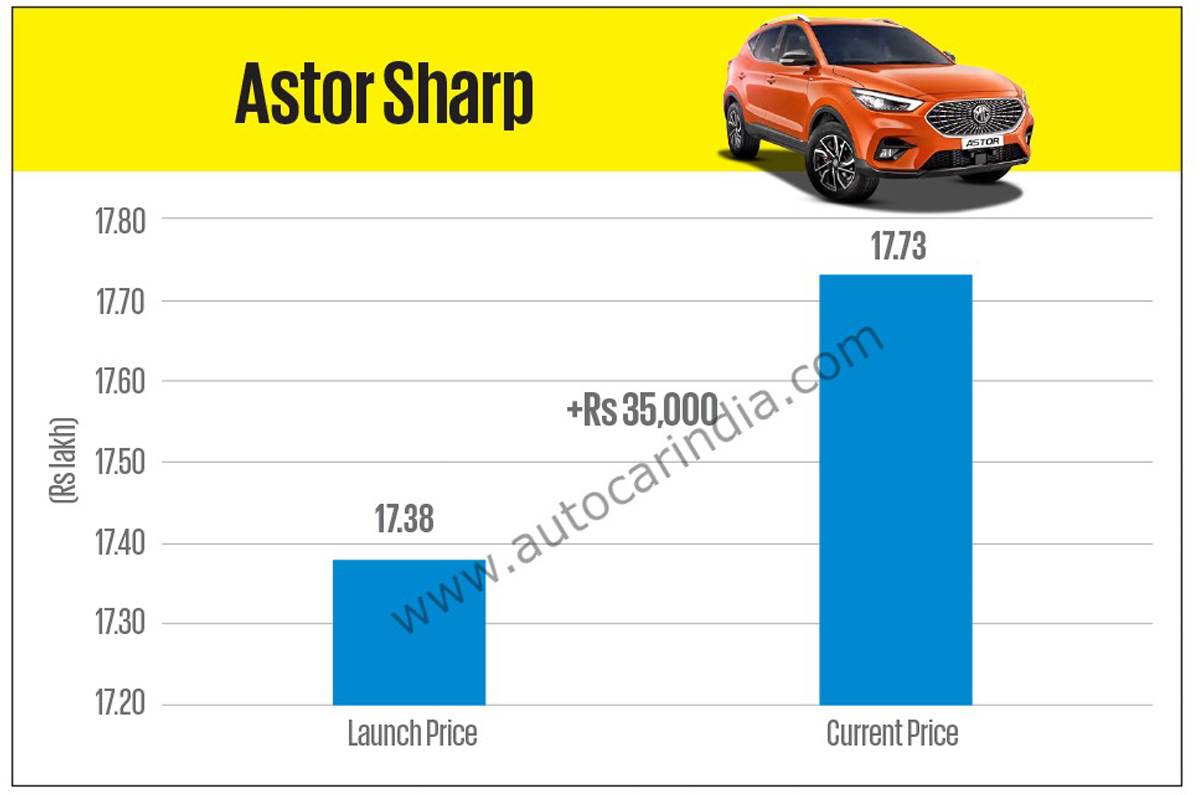 The Astor has seen relatively lesser hike in price - up to Rs 35,000
Even the duo of Skoda Kushaq and Volkswagen Taigun had two price increments in quick succession, taking their prices up by Rs 50,000 in just six months. Meanwhile, the Kia Carens, whose biggest talking point at the launch was its starting price, is already more expensive by up to Rs 70,000 for select variants, barely two months since its arrival; its waiting period for the base variants is up to 10 months in certain places.
What's your take on the ever-increasing new car prices and how do you think the industry could tackle it? Let us know in the comments below.
Also See:
New car, SUV sales see 12 percent uptick in FY22