The Mahindra Thar gets a refreshed dashboard and added kit to make it more capable off-road.
What is it?
The Thar has been around for five years now. The recent facelift given to the Thar includes a few cosmetic upgrades on the outside and the addition of a locking differential at the rear.
Up front, the plastic bumper has been designed to clear CMV regulations which state that there cannot be a gap between the front bumper and the body. Owners who had installed spaced-out alloy wheels and off-road tyres on their Thars must have faced the problem of the fenders bending under extreme articulation. This has now also been addressed with scooped-out, wider fenders unless you have gone overboard and used extra large tyres.
The soft-top is also new and made of a different material with better finish and a noticeable forward slant towards the rear. There are new wiper linkages to ensure the wiper blades and motor remain functional (the older car had an issue of the wipers hitting the rubber beading, causing stress to the motor in the long run).
It's a whole lot nicer on the inside, with a new dashboard, the steering wheel from the Bolero, and a lockable glovebox as well. The seats are now from the old Scorpio, which make them more comfortable, the wing mirrors (also from the Bolero) are better, and the instrument panel is new with a backlit odometer.
The dashboard also sits higher and accommodates the front demister to prevent the windscreen from fogging up in wet and cold weather. Also, the position of the steering wheel has been changed. It's now moved further right, unlike the earlier car which had a slightly left-set wheel. The new steering feels better to hold and the slight shift in position helps the ergonomics as well. However, driving position is still truck-like with the raked steering wheel and high-set pedals, making long journeys quite uncomfortable.
Overall, the quality of materials is now up to Xylo or Quanto levels and it's easier to live with everyday. The quality of plastics on the restyled dash are refreshing, especially for those used to seeing the crude mass of grey on the earlier car. However, this is a far from plush environment but quite a few Thar buyers aren't expecting many creature comforts either.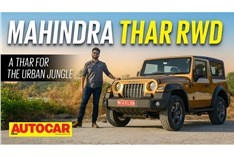 Mahindra Thar 4X2 video review
19422 Views|2 months ago
Autocar India Off-road Day 2022 video
13999 Views|5 months ago