The C5 Aircross ushers the Citroen brand into India and it offers a whole lot more than just quirky French flair.
It's been a long time coming, after pulling Peugeot out of India in 1997 and putting on hold a re-entry plan in 2012, the PSA Group (Peugeot-Citroen alliance) is now betting on the Citroen brand to make its mark in the Indian market. So, will the French carmaker taste success third time round? A lot depends on the C5 Aircross, the SUV tasked with building the brand and sustaining interest in it until a host of more affordable, India-specific siblings arrive starting next year.
A lot will also depend on how well the Indian consumer reacts to quirkiness, the unconventional but attractive styling, and that almost eccentric approach is pretty dialled up on the C5. However, the C5 is more than just a French fashion statement, but since the quirky style is the biggest talking point, let's begin with that.
Just how quirky is the Citroen C5 Aircross' style?
We're used to describing cars with words like sporty, sleek, muscular, butch, sophisticated and so on. But with the C5, it's hard to come up with familiar terminology, so let's just go with chic, coincidentally a French word.
The C5 Aircross has an 'odd yet attractive' look with it's multi-layered front and unique blocky styling elements.
The C5 does a good job of balancing the 'odd yet attractive' look, the multi-layered front has the double-chevron logo extending out into two chrome strips encapsulating the DRLs. Below are the LED projector headlights flanking a rather unconventional grille design that has an additional air intake slot below. The bumper intake is flanked by a couple of faux inlets, and fog lights sit at the extreme ends. All in, the front has a load of design elements and judging by the reactions we got, while many will like it, some may find it excessive.
At the rear the taillamps with four rectangular, 3D LED modules are the standout feature.
At the sides, the doors are smoothly contoured, but the edges below have mouldings with some blocky styling elements. On our grey test car – as also on two other body colours – there are silver accents on the side moulding, under the roof rails and also on the front bumper. On the white car, however, these are done up in orange and look quite appealing and funky. All cars get 18-inch alloys that have a neat swirl-like pattern. The rear has a pair of fake air and exhaust outlets but it's the tail-lights that are the standout feature, with each housing four rectangular, 3D LED modules that are eye-catching even in daylight.
Does quirky apply to the Citroen C5 interiors too?
The block-like exterior design details are in abundance on the inside too. The seats have a block-stitched surface and are quite retro cool, thanks to the grey tones offset by the white stripe.The door pads also have embossed blocks, and the handles are similarly styled. Even the steering wheel is like a 'squircle' with the bottom and top edges flattened. Each aircon vent is also split into two separate cubes, though they operate as a single unit.
The block like design elements feature inside as well with the seat upholstery, unique cube-like air-con vents and 'squircle' steering.
While some may find this detailing overdone, it's tastefully executed, and the design looks refreshing. The instrumentation is a bit too radical though and the 'Dial' display mode (exactly what it's called) has anything but dials! The tachometer is a bar graph, there a numeric read-out for the speed and an additional slide-rule speed display. It's all very unconventional and very French I guess, but it really isn't easy to read. Also, despite the instrument cluster being a configurable digital screen, there's no option for a dial display, not even in the other two modes. Toggle to Personal and you can choose to display info on the stereo functions, whilst in Minimal, the only read-outs you get are speedo and odo, even the fuel gauge is knocked out. The 8.0-inch touchscreen has no home page but you can directly access individual functions and their settings by the poking the icons on the touch panel below.
The digital instrument cluster is customiseable but doesn't offer an option for a dial display. Bar-like tacho not easy to read.
The C5 Aircross comes in two versions – Feel and Shine – and both are well equipped, with the base Feel variant losing out only on the panoramic sunroof, LED headlamps and a hands-free tailgate, which is standard on the Shine. This means even the base Feel version gets goodies like an electric adjust driver's seat, dual-zone auto climate control, an air-quality system, outside puddle lamps, and a touchscreen with Android Auto and Apple CarPlay. Missing though are bits like wireless charging, an electric adjust passenger seat and connected-car tech.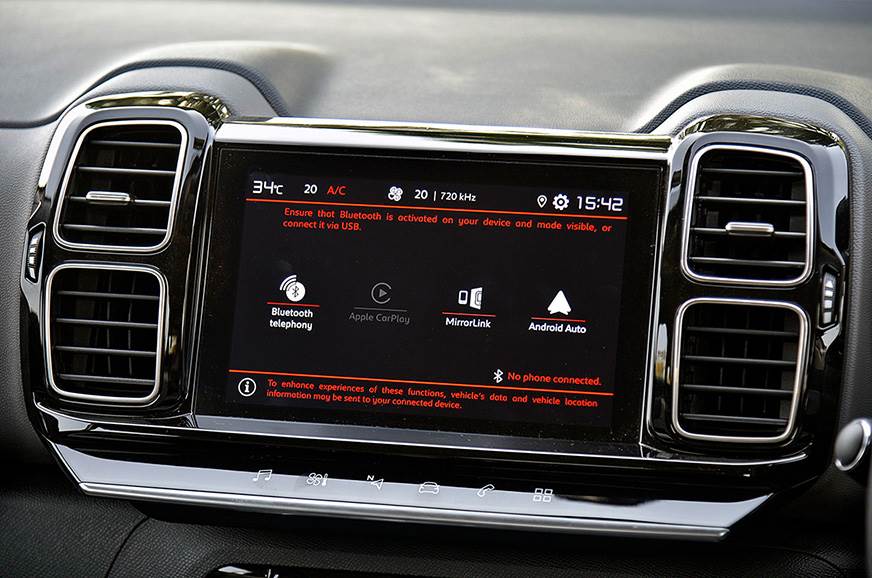 8.0-inch touchscreen has no homescreen but individual functions can be accessed via a touch-sensitive panel below the display.
Safety equipment standard on both variants includes six airbags, ABS, ESP, terrain control modes with hill descent, blind spot warning, coffee break alert, auto park assist, and a rear camera that also stitches a 360-degree view with past footage, this means though that only the rear has a live feed.
Seatbelt reminders for rear occupants as well
Is the Citroen C5 comfort as much as it's made out to be?
Citroen certainly are talking up 'comfort' – it's pretty much the USP or cornerstone for the company globally –and once you're past the rather unconventional interiors, you'll notice the massive amount of space.
The C5 is wider, taller and longer than both, the Jeep Compass and Hyundai Tucson, and by a good margin, too, when you have a look at the ample room inside. Given the car's length – and one look at the deep boot – it's evident that legroom could have been better, but it's sufficient. Taking advantage of the broad cabin, Citroen has plonked in three independent and identical rear seats, and with each having the ability to slide and recline (also fold);there's no need to fight over who has to sit in the centre.
Legroom is sufficient while head and shoulder room is in abundance. Seats are comfy though lumbar support is a touch excessive.
The slide adjustment also allows you to stagger three large passengers to make a little more shoulder room; the centre seat too gets a height-adjustable head restraint and a three-point seat belt.
It's all a very innovative and unique setup, and as a 5-seater, the C5 really nails it, but as a 4-seater, not quite so. The trouble is, being confined to an individual seat, outer passengers can't really spread out and make use of the empty space in the middle, plus you also miss out on an arm rest. So just how comfortable the rear seats are really depends on your individual usage pattern.
Unique to the C5 Aircross are the three independent rear seats than can slide, recline and fold individually.
The seats themselves are comfy enough, the foam density is just about right, though lumbar support is a touch excessive at the rear. The front seats are incredibly comfy and nice and broad as well. A long day at the wheel didn't leave us with any aches and pains.
Front seats are broad and incredibly comfy.
There's plenty of cargo space too and while the boot is large, at 580 litres, what is truly impressive is in-cabin storage, which Citroen says adds up to 33 litres. The door pockets, cubby holes and the phone tray are all really big and deep, and the centre console storage box is simple massive; thankfully, it's illuminated, which makes it easy to find small items, especially when it's dark.
Boot is large at 580 litres and can be expanded by adjusting or folding each rear seat.
What's the Citroen C5 drive like?
The instant you twirl the wheel, you realise that the comfort focus or 'Citroen Advanced Comfort' programme, as the company calls it, extends to the entire drive experience too. The steering is very light and it's easy to manoeuvre the C5 through city traffic. Even at speed, effort remains light and while there is a Sport mode, it has only a small effect on steering feel, as also on powertrain responsiveness. This is a car squarely aimed at those seeking a relaxed and enjoyable drive.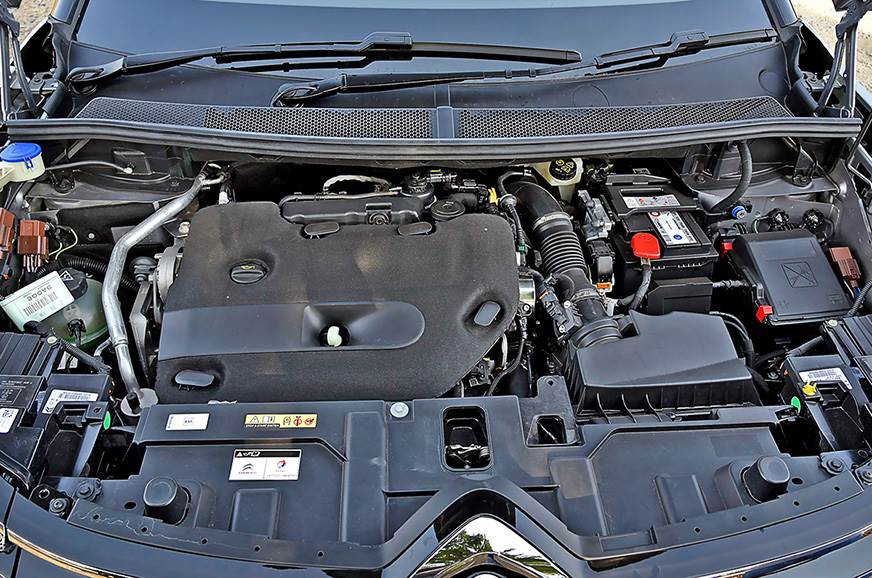 2.0-litre diesel develops 177hp and 400Nm of torque and delivers power in a strong and linear manner. It's also very smooth and refined.
If you think this means a meek engine, you'll be wrong – the 2.0-litre diesel makes 177hp and 400Nm of torque, and power delivery is nice and strong. Keeping with the cars character, it's also very linear, with no spikes and surges, even in Sport mode. Part-throttle response is good and when you put your foot down at almost any speed and you'll be rewarded with a nice strong surge ahead.
In our tests, we clocked 9.61sec for the 0-100kph dash, which for reference is quicker than the diesel Compass' time of 10.30sec. Roll-on times are impressive as well – 20-80kph comes in at 5.89sec, while 40-100kph takes 7.71sec; this, too, is quicker than the Compass, which takes 6.05sec and 8.36sec, respectively.
Performance
Acceleration
Time
0-20kph
1.00 sec
0-40kph
2.33 sec
0-60kph
4.11 sec
0-80kph
6.56 sec
0-100kph
9.61 sec
0-120kph
13.39 sec
0-140kph
18.33 sec
0-160kph
25.13 sec
20-80kph (in kickdown)
5.89 sec
40-100kph (in kickdown)
7.71 sec
Amplifying the engine's strength is the 8-speed gearbox that does not rush through its cogs and holds on to lower gears for longer, this means you're seldom out of the meaty power band, which begins at around 1,800rpm and builds nicely till somewhere around the 4,000rpm mark. I say 'somewhere' as it's nearly impossible to accurately read the tacho bar, and no matter the drive mode, or even if you're in full manual mode and shifting with the paddles, the car will upshift. It's all about comfort then, no noisy engine, though at higher revs, you can hear the diesel drone inside.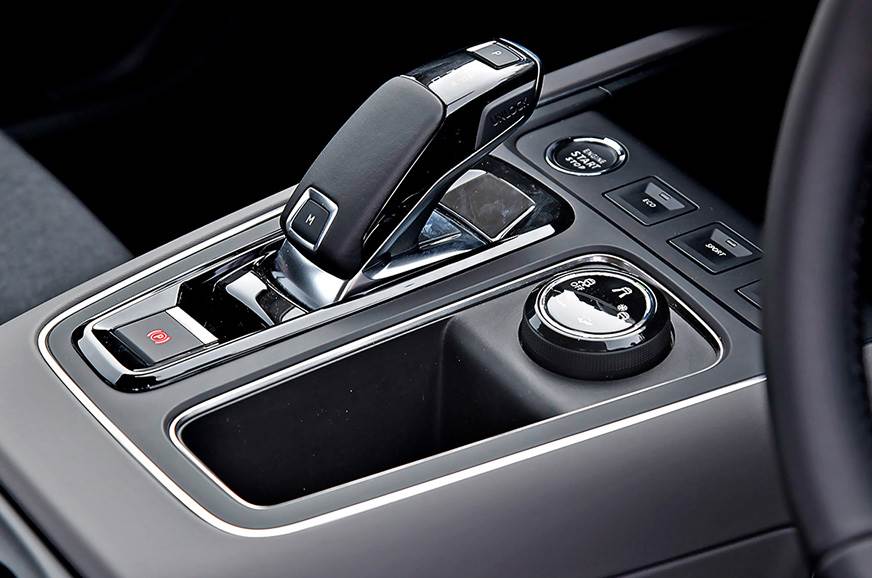 8-speed auto 'box keeps the SUV in the meat of the powerband and will automatically upshift at around 4,000 rpm even in manual mode.
Which brings me to cabin insulation – in addition to the regular sound-deadening materials, the C5 uses double-laminated front windows and a windshield glass that lowers sound levels. It does work and for most parts, cruising in the C5 is a quiet affair, though over some road surfaces, you hear tyre noise and over sharp ruts and edges, you will hear a 'whack' from the suspension.
What does the Citroen C5 suspension feel like?
Apart from some sharp edges that catch the suspension out, the C5 does as advertised, which is to sail over bad roads and deliver a really nice and pliant ride. Broken surfaces and stripped away tarmac do not bother the car and maintaining high speeds over bad stretches is very easy. The secret here is the C5's dampers or what Citroen call 'Progressive Hydraulic Cushions'.
Citroen's 'Progresive Hydraulic Cushions' suspension soaks up bad roads and off road trails nicely though you will feel a thud over sharp edges.
They utilise additional springs inside and, importantly, hydraulic chambers as bump stops (regular bump stops are typically rubber).These gradually or progressively slow down the damper stroke, giving the car a wafting-on-air kind of feel. On the flipside, this also responsible for the thuds that filter through over sharp edges. This is because, as the compression builds up, the effective damping rate rises sharply, similar to air springs in which the air compresses rapidly towards the stiff end of their travel.
The Aircross' softer suspension does lead to some body roll and the nose tends to bob under aggressive braking, but grip is very good.
On the whole though, the ride quality is certainly a high point for the C5, and for the majority of its suspension travel, it will feel very pliant and composed, giving you a nice and plush ride. This does mean that handling isn't its forte though, while tyre grip is good, the softer springs mean there is body roll and you'll even notice some extra pitch that gets the nose bobbing when you dab the spongy brake pedal a little aggressively. Set up for comfort, the C5 doesn't have the sharp responses of, say, a Compass. What it also misses out on is four-wheel drive, but there are terrain response modes for better traction over loose surfaces like mud and snow, and there's also a hill descent mode.
No four-wheel drive but terrain response modes allow you to alter power delivery and braking characteristics for better traction over loose surfaces.
You can tackle an odd off-beaten trail, but this isn't something to beat a new path into the forest with, nor something you'd throw corners at, but the company makes no apologies about that. This is a car aimed squarely at those seeking a relaxed and enjoyable drive, and it delivers that in spades.
Should you buy the Citroen C5 Aircross?
Citroen is very much the newcomer – it's brand that hasn't existed in modern India until now and is largely unknown. But to compensate for the lack of brand awareness, don't expect Citroen to peg the C5 at an aggressively low price. The C5 is unlikely to be cheap and according to company sources the entry variant will be pegged at around Rs 30 lakh. At that price, there won't be many takers for the C5 but with only 10 dealers to begin with, clearly, volumes is not the target. The company believes it's here for the long haul and wants its products and services to speak for themselves. Like their haute couture fashion then, the French believe in paying for what you get, also much akin to high fashion, it's not for everyone.
The C5 isn't for those seeking sharp handling or serious off-roading, nor will those innovative rear seats be what the single, chauffeur-driven owner is looking for. But that's exactly what makes the C5 so great, it isn't trying to please all, rather it's chosen a set of parameters and decided to really double down on those.
The car looks chic and comes as a breath of fresh air, and it nails its stated mission of comfort with fantastic ride quality, impressive refinement and an easy-to-drive nature aided by a light steering and a smooth and responsive engine. Furthermore, there's ample space inside and the equipment list is quite comprehensive too. So, while the C5 maybe typically French, its chosen focus points are typical Indian requirements, and that's what Citroen will certainly be counting to open a strong innings in India.
Also see:
Citroen C5 Aircross India video review
Citroen India dealership locations listed
2022 Citroen C5 Aircross facelift image gallery
14350 Views|1 year ago
India-spec Citroen C5 Aircross image gallery
43161 Views|2 years ago
Citroen C5 Aircross image gallery
20026 Views|4 years ago
2022 Citroen C5 Aircross facelift video review
16336 Views|1 year ago
Roland Bouchara talks about Citroen's India entry, dealer...
9291 Views|2 years ago
Citroen C5 Aircross India video review
47912 Views|2 years ago