Thanks to local assembly and some feature deletions, the big S-Class costs a whopping Rs 60 lakh less than before.
2021 Mercedes S 350d: what is it?
Whenever a new S-Class comes along, it raises the bar for comfort, luxury and tech, not only for its segment, but for the rest of the auto industry to follow. This latest W223 version (or V223, since this is the LWB version), has done it again, but when it was launched in India, it raised a different bar – price. At Rs 2.17 crore (ex-showroom), it wasn't just more expensive than all its rivals, it was almost the same price as the stretched, V8-powered Maybach version of the previous generation.
The reason was that this was a limited-run 'Launch Edition' – something Mercedes often does in India – that was a CBU import loaded to the gills with equipment and tech. Price notwithstanding, the Launch Edition was snapped up in record time, and if you want an S-Class now, the car you'll get is a little bit different – locally assembled, missing a bit of equipment, with a lower-powered diesel engine and a price that's a solid Rs 60 lakh cheaper! This is the car we're driving today.
2021 Mercedes S 350d: what all has been removed?
The S 400d engine has been replaced by the S 350d – essentially the same OM656 3.0-litre straight-six turbo-diesel engine in a lower state of tune. Power is down from 330hp to 286hp, while torque has gone from 700Nm to 600Nm. Other mechanical changes include a shift from 4Matic all-wheel drive to rear-wheel drive for the diesel (the S 450 petrol is still AWD), and the removal of rear-wheel steering. You still get adaptive air suspension, of course, which can be raised to get the S class over tall speed breakers.
You might not miss the removal of the AMG Line body kit; the standard S-Class bumpers are still very elegant and get just the right amount of chrome garnish to keep things blingy. What you might miss, however, are the 20-inch AMG alloy wheels, which did look really good, but the smaller 19-inch units should have a positive impact on the ride.
Inside, you'll notice the standard Mercedes open-pore brown wood trim in place of the high-gloss veneer with pinstripe inserts from the Launch Edition. The open-pore wood is nice enough, but just doesn't have the same wow factor and is the same as you'll find in almost every lesser Merc. The steering wheel is no longer the 6-spoke AMG Line one, but the standard 3-spoke unit as in the E-Class, which is no bad thing. The ring of dynamic ambient lighting that encircled the cabin with colourful animations is now just a strip of gloss black trim (you still get conventional concealed ambient lighting in 64 colours), and the digital dials no longer have the 3D functionality; probably for the best, as it could be quite distracting.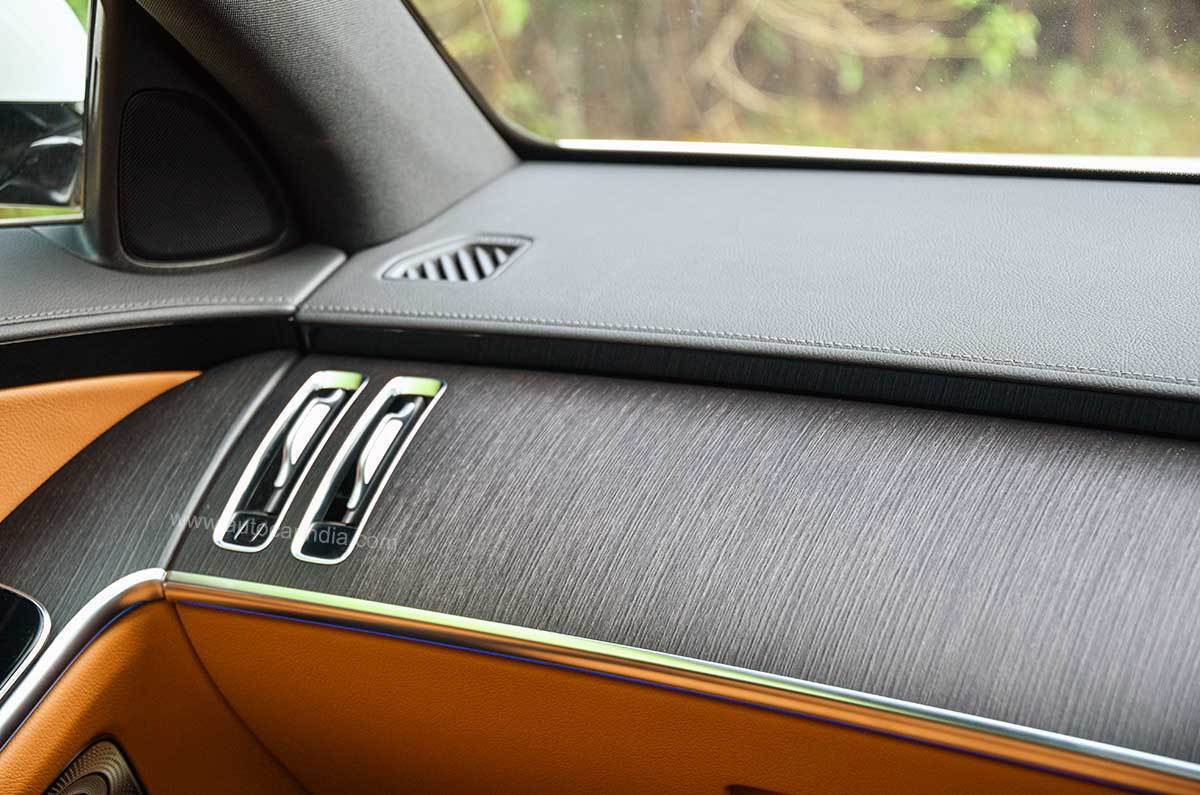 The rest comes down to equipment. Where previously there was Burmester's 31-speaker, 1,350-watt '4D Surround' system (with speakers inside the seats), it's been scaled back to the still-excellent 3D surround system, with 15 speakers and 710 watts. The front seats are still heated but no longer ventilated, and you no longer get the rear-seat frontal airbags from before.
2021 Mercedes S class diesel: what has stayed the same?
In short, most of it – this is largely the same benchmark-setting limousine it always was. The overall regal look remains, and they've been sure to retain the wow factor, with the high-resolution LED 'digital headlamps' and crystalline tail-lamps. You even get the pop-out door handles that mechanically retract into the doors once the car is locked.
The interior design, of course, remains the same – a mix of old-world and new-age, which can feel a bit incongruous in places, like the two high-resolution screens docked upright into an otherwise flowing dashboard. The screens themselves, however, are incredible – the instrument cluster, sans 3D effect, has been simplified and is now very crisp.
And then there's the 12.8-inch tablet computer in the centre. It remains one of the fastest, best-looking and best-functioning units on the market, with good haptic feedback, but a few more physical buttons would have helped operate things on the move; the steering-mounted controls feel fiddly to use too. Mercedes Me connected car tech returns, of course, as do a few ADAS features like adaptive cruise control and active lane-keeping assist. However, debuting on this car and rolling out to other connected models in the range is a new 'Car-to-X' system, which detects potholes, accidents, traffic jams, inclement weather and even speed bumps, and then transmits their location, via the cloud, to every other connected Mercedes-Benz in the area!
The one thing they simply couldn't tamper with was the rear seat experience, which has returned largely the same. These seats recline by 43.5 degrees, are wrapped in leather (albeit not the quilted Nappa leather of before) and offer heating, cooling, massage and memory functions. They've also retained the Chauffeur Pack, wherein the front passenger seat can be moved far forward, and an ottoman and foot rest fold out for the rear left passenger. You still get the two slick rear touchscreens, which combine with the Samsung tablet in the armrest to make controlling rear seat functions a breeze.
2021 Mercedes Benz S 350 d: engine, power and comfort
That the diesel engine has changed from a 400d to a 350d isn't a cause for pause either; after all, this was the same state of tune they used in the last S-class. The 400d, for all its numbers on the spec sheet, wasn't what you'd call a sporty engine to begin with. It delivered its 700Nm in a large, effortless whoosh, rather than a gut-punch shove. The 350d, in comparison, feels dialled down by about 15 percent – not quite as effortless, but still ample for a car of this size and weight (north of two tonnes). It's not what you'd call a slouch either, cracking out a 0-100kph of just 7.2sec in our performance tests.
By any other standard, this is an incredibly refined engine, letting out but a murmur should your chauffeur let the revs slip north of 2,500rpm. However, this is an S-Class, and as the benchmark for luxury cars, that's a murmur more than we'd expected. Similarly, we feel road noise could have been slightly better contained too.
Should you take the wheel, you'll be treated to an impressively tidy driving experience from what is a long-wheelbase limousine tailored for those in the back seat. Visibility is good, the steering isn't overly light and, if you switch to Sport or Sport+, body movements are pretty well contained. If you've experienced the rear-wheel steering from the Launch Edition, you will miss that uncanny agility it afforded, but if not, then manoeuvrability is what you'd expect from a car this long.
Ride comfort, of course, is a standout here, with the standard air springs and adaptive dampers serving up that cloud-like ride quality you want and expect. Some might find it a little too bouncy in Comfort mode, but setting just the dampers to Sport in 'Individual' mode will sort that out. In fact, this is one area it improves on the 400d Launch Edition, because the 19-inch wheels and chunkier tyres used here do a far better job of absorbing smaller bumps and road imperfections.
2021 Mercedes Benz S 350d: price, rivals and verdict
Yes, the price is now Rs 60 lakh lower, but at Rs 1.57 crore, ex-showroom, it's still more expensive than its key rivals, the Audi A8 L and BMW 7 series. Not by enough to make a difference at this price point, though. With local assembly, a lot of the gizmos that were talking points of this V223 S-Class at its launch have been removed, like the in-seat speakers, animated cabin lighting, new rear airbags and rear-wheel steering. These are, arguably, things you could live without, though, and at its core, this is still an S-Class through and through.
It remains the best back seat in the business and ride comfort is all but unparalleled. The tech looks, feels and is cutting edge, and ushers in what we can expect from the next generation of Mercedes-Benz cars. Refinement could have been a little better, but only because we're holding this car to its own extremely high standard. The relaxed straight-six diesel engine is a good fit for a limousine like this, and doesn't feel like a downgrade from the 400d. As always, the locally assembled S-Class maintains the high level of quality of its imported counterpart, and will more than likely retain its role as the most popular car in the segment.