We drive Nissan's answer to the Hyundai Creta to find out if it's a viable option.
Nissan's made-for-India Kicks is finally here. Based on a more robust chassis, this version of the Kicks has more ground clearance, a more SUV-like stance and a thoroughly updated interior. It also comes with tried-and-tested mechanical bits, is feature-rich, and, on first impression, looks like a strong challenger to the bestselling and currently undisputed segment-leader – the Hyundai Creta.
What is it?
While the Kicks in most other markets around the world is based on the same platform as the Micra, this one inherits the Duster's tough DNA, and is based on an updated version of the M0 platform that also underpins the Renault Captur. However, like the Duster, the Kicks has a proper SUV stance with its tall upright cabin, a flat bonnet and tough body cladding, all of which give it a beefy, macho appearance. What has also helped is that a lot of the design work and final detailing has been carried out in India and, truth be told, the designers have managed to blend the edgy detailing and robust architecture quite nicely. Design elements like the sleek projector headlamps that flank the signature V-shaped grille, the sharp cuts on the flanks, the boomerang-shaped tail-lamps, the 17-inch diamond-cut alloys and the roof rails, all work well. And so do the blacked-out pillars, which along with the two-tone orange and silver paint scheme are a unique combination. In terms of size, the Kicks is also larger than the Creta in every dimension. It is also 55mm longer and 32mm taller than the Captur.
What is it like inside?
Nissan seems to have gone the distance to lift the appeal of the interiors. The chocolate brown leather cladding on the dash gets white contrast stitching, the door pads are beautifully finished, there are brushed silver accents and you even get quilting on the leather seats that lend a premium touch. What really gets your attention, however, is the new 8.0-inch floating touchscreen that not only looks good, but is smooth, slick and performs well. Also attractive are the 'butterfly-type' meters that flank the digital speedometer and then there's the steering that's nicely built too. The dummy buttons on the steering wheel, however, are quite an eye sore and the fuel gauge looks unusually large as well. Also, on closer inspection, you can see a few hard plastics in not-so-important places and some carryover bits from its siblings have been included, ergonomic flaws intact – stuff like an elbow rest that sometimes fouls your elbow when you change gear, a narrow but deep glovebox and the seats that are placed a bit too high. In addition, there aren't any cupholders in the central console, there's no elbow box and, in this era of smartphones, there's just one USB slot. The saving grace here, however, are the door pockets that are large and easily hold 1-litre bottles.
The upright seating position means visibility is good; the front seats are broad and accommodating and there's more lateral support on these very comfy cross-stitched leather seats. While there's plenty of seat adjustment, the steering only adjusts for rake, and not reach. Also missing, is a dead pedal, and space in the footwell is compromised due to the protruding centre console.
Getting into the rear is quite easy thanks to doors that open wide. There's a reasonable amount of space in the back, and while the dark interiors make it look smaller than it is, there's plenty of headroom and adequate kneeroom. What is also nice is that even a third passenger wouldn't feel unwelcome here thanks to the adequate seat width and an almost flat floor. And another nice touch is the dual-operable parcel shelf that can be opened from inside to access the large 400-litre boot.
Nissan has included some segment-first kit like a 360-degree camera, leather dashboard inserts, and an Eco driving mode. The features list includes 17-inch alloys, four airbags, cruise control, auto LED projector headlamps, cornering lights, climate control, hill-hold assist, vehicle dynamic control, rain-sensing wipers and a digital speedometer, amongst others. It does, however, miss out kit like a sunroof, curtain airbags and wireless phone charging, many of which are available in the recently launched Hyundai Creta facelift.
What is it like to drive?
The Nissan shares its powertrains with the Duster and Captur, so it gets a 1.5-litre diesel mated to a 6-speed manual and a 1.5-litre petrol mated to a 5-speed manual (not tested here). There are currently no automatic options.
The diesel engine is the familiar 110hp K9K motor that makes 240Nm of torque and here its character remains largely unchanged. As before, it's a bit rough at idle but smoothens out once it starts spinning faster. There is a fair bit of turbo lag below 2,000rpm and at low speeds there is a fair amount of clatter too. Turbo lag, however, is a bit less than on the Duster or Captur and as the engine is eager to rev it rewards drivers with its meaty mid-range performance once the turbo starts singing. It's at its strongest between 2,100-4,000rpm, so remain in its powerband and overtaking on the highways is rather effortless and performance is strong. What's also nice is that this engine feels smooth and jerk-free at low speeds and neither the clutch nor the gears are cumbersome to use. The steering is a bit weighty at parking speeds, but it lightens up as soon as you start to move.
What's also quite impressive is the manner in which it rides. Happen to miss a speed bump or a pothole at speeds, no problem – the Kicks simply takes it in its stride, only tossing your mildly, no big crash from the suspension; and the ride remains composed and settled at speed, too. Even at low speed it does its best to keep road shocks to a minimum. Then there's the handling, which is neat and tidy too. The turn-in is quite sharp, especially at speed, and this means you need a steady hand on the wheel, and there is some body roll too, but straightline stability is good and it does have a fair amount of grip around corners. The body roll is well-contained and the brakes give you a fair amount of confidence too.
Should I buy one?
The Kicks does many things right. It is robust and it portrays a sense of toughness, it rides and handles well, the diesel engine has more than enough grunt and the interior is both well-built and generously equipped. Yes, the diesel engine is a bit gruff, there are a few ergonomic issues in the cabin and there's no automatic option. Prices for the Kicks diesel start at Rs 10.85 lakh while the fully-loaded XV Premium + has been priced at Rs 14.65 lakh (ex-showroom, India). It's not cheap but you can call pricing competitive. In all, the Kicks is a strong contender and comes across as a credible alternative to the Creta.
Also see:
Nissan Kicks bookings open on Dec 14; interior revealed
2019 Nissan Kicks India image gallery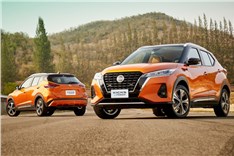 2020 Nissan Kicks e-Power image gallery
7744 Views|2 years ago
2019 Nissan Kicks India image gallery
30342 Views|4 years ago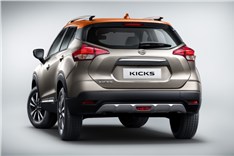 2019 Nissan Kicks image gallery
38024 Views|4 years ago