Small, tough and capable, the Suzuki Jimny is everything that you'd wish a modern Gypsy to be.
What is it?
Few cars have blown up on the internet this year as the Suzuki Jimny. Every spied photo, every leaked detail and just about anything new on the new Jimny has gone viral. To all and sundry, this is the modern Gypsy replacement we've all been waiting for. And it won't be giving much of the verdict away to tell you that the new Jimny is comprehensively better than its two-gen-old predecessor that's still starring at off-road meets and in the extremities of India as the vehicle of choice for the border patrol forces. But while a lot about the new Jimny has changed, much will be familiar to the Gypsy's fervent fan base.
Suzuki's mission statement to make 'the one-and-only, small, lightweight four-wheel-drive vehicle' remains. Under that new body, the fourth-generation Jimny still features a ladder frame chassis, three-link rigid axle coil spring suspension and four-wheel drive. The addition of new tech such as hill hold and descent control, brake support and a host of driver assistance systems are all intended to make the new Jimny even more capable than the old car.
What's it like on the outside?
Design-wise, the old Jimny – the third-gen model that was given a miss for India – was beginning to show its age, so there's some irony in the fact Suzuki has modernised it by giving it something of a retro design. While the new model is sharper and boxier, it retains familiar Jimny traits such as the round headlights, independent indicators and front grille design. It gives the new car something of a mini Mercedes G-class vibe, served with a side of micro-sized Japanese fun. This is subjective but, to this tester, it looks fantastic.
Fantastic and tiny, the new Jimny retains the small size of its predecessors. In fact, though it is 45mm wider and 20mm higher, this new model is actually 30mm shorter than the old one. Those dimensions ensure a variant of the Jimny (fitted with a 650cc engine) qualified for Japan's Kei car class.
What's it like on the inside?
The Jimny's small size means it remains a small car inside. The driver's footwell feels a little cramped, with the accelerator pedal right up against the transmission tunnel.
It's still decades ahead of the Gypsy in comfort but the vibe on the inside is still that of serious little off-roader. Suzuki describes the interior as "functional", and that's what it is. The mostly black dashboard and switches are predominantly plastic, with many switches shared with other Suzuki models, and the seats are comfortable rather than cosseting. There are only two seats in the back, without much leg room on offer, and the luggage capacity is a mere 377 litres, and that's with the rear seats folded down. With the seats up, there's just 85 litres of storage, accessed through a sideways opening boot.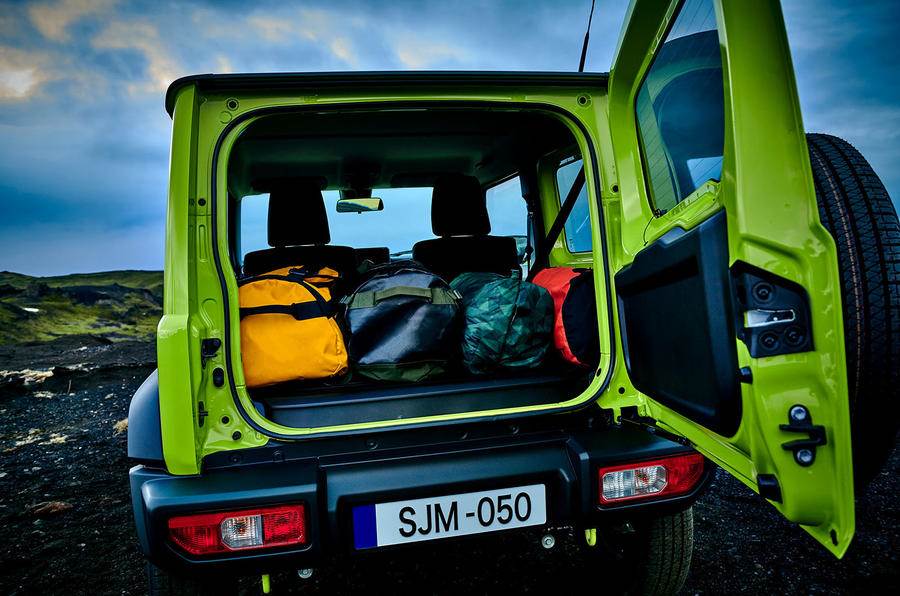 There are some nods to luxury – or at least modernity – inside, with features on our top-spec SZ5 model including auto climate control, Suzuki's 7.0-inch touchscreen, rear privacy glass and heated front seats.
What's it like to drive?
The old Jimny's 1.3-litre petrol engine has been replaced by a new 1.5-litre unit – the only option, with Suzuki moving away from diesels – which offers 102hp, 130Nm of torque at 4,000rpm and a top speed of 146.4kph. While our test car featured the five-speed manual 'box, a four-speed auto is also available.
As those specs might suggest, the Jimny is not an especially fast car. The revvy engine takes some working to get up to speed, especially with the long gearstick's substantial and slightly agricultural throw.
Running on 15-inch wheels and chunky 195/80 R15 tyres, and with the electrically assisted recirculating ball steering, the Jimny doesn't offer much in the way of direct feel or driver feedback, although the short wheelbase makes it extremely direct and nimble to drive. And, as you'd expect given the car's serious suspension, it soaks up even the biggest of bumps with ease.
The car's high-riding, box-like dimensions and large windows ensure that visibility is excellent, although that also means wind noise is notable at higher speeds.
Still, people don't buy a Jimny because they want a nimble city car, or a highway cruiser. And, despite its lovable retro styling, this isn't a style-over-substance 'urban crossover'. This is a proper mini off-roader for people who do proper mini off-roader things.
During our test drive, we were able to sample the Jimny on an off-road forest course, including deep ruts, steep hills and a muddy water splash – and the Jimny simply never put a foot wrong.
The ability to switch from two-wheel drive to four-wheel drive, and then a four-wheel-drive low mode, gives it real ability, while the rigid axle suspension soaks up everything you can throw at it. For those who need to know such things, the approach angle is 37 degree, the ramp breakover angle is 28 degree, and it has a departure angle of 49 degree.
Should I buy one?
The Jimny's retro-cool styling gives it real appeal. But those seeking a stylish mini G-class city runabout would probably find the engine lacking power and refinement, apart from an annoying gear change, floaty steering and handling, an unrefined interior, undersized rear seats and an impractically tiny boot.
This fourth-generation version might have brought the Jimny into the 21st century, but it's still not exactly at the cutting edge. But, then again, it's not trying to be. And all of those faults listed above, flipped on their head, are what makes the new Jimny superbly fit for purpose, as a truly capable mini off-roader.
For the dedicated members of the off-road fraternity, the new Jimny is capable, confident and utterly compelling. The only trouble is, Maruti is yet to confirm if the Jimny is indeed headed to India. The Gypsy is likely to get the axe by October 2019 when the new safety norms become applicable to all cars on sale in India, so Maruti does have a ready replacement in the Jimny. But at the end of the day, the business case needs to make sense. Fingers crossed it does. Because in the Jimny, Maruti will have a charming little off-roader.
Would you like to see the Jimny on sale in India? If so, at what price? Let us know in the comments section below.
JAMES ATTWOOD
Also see:
2018 Suzuki Jimny receives 3-star Euro NCAP rating
2018 Suzuki Jimny image gallery
Autocar Awards 2023 video: Maruti Grand Vitara, Bajaj Pul...
4704 Views|17 days ago
Maruti Suzuki XL6 vs Kia Carens comparison video
8794 Views|1 month ago