Volkswagen has pulled the wraps off its new fast flagship, the Touareg R. In keeping with the high-performance R sub-brand's recent commitment to electrification, the new SUV uses a plug-in hybrid drivetrain to deliver 462hp and can travel for up to 48km in electric-only mode. Performance figures have yet to be confirmed, but expect the 0-100kph sprint to take around 5.0sec, with an electronically limited top speed of 250kph.
Our sister publication Autocar UK was shown around the Touareg R by the head of R division, Jost Capito, who revealed why Volkswagen had opted to make the model a plug-in hybrid rather than use the more powerful mild-hybrid V8 from sibling brand Audi's recently launched RS Q8.
"The Touareg is the perfect car for the step into electrification," explained Capito. "The engines from these other cars were never considered, as the Touareg is designed as a comfortable fast cruiser that needs to go from comfortable to sporty, but not extreme sporty. This is a car for enthusiasts but also for people with active lifestyles."
The petrol-electric setup is essentially the same one that has already been seen in the latest Porsche Cayenne and Panamera. It comprises a 340hp turbocharged 2.9-litre V6, mated to a 136hp electric motor that sits between the engine and the 8-speed Tiptronic automatic gearbox, and is powered by a 14.1kWh battery mounted beneath the boot floor. Combined power output is 462hp, while total torque is a muscular 700Nm.
"Using this drivetrain was a bit opportunistic," explained Capito. "With the relatively low volumes that R achieves, we can't develop a standalone hybrid system, so we have to look around for what's already available in the [Volkswagen] Group. If we do a car that can't be built on the existing line, the price goes way up. This is why I love working for R, because I can deliver cars that are for people who love driving yet are also affordable."
As you would expect, there are numerous hybrid-related settings. Among them is E-Mode, which allows electric-only driving at speeds of up to 140kph before the V6 kicks in. It also fires up when you request kickdown by fully opening the throttle.
When the battery is running low, it's possible to set the level of charge that you desire, which the system then achieves by using the V6 as a generator and increasing the level of regenerative braking.
To enable the Touareg to maintain its off-road prowess and 3.5-tonne towing weight (around 80 percent of customers tow with their Touaregs), the R model retains the Torsen-equipped four-wheel-drive transmission with various on- and off-road driving modes. Unlike the Golf R and T-Roc R, however, it has no Race mode. In normal running, up to 80 percent of the engine's torque can be sent to the front axle and up to 70 percent to the rear axle.
As with the regular Touareg, customers will be able to order an Off-Road Package, complete with improved underbody protection and extra traction control settings for driving on gravel, mud and sand.
Volkswagen is evaluating the standard Touareg SUV for India, and if the model is brought to our market, pricing is expected to be around Rs 65-70 lakh depending on the variant.
Also see:
Volkswagen T-Roc India launch on March 18, 2020
Volkswagen Taigun: What to expect from VW's Creta, Seltos rival
Volkswagen ID Xtreme concept image gallery
2524 Views|2 months ago
2022 Volkswagen Virtus image gallery
24221 Views|9 months ago
2019 Volkswagen Virtus image gallery
48208 Views|3 years ago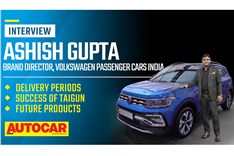 VW's Ashish Gupta on success of the Taigun, brand's futur...
2302 Views|1 month ago
VW Taigun, Skoda Kushaq crash test video
5588 Views|1 month ago
2022 Volkswagen Virtus 1.0 TSI MT video review
7930 Views|5 months ago