UPDATE: Toyota Glanza teaser out
Toyota and Suzuki have already announced areas of partnership and its plans include sharing certain models across the globe. In India, the first shared model will be Toyota's version of the Maruti Suzuki Baleno. The Toyota hatchback (codename: A11) will go on sale in India on June 6, 2019.
As reported, the Toyota will essentially be a badge-engineered version of the Baleno with costly cosmetic changes kept to a minimum. It is expected that many soft parts such as the grille and bumpers will be different but the two cars will essentially be the same. However, sources tell us that the Toyota A11 will come only with a single petrol engine option and will not be offered in diesel form like the Maruti Baleno is. Additionally, people in the know also tell us that Toyota will launch the car in only in higher trim levels, most likely an equivalent to the higher-spec Baleno Zeta and Alpha variants. This would, in turn, result in a comparatively higher starting price for the Toyota A11 in our market.
A higher price for essentially the same car might not help the A11's case vis-à-vis the Baleno. However, to add some distinction to its hatchback, Toyota is expected to offer a longer warranty. The A11 is likely to come with a standard 3-year/100,000km warranty, similar to what's offered on other Toyota models in India. The Maruti Suzuki Baleno, for reference, comes with a standard 2-year/40,000km warranty. The Toyota's warranty will equal Hyundai's warranty on the i20, though it's the Honda Jazz that goes one up on the others with a 3-year/unlimited kilometer warranty.
Toyota is also likely to offer extended warranty plans with the A11 premium hatchback, including Toyota's five-year True warranty package that can be opted within the period of standard manufacturing warranty, and the seven-year Toyota Timeless Warranty package, which can be purchased after the standard warranty is over.
The Baleno is one of the first shared models between Toyota and Suzuki. This JV will also see re-badged Maruti Suzuki models like the Ertiga, Ciaz and the Vitara Brezza retail via Toyota dealerships in India, and a few other international markets.
Click here for Toyota India models, prices, reviews, videos, images and more
Click here for Maruti Suzuki Baleno prices, reviews, videos, images and more
Click here for Maruti Suzuki models, prices, reviews, videos, images and more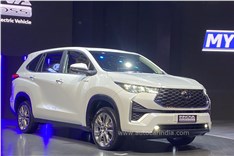 Toyota Innova Hycross image gallery
63730 Views|7 days ago
New Toyota Prius image gallery
7895 Views|16 days ago