Toyota will offer other car companies royalty-free use of nearly 24,000 patents it holds for electrified vehicle technology, in a bid to accelerate the development of such machines.
The royalty-free technology licences relate to systems including electric motors, power control systems and system controls. While the bulk has been developed for Toyota's hybrid technology, the firm says they can also be applied to plug-in hybrid and fuel-cell vehicles.
Toyota will also offer fee-based technical support to firms producing electrified vehicles that feature the company's motors, batteries, power and electric control systems. It says the guidance will allow firms to "achieve high levels of vehicle performance."
Toyota executive vice-president Shigeki Terashi said: "Based on the high volume of enquiries we receive about our vehicle electrification systems from companies that recognise a need to popularise hybrid and other electrified vehicle technologies, we believe that now is the time for co-operation.
"If the number of electrified vehicles accelerates significantly in the next 10 years they will become standard."
In total, Toyota will offer licences to 23,740 patents, with the grants available to firms from now until the end of 2030. The firm has been offering 5,680 similar licences for fuel cell systems since 2015.
Toyota has invested heavily in hybrid technology since the launch of the Prius in 1997. The new Corolla gets two hybrid powertrain options, and there is also a hybrid option for the new RAV4 SUV. It is currently developing its first pure electric cars, with the aim to offer 10 such vehicles by the early 2020s.
Toyota's move echoes an offer by the Volkswagen Group to licence its new MEB electric architecture to other car manufacturers. It is another example of car firms aiming to pool resources to accelerate the development of EV systems, which is crucial as firms face increasingly tough CO2 emissions targets from legislators.
Toyota has already established partnerships with Suzuki and Mazda. The former deal involves Toyota producing Suzuki-badged hybrid models based on the RAV4 and Corolla Wagon and co-producing bade-engineered Maruti Suzuki cars and SUVs with a Toyota badge.
Click here for Toyota India models, prices, reviews, videos images and more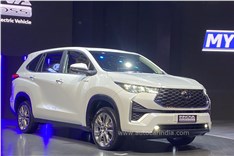 Toyota Innova Hycross image gallery
62563 Views|4 days ago
New Toyota Prius image gallery
7657 Views|13 days ago