Toyota Kirloskar Motor has announced that it has withdrawn the lockout at its manufacturing plants in Bidadi, Karnataka. The two plants together have a combined manufacturing capacity of up to 2,10,000 units per annum.
Lockout instituted on November 23, 2020 has been lifted
Second shift to start at both plants in Bidadi, Karnataka
According to the company, the TKM management was forced to announce a second lockout on November 23, 2020, due to the continued illegal strike by Toyota Kirloskar Motor Employees Union. However, the company had resumed production with over 1,200 team members who had expressed their intention to work with discipline, through a simple undertaking of good behaviour.
Thereafter, in view of a recent meeting held between Dr. Ashwathnarayan, Deputy Chief Minister, Government of Karnataka with the TKM management and having observed a gradual improvement in safety situation, both inside and outside the company premises, the TKM management have decided to withdraw the lockout, without any compromise to discipline and productivity.
Second shift begins today
As a result of the lifting of the lockout, operations will enhance with effect from second shift of January 12, 2021 in both the plants. Employees returning to work will sign a simple undertaking for good conduct and report to work. TKM says, "The Suspension Pending Enquiry of 66 unionised employees for serious misconducts will continue and domestic enquiries will be conducted adhering to the principles of Natural Justice."
The company statement issued today reads, "Our success depends upon the dedication of our team members. Furthermore, as a people-centric company, TKM has been at the forefront of providing a conducive working environment including competitive compensation packages, as well as unique welfare measures over and above the statutory requirements, to improve the quality of life of its workforce. As a world-class manufacturing company, we will continue to introduce favourable and unique policies that support our employee while further fostering a safe and rewarding working environment that suits the diverse needs of our team members and their families. The safety and well-being of all our stakeholders and especially our employees being of utmost importance to us, and we would like to emphasize that basic discipline will continue to be the cornerstone of our business principles and we will not compromise on behaviour and acts that threaten Toyota's safety philosophy and its brand value in the country."
Also see:
Next-gen Toyota Fortuner to likely debut by 2022
Toyota Fortuner facelift price, variants explained
Yoshiki Konishi talks about the updates to the Toyota Fortuner facelift and more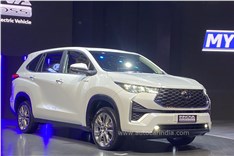 Toyota Innova Hycross image gallery
59798 Views|2 days ago
New Toyota Prius image gallery
7393 Views|11 days ago
Toyota Innova Hycross walkaround video
14096 Views|2 days ago
Toyota Corolla flex fuel hybrid: Quick drive video
9251 Views|24 days ago