On the eve of the all-new Innova Hycross' India debut, we've come across some fresh details about the MPV's gearbox options and variant break-up. Sources tell us that the Toyota Innova Hycross will not get a manual gearbox option, at least initially, and all variants will come with a CVT automatic gearbox only.
Innova Hycross to get three hybrid variants
Two lower variants will not get hybrid powertrain
Will be sold as a seven or eight seater
Toyota Innova Hycross: gearbox, variants, seating layout
The Innova Hycross will come in five variants and we can confirm that the top three versions will have a strong hybrid powertrain, while the lower two will get a naturally aspirated petrol engine. The entry-level petrol variant will be targeted at fleet operators only, according to sources.
The strong-hybrid powertrain, as reported by us earlier, is a 2.0-litre engine mated to fifth-gen strong hybrid tech (M20A-FXS). This engine, like most Toyota hybrid units, uses an Atkinson or Miller cycle for greater efficiency. It churns out 152hp and 187Nm of torque and is coupled to an electric motor for a combined power output of 186hp.

Additionally, the Innova Hycross will also come with a non-hybrid version of the same 1,987cc engine (M20A-FKS), which puts out 174hp and 197Nm, and comes mated to a CVT gearbox only. This means that both powertrain options on the Innova Hycross will not come with a manual transmission.

As far as seating configurations go, Toyota will offer 7- and 8-seat layouts on the Innova Hycross. The 7-seat configuration will come with two captain's chairs with an ottoman function for the second row and a bench seat for the third row, while the 8-seat layout will have bench seats for the second and third rows. Toyota will provide three-point seat belts for all passengers, which means the third row will also have three dedicated seat belts.
Toyota Innova Hycross: features, fuel economy, launch details
As reported by us earlier, the Innova Hycross will be more or less identical to the Innova Zenix that made its debut earlier in the week in Indonesia. Click here to know about the MPV's expected features, fuel economy and other details.
Also See:
Toyota Innova Hycross vs Innova Crysta: New vs old
Feature: Toyota Innova – Journey to becoming India's favourite MPV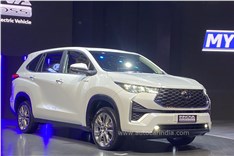 Toyota Innova Hycross image gallery
66423 Views|14 days ago
New Toyota Prius image gallery
8351 Views|23 days ago
Toyota Innova Hycross video review
15663 Views|3 days ago
Toyota Innova Hycross walkaround video
20336 Views|14 days ago