Toyota Kirloskar Motor (TKM) announced the launch of the Toyota Driving School in Mumbai today. This driving school is managed by one of the brand's own dealerships, Lakozy Toyota. The driving school is the company's first in Mumbai, Maharashtra and its 11th across India. This is a part of Toyota's 'Safest Car with Safest Driver' mission toward road safety.
The chief guest at launch of the Toyota Driving School was Hemant Patil, Assistant Regional Transport Officer, Andheri, Mumbai. Amar Pawar, dealer principal, Lakozy Toyota was also present, along with N Raja, Deputy Managing Director, Toyota Kirloskar Motor, who was there to represent the senior management of the company.
In an attempt to improve the culture of road safety in India, Toyota Kirloskar Motor has launched ten other driving schools at Kochi, Lucknow, Hyderabad (two), Chennai (two), Kolkata, Faridabad, Vijayawada and Surat. The Toyota Driving School places great importance on making every student a responsible and safe driver.
The school's curriculum will be a comprehensive driver-training program boasting high quality, practical and futuristic training models like the driver-simulator mechanism. The curriculum will cover the following topics comprehensively:
- Traffic management, rules and discipline.
- Safe and correct driving concepts.
- Manners and responsibilities of a driver.
- Simulation of driving in a real vehicle before getting on to the road.
- All aspects of practical driving on roads.
- Driving on various roads under different climate conditions.
- Know your car: Basic maintenance and repairs.
- Emergency handling.
- Systematic evaluation and feedback.
The simulator is a key part of the teaching program and is expected to provide hands-on experience. Learners can practice all car controls like steering and accelerator-, brake- and gear-shifts before they take the actual vehicle out on the road. The set-up can also simulate various road and weather conditions like fog, dim light, and uphill and downhill terrain. Beginners can apply for the driving school's standard learning package; but in addition to that, the Toyota Driving School will also offer the flexibility of additional learning modules, allowing its students to design a curriculum of their choice.
To make this experience as realistic as possible, Toyota has incorporated features like the instrument panel, steering, and seats of an actual Etios car in this simulator. "The simulator is the first car simulator in India with Full High Definition Computer graphics in an immersive Curved Projection environment, and it is the first simulator in India with real complete car cabin along with actual car gear," said N Raja, deputy MD, Toyota Kirloskar Motor. "In addition, it also offers extensive local language support for effective training and extensive sessions for both novice and advance drivers.
Commenting on the launch of the new Toyota Driving School, Amar Pawar, Dealer Principal - Lakozy Toyota said, "It is a privilege for us to be associated with Toyota Kirloskar Motor in contributing towards improving road safety in Mumbai and playing an active role in their endeavour to promote good driving habits amongst citizens. Increasing population and rising traffic in urban areas has compromised on road safety, leading to increase in road accidents. The steady rise in the number of road mishaps in the city is an issue that needs to be addressed promptly; and with our driving schools we take on the onus of educating our citizens on achieving the ultimate safety mission of zero accidents. We believe that the Toyota Driving School – with Toyota's trainers and a comprehensive curriculum – will be able to improve the behaviour amongst the people in our city."
N Raja said, "As per the latest statistics, in India, more than 1,50,000 people are killed each year in traffic accidents. That's about 400 fatalities a day and primary reason of road accidents are poor road safety practices. Road safety goes beyond the transport sector, with a direct impact on public health, societies, and economies. Road traffic crashes cost most countries three percent of their gross domestic product. Road safety is an inherently cross-sectoral issue. Real progress can only happen if all relevant stakeholders unite their efforts. As safety leaders in the industry, it is our primary mission to ensure the safest cars with the safest drivers in the country and significantly reduce the traffic accidents with our safety initiatives. Through these driving schools, we aim to bring down the rising number of road mishaps in the country caused majorly due to human error."
The Toyota Driving School has till date enrolled over 5,800 students. By 2020, the company plans to launch 50 such schools across India, voicing their traffic safety commitment even louder.
Also see:
2019 Toyota Camry Hybrid India review, test drive
2019 Toyota Supra unveiled at Detroit motor show
Toyota Fortuner GR Sport image gallery
4567 Views|5 days ago
Toyota GR Corolla image gallery
5481 Views|1 month ago
Toyota Innova EV concept image gallery
7299 Views|1 month ago
2022 Toyota Camry Hybrid video review
6311 Views|8 days ago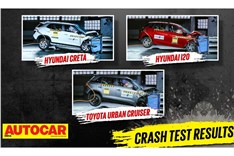 Hyundai Creta, i20 & Toyota Urban Cruiser Global NCAP cra...
3569 Views|1 month ago
2022 Toyota Glanza first look video
10336 Views|1 month ago