EXCLUSIVE!
Ever since news of Toyota and Suzuki sharing certain models in India first came out, the market has been following developments keenly, waiting to know specifics about the agreement and what it really entails in terms of product-sharing. Just last week, we learned that the first of the shared models, the Toyota-badged Baleno, will be launched in the second half of 2019. Now, we can confirm the Toyota-badged Vitara Brezza will follow the launch of Toyota's Baleno – but it will only be launched sometime between 2020 and 2021.
Speaking to Autocar India, N Raja, deputy managing director, Toyota Kirloskar Motor, said, "The Vitara Brezza is part of our future plans. The (Toyota-badged) Baleno is for this year; the Vitara Brezza is for next year or the year after. It's yet to be decided."
As we'd reported earlier, the model-sharing exercise between Toyota and Suzuki will involve more than just plain badge-engineering. Toyota's version of the Vitara Brezza will likely feature a number of soft part changes; and it could get a new grille, redesigned bumpers and lights to give it a distinct identity.
Raja, however, has confirmed that changes will be kept to a minimum. The reason is simple – any further differentiation in the products (involving sheet metal changes) would require higher investment and would drive up costs; something Toyota wants to keep in control. Instead, the company's plan is to add value to the car-buying experience and tap into its existing customer base to ensure that they stay within the Toyota fold.
Cosmetic changes for the exteriors and interiors aside – under the skin, Toyota's version of the Vitara Brezza will be identical to the Maruti Suzuki model and will share its engines and gearboxes. The current Vitara Brezza will get Maruti Suzuki's new, in-house developed 1.5-litre diesel engine before the BS-VI norms come into effect; and so Toyota's version of the Vitara Brezza is also likely to get the same engine.
What would be your reason for buying a Vitara Brezza from Toyota instead of buying it from Maruti Suzuki? Let us know in the comments.
Also see:
Toyota bets on body-on-frame construction
2019 Toyota Camry Hybrid India review, test drive
First new-gen Toyota Supra sells at nearly Rs 15 crore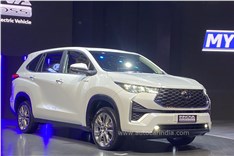 Toyota Innova Hycross image gallery
65340 Views|11 days ago
New Toyota Prius image gallery
8201 Views|20 days ago
Toyota Innova Hycross video review
8701 Views|16 hours ago
Toyota Innova Hycross walkaround video
20129 Views|11 days ago