Skoda has announced that it has taken on the global responsibility of developing MQB A0 platform-based models for the VW Group. The announcement comes after Skoda successfully led the development of the platform's India-specific derivative – MQB A0 IN – which spawned vehicles like the Skoda Kushaq and VW Taigun SUVs. It will also underpin midsize sedans like the upcoming Skoda Slavia and the Volkswagen Virtus.
Skoda takes on global responsibility for MQB platform for first time
Will undertake new model development for emerging markets
"By assuming responsibility for the MQB-A0 Global Platform, Skoda Auto is in charge of the worldwide development of a platform for the first time. We are applying our development expertise, taking on even more responsibility within the Volkswagen Group and at the same time strengthening Skoda Auto's headquarters as an important European development centre for the Group," said Thomas Schäfer, Skoda Auto CEO.
With the new responsibility, Skoda is now tasked with developing the platform "for regions with high growth potential including India, Russia, Africa as well as the ASEAN countries and Latin America." This means that, like in India, Skoda will be taking the front seat in developing a region-specific version of the global MQB A0 to be used by new 'entry-level' models from Skoda and Volkswagen.
Skoda had led the development of the India-specific MQB A0 IN, with the localised platform forming a key part of the VW Group's India 2.0 plan. The first model to use the new platform was the Skoda Kushaq that launched earlier this year, followed up by the Volkswagen Taigun. Two more models are currently in the works, both of which are midsize sedans, with Skoda's version, badged the Slavia, set to debut by end-2021 and the VW derivative to arrive next year.
Johannes Neft, Skoda Auto board member for technical development, added, "Our development team has a deep understanding of the entry-level segments. We are now bringing this to bear with the development of the MQB-A0 Global Platform. For us, this is a great award and at the same time strong motivation to make the project a success. Based on this platform, new models will be created that are precisely tailored to the diverse customer needs in the various regions."
Skoda has also revealed that its medium-term goals on the global stage involve making the Kushaq available in more emerging markets. While this could entail exporting the model from India, localising the platform for regional markets for manufacturing could also be on the cards.
Also see:
Taigun vs Kushaq: Feature comparison
Volkswagen Taigun subscription plans introduced at Rs 28,000 a month
Skoda Kushaq review, road test
Skoda India Brand Director Petr Solc on the return of the...
3322 Views|4 months ago
Hyundai Verna vs Skoda Slavia vs Volkswagen Virtus video ...
18498 Views|4 months ago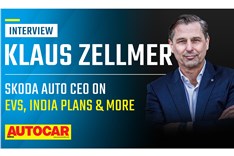 Skoda Auto CEO Klaus Zellmer on EV strategy, future India...
2456 Views|4 months ago