If there is one car that most of us remember vividly from the original Fast & Furious, it is that bright orange Toyota Supra driven by Brian O'Connor. A true Japanese sportscar legend, the Toyota Supra, in its latest format, is also called the A90 or the MK5 by enthusiasts. It was showcased to the world earlier this year at the Detroit Auto show in an American/ European left-hand-drive spec. And now a right-hand-drive Toyota Supra MK5, possibly in Japanese spec has been showcased at the Bangkok International Motor Show 2019.
Underneath the skin, the new right-hand-drive Japan-spec Supra is pretty much identical to the left-hand-drive car, except that it comes with a 2.0-litre four-cylinder engine in two states of tune – a 197hp SZ variant with 320Nm of peak torque and a 258hp SZ-R variant with 400Nm of peak torque. The left-hand-drive model in Europe and the United States is the top-spec Supra RZ that comes with a 340hp/500Nm, inline-six twin-turbo motor. All engines will be mated to an 8-speed automatic gearbox, with no option of a manual in the near future.
While the existence of the right-hand-drive Toyota Supra will get you excited, Toyota India has no plans of bringing the sportscar to the country anytime soon. Speaking to Autocar India, N Raja, deputy managing director, Toyota Kirloskar Motor said, "It has just been shown. I wish I can look at it, but right now, nothing on that. It's too early to talk about the Supra." The Supra was co-developed by the Japanese automaker alongside the new BMW Z4. And while the new BMW Z4's India debut is close, we don't expect Toyota India to bring the Porsche Cayman competitor here anytime soon.
Click here for all Toyota models, prices, reviews, images and more.
Toyota Fortuner GR Sport image gallery
5499 Views|9 days ago
Toyota GR Corolla image gallery
5599 Views|1 month ago
Toyota Innova EV concept image gallery
7854 Views|1 month ago
2022 Toyota Camry Hybrid video review
6780 Views|12 days ago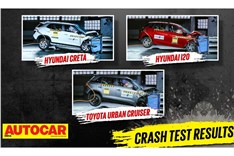 Hyundai Creta, i20 & Toyota Urban Cruiser Global NCAP cra...
3686 Views|1 month ago
2022 Toyota Glanza first look video
10428 Views|1 month ago