The all-electric Mercedes-Benz G-Class looks to be nearing production, with Mercedes' parent company Daimler recently filing a trademark for the EQG 560 and EQG 580 names. As per the European Union Intellectual Property Office, apart from the two recent filings that are under examination, Daimler had trademarked the EQG name way back in 2016.
All-electric G-Class confirmed by Mercedes back in 2019
The EQG could be offered in two versions
Mercedes EQG: what is it?
The all-electric Mercedes G-Class or EQG was hinted at as far back as 2018, at the global debut of the current-gen G-Class. In 2019, Daimler chairman and head of Mercedes-Benz Cars, Ola Källenius, confirmed that an all-electric G-Class was under development, which would join Mercedes' growing line-up of EQ electric vehicles.
Details on the model are still scarce, though the all-new EQG is expected to feature electric motors on each axle – similar to the upcoming EQS all-electric flagship – with power and torque figures expected to be higher than that of the regular petrol and diesel models.
The recent trademark filings suggest that the all-electric SUV could be offered in two versions – EQG 560 and EQG 580. However, with the applications under examination as of now, it remains to be seen which names will be approved.
Mercedes is set to rapidly expand on its EQ range of electric vehicles, with the carmaker having previously confirmed that it would debut six new EQ models by 2022. These included the already revealed EQA SUV, the upcoming EQB SUV and EQS sedan, along with an SUV version of the EQS and the all-new EQE in sedan and SUV guise.
Little is known about when the EQG will likely make its debut, though one could expect more details on the SUV to drop in the coming years.
Mercedes' plans for India
Coming to the Indian market, Mercedes debuted its EQ brand last year with the GLC-based EQC. For 2021, Mercedes has lined-up a fair few launches for India, with the most recent ones being the all-new A-Class Limousine and the facelifted E-Class. The carmaker has also confirmed the launch of the second-gen GLA SUV, the new Mercedes S-Class and the AMG GT Black Series for this year.
Also see:
Mercedes-Benz sells 3,193 SUVs, sedans in Q1 2021
2021 Mercedes-Benz GLC 200 first look video
2021 Mercedes-Benz CLS facelift revealed
Brabus 800 Adventure XLP image gallery
6020 Views|3 years ago
Mercedes-Benz G 350d image gallery
9100 Views|3 years ago
Mercedes-Benz G 350d video review
26200 Views|3 years ago
2019 Mercedes-Benz G 350d off-road video review
12364 Views|3 years ago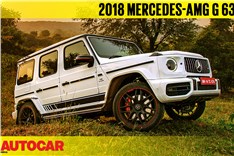 2018 Mercedes-AMG G 63 video review
11760 Views|4 years ago