The Mercedes G-class will eventually be fully electric, according to Daimler's Board of Management chairman Ola Källenius. Källenius, who is also the head of Mercedes-Benz cars division, confirmed the electric variant at the Automobilwoche (AMW) Kongress held on November 7, 2019 in Berlin, sound bites of which were subsequently tweeted by Daimler digital transformation boss Sascha Pallenberg. This is the first time the company has gone on the record to confirm the car.
Presently, little is known about the zero-emissions G-class, which is expected to be a number of years away, other than that it will swap the current diesel V6 and petrol V8 for a 100 percent electric powertrain. However, some details may be deduced by looking at other Mercedes EV models.
Following the approach used for other models already announced in Mercedes' EQ electric sub-brand (such as the EQA and the EQC) the new car could be sold under the name EQG and feature bespoke body styling as a result. Like the EQS, the G-class electric is likely to be introduced with four-wheel drive and generate its power from two electric motors – one at the car's front and another giving thrust at the rear.
Although Mercedes has yet to release official specs, it's likely an electric G-class will improve on the 286hp and 600Nm of torque generated by the standard version of the car. It will need to do so, since it will be considerably heavier.
In terms of range, the new car could sit somewhere between the 400km capability of the upcoming EQA and what our sister publication, Autocar UK, expects to be the longer, 600km range of the EQE electric sedan.
However, this increased performance (if it materialises) will almost certainly come at an increased cost. The EQG will likely be the most expensive G-class variant, because the G-class is a heavy-set car and will therefore require a bigger and pricier battery pack.
Mercedes has not specified a launch date for the new car, saying only that it is "a long way in the future."
For India, the carmaker launched the latest generation of the G-class in its high-performance Mercedes-AMG G63 spec in October 2018, with the model subsequently being joined by the diesel G 350d in October this year. This is the first time that Mercedes has launched the diesel G-class in India.
The carmaker recently also launched a more upmarket iteration of its V-class luxury MPV in India, the V-class Elite, priced at Rs 1.1 crore (ex-showroom, India); and has also begun accepting bookings for the new GLE, which is expected to launch early next year.
Also see:
40 years of the G-class: Life begins at 40
Brabus 800 Adventure XLP image gallery
6020 Views|3 years ago
Mercedes-Benz G 350d image gallery
9096 Views|3 years ago
Mercedes-Benz G 350d video review
26178 Views|3 years ago
2019 Mercedes-Benz G 350d off-road video review
12359 Views|3 years ago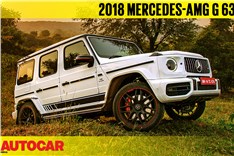 2018 Mercedes-AMG G 63 video review
11753 Views|4 years ago