So far, the Mercedes-Benz G-class line is represented in India by the full-blown and completely bonkers AMG G 63. Come October 16, 2019, Indian buyers will also have the option of the more sensible, and easier-on-the-pocket G 350d diesel.
The G 350d shares its 3.0-litre, in-line, six-cylinder engine with the S 350d. The engine's headline figures remain the same, at 286hp and 600Nm of torque. Power is channelled to all four wheels via a 9-speed automatic transmission. And, as on all G-class versions, the G 350d too gets three differential locks, giving it prolific off-road ability.
The G 350d will sport toned-down styling vis-à-vis the more familiar AMG G63. It wears a simpler grille, less pronounced wheel arches and will also miss out on the AMG version's 21-inch wheels. On the inside, the AMG-spec touches will obviously be absent but the G 350d will be no less opulent. It will feature Merc's 'widescreen cockpit' that features two screens – one for the infotainment system and the other for the instruments. What's not known yet is if Mercedes will offer the G 350d with the same level of equipment as the AMG version.
The ladder-frame G 350d will not have direct rivals as such in India, though the model can be clubbed in the same category as the Toyota Land Cruiser LC 200. The Mercedes G 350d will be imported into India and will be subject to the full bevy of taxes; we expect prices in the region of Rs 1 crore. While not cheap by any measure, the G 350d would undercut the AMG G63, which starts at Rs 2.19 crore, by a huge margin. Hardy, opulent and even a bit sensible with the smooth diesel engine, the G 350d could be a surprise hit in India.
Click here for Mercedes-Benz India models, prices, reviews, images, videos and more details
Brabus 800 Adventure XLP image gallery
6018 Views|3 years ago
Mercedes-Benz G 350d image gallery
9096 Views|3 years ago
Mercedes-Benz G 350d video review
26174 Views|3 years ago
2019 Mercedes-Benz G 350d off-road video review
12356 Views|3 years ago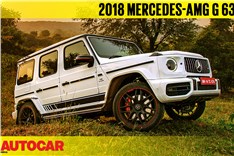 2018 Mercedes-AMG G 63 video review
11751 Views|4 years ago