Mahindra is synonymous with rugged vehicles and off-roaders but a quick glance around near any landmark will also tell you the utility vehicle specialist is big in military vehicles. Of the lot, the quirky Mahindra model wearing battle fatigues is the legendary Marksman, the armed personnel carrier.
The Mahindra Marksman was unveiled in 2009 and was first put into service by the Mumbai police in 2010. Since then, this specialised SUV has seen service with various agencies in India and abroad, and most recently with the CISF at New Delhi Airport. The Marksman is a six-seat vehicle that offers protection against small arms and fire as well as underbelly grenade attacks.
The Marksman shares a lot of its underpinnings with the popular Scorpio but is ground-up designed as an armoured capsule-based light bulletproof vehicle. It is armoured to level B6 (which means it provides protection against rifles even more powerful than the AK-47) and also comes with a Cuppola machine gun mount. It features five-side armouring of the passenger compartment including the roof. Additionally, there is floor blast protection as well that provides protection against the detonation of not one, but two DM-51 German Ordinance hand grenades. The armoured SUV features a ballistic steel interior frame that provides backup and overlap protections for doors and windows.

As is evident, the Marksman is far removed from your average Mahindra SUV. Sure it has an AC and power steering but there's not much else. Then again, it has the necessary equipment that can make a world of difference when in the thick of action. Multiple cameras and screens that facilitate vision to the occupants in the dark are items you'd find on the Marksman's safety equipment list. The Marksman is actually a bridge between a high-profile armoured small capacity troop carrier and a conventional vehicle. It's usage is not just limited to riot control or patrolling but also for other operations by special forces including convoy protection.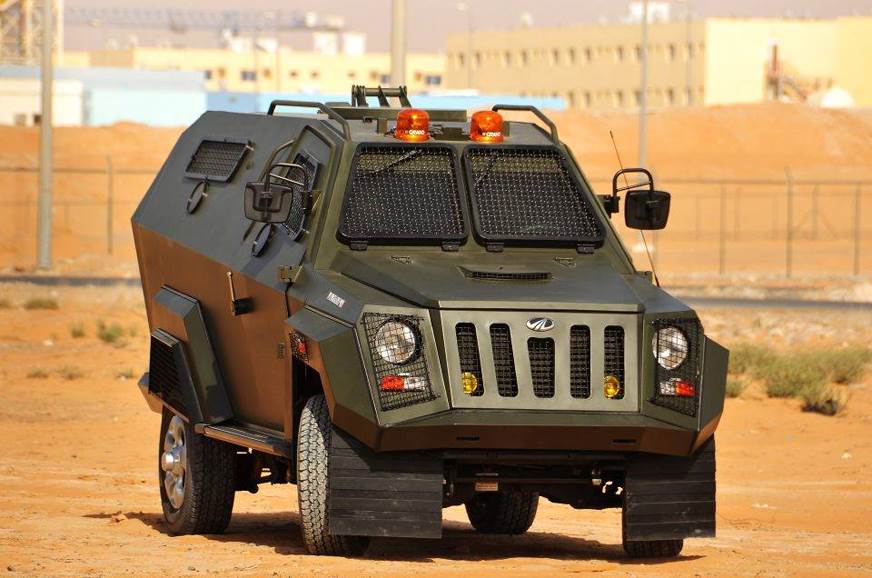 The Marksman is 4,390mm long, 1,863mm wide and 2,030mm high which makes it shorter than the Scorpio in length. However, weighing in at 2,600kg, it is also much heavier than the Scorpio; armour ain't light after all. The Marksman can be ordered by either a 120hp, 2.2-litre or a 115hp, 2.6-litre diesel engine option. There is a single 5-speed manual gearbox on offer for both engines. It comes with full time 4WD and also can be ordered with 16-inch wheels and run-flat tyres.
Click here for Mahindra models, prices, images, videos reviews and more.
Mahindra XUV700 vs Volkswagen Polo drag race video
15199 Views|1 month ago
Which XUV700 variant to buy? Buyer's Guide video
5460 Views|4 months ago