The new Lexus RZ 450e is the Japanese marque's first bespoke electric car, serving as the spearhead for the firm's new range of premium and dynamically oriented EVs. Due in international markets at the end of 2022, it is similar in size to the Lexus NX, but the company's bosses are keen to emphasise that it is not intended as an electric successor to – or replacement for – that car, which only recently entered its second generation and gained a plug-in hybrid option.
Based on the e-TNGA EV platform

0-100kph in 5.6sec, limited top speed of 159kph

Can be optioned with a yoke-style steering
New Lexus RZ 450e: platform and design
The RZ is based on the same e-TNGA EV architecture as the new Toyota bZ4X SUV, but places a more overt emphasis on premium appeal and performance – giving clues as to how Lexus EVs will be marked out from other vehicles that share their architecture.
The overall look of the new SUV also gives a strong indication of Lexus' design vision for an all-electric future. Links to its current models are evident in its silhouette and defining cues, but many elements have been reimagined to mark this out as the first in a new line of products. Lexus previously gave a glimpse of this new EV family late last year, showing new concepts for a large SUV, saloon and supercar alongside the RZ 450e.
Most obvious is the front end, where Lexus' trademark 'spindle grille' makes way for a more minimalist, flush front end that references the current design in its shape, but is said to express "the BEV's powerful character and seamless acceleration". Lexus calls the new design language 'Spindle Body' and highlights the lower bonnet, reduced number of air intakes and more muscular wings as defining elements.
New Lexus RZ 450e: powertrain details
Power is stored in a 71.4kWh lithium ion battery, which, like that used by the bZ4X, is expected to offer a range of up to 362km and offer 90 percent of its usable capacity after 10 years of use. The company has not yet confirmed charging times, but its Toyota sibling can charge at speeds of up to 150kW.
Lexus touts the low centre of gravity afforded by this under-floor battery as a bonus for driving dynamics, adding that "advanced construction processes" mean the chassis is as stiff as possible, thus ensuring "precise handling and response, and ride comfort". The brand has, of late, been on a drive to promote its trademark 'Lexus driving signature' as a key differentiator between its own cars and the Toyota models with which they share most of their technical make-up.
Lexus says this focus on distinctive driving characteristics played a fundamental role in the development process and that it was able to exploit the inherent traits of an EV powertrain – namely "fast response and high precision" – to accentuate it further.
The RZ 450e comes with a new 'Direct4' four-wheel-drive powertrain comprising a pair of compact electric motors – one with 203hp at the front and another with 108hp at the rear, giving combined outputs of 312hp and 435Nm of torque. The RZ 450e will get from 0-100kph in 5.6sec and top out at a governed 159kph.
The Direct4 system (called X-mode on Toyota models), which will be rolled out to future Lexus EVs, allows for torque vectoring between the axles for optimal turn-in response and stability in cornering. Up to 100 percent of the powertrain's reserves can be sent in either direction at any given time, with a suite of sensors taking into account a range of factors including speed, steering angle and g-forces.
As for whether future RZ variants could adopt a single-motor configuration, like the entry-level bZ4X, Lexus' Europe boss Fotinos said that "to really feel the true potential of the vehicle, it has to be a twin-motor configuration", adding, "We need the two e-axles to really deliver that kind of driving comfort." However, he said "a single-motor car could be possible so long as it offers more range without too drastic a "trade-off in terms of the driving feeling we're trying to deliver with the car".
New Lexus RZ 450e: interior and features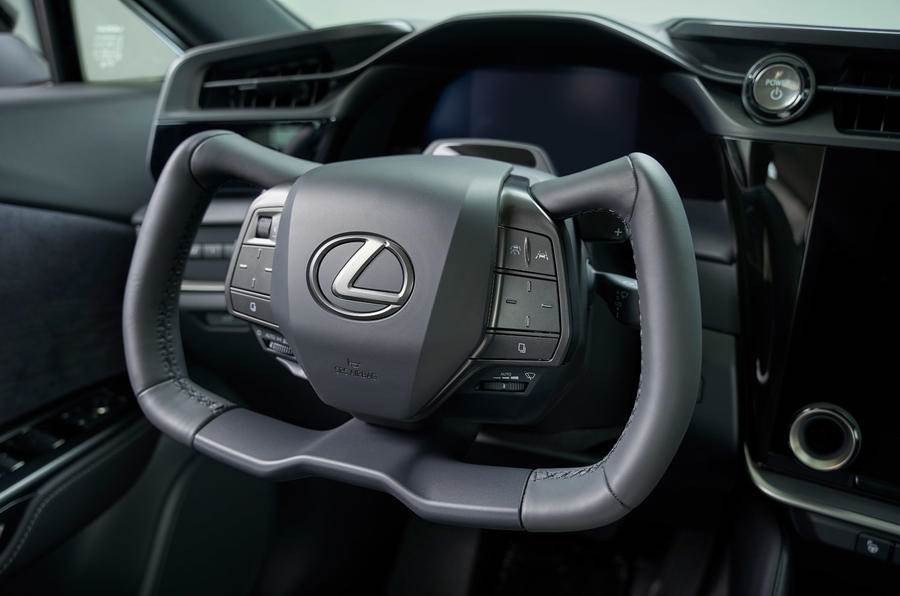 A yoke-style steering is optional on the RZ.
Lexus, like Toyota, is planning to bring its first bespoke EV to the market with an unusual yoke-style steering wheel and a steer-by-wire system, which eliminates the mechanical linkage between the front wheels and the driver. The butterfly-shaped yoke turns from lock to lock over just 300 degrees, meaning the driver never has to make hand-over-hand turns, and it is expected to be specified by roughly one in four owners, depending on the market.
This new electronic set-up is claimed to improve response and control, while minimising movement of the 'wheel' over rough roads and maintaining a sense of "connection between driver and car". It also gives a better view of the gauge cluster and out of the windscreen, and, according to Lexus, a part of its 'Tazuna' (reins of a horse) approach to driver ergonomics.
This ethos manifests in a similar cabin treatment to that of the new second-generation NX crossover, with the 14-inch infotainment screen, head-up display and instrument binnacle carefully positioned to improve forward vision and minimise distraction. It is a minimalist cabin overall, with most functions controlled via the touch interface, rather than physical buttons, and a rotary drive selector featuring in place of a conventional gearshifter.
Lexus also highlights a suite of new options making their debut on the RZ, including a dimmable panoramic roof that reflects infrared radiation to better insulate the cabin against the external temperature, and can be switched to opaque at the touch of a button. It also has knee-height heaters ahead of the front seats, which provide the driver and passenger with "the feeling of a warm blanket around the legs".
Lexus in India
Lexus is yet to announce any plans to bring the new RZ to India. The carmaker's most recent launch in our market was the updated NX SUV, which is priced from Rs 64.90 lakh (ex-showroom, India). You can read our review of the plug-in hybrid SUV here. The Japanese carmaker is also mulling the launch of the UX compact luxury SUV here, which we have already sampled.
Also see:
Lexus LF-Z EV concept revealed
Auto Expo 2023 image gallery
78914 Views|4 months ago
Auto Expo 2023: Lexus LM 300h image gallery
4232 Views|4 months ago