With the Cayenne, Porsche certainly ruffled feathers amongst the purists and stoked debates about sportscar makers doing SUVs. Purists felt the carmaker diminished its brand value by making an SUV. However, the market ruled in the German carmaker's favor with the Cayenne finding worldwide acceptance, and effectively opening up the flood gates for SUVs from other sportscar makers. And now, it seems like Porsche could once again shake things up with a 911 SUV or crossover.

The 911 is an icon and central to the Porsche brand. However, so far, Porsche has only used it as an inspiration and borrowed design cues for its other vehicles. It hasn't really introduced the sportscar in other body styles and certainly not with the same moniker.

All of that could change with the German carmaker confirming that a jacked-up 911, much like the 959 Paris Dakar racer or the 911 Safari edition rally cars, could be on the cards. Belonging to the 1980s, the 959 had adjustable suspension and an all-wheel-drive system. Porsche was the only team to get both of its cars, the 911 SC 3.0, across the finish line in the tough East African Safari Classic Rally in 1978.

Speaking to Autocar India at the Los Angeles Motor Show, Detlev von Platen, Member of the Executive Board for Sales and Marketing, Porsche AG said, "The 911 is the center point for all design at Porsche and you will see its influence in other vehicles. But taking the 911 and making an SUV out of it? Taking it higher? That could be a good idea, and of course it (a 911 on stilts) won't be a model range but it will be a limited, a very niche product."

If the high-riding 911 indeed materializes it would be interesting to see if the 911 moniker would be used on the vehicle or if the brand would go with a suffix or another name entirely.
2022 Porsche 911 Dakar image gallery
4828 Views|1 year ago
2023 Porsche 911 GT3 RS image gallery
6264 Views|1 year ago
Porsche Taycan Turbo S vs Panamera Turbo S vs 911 Turbo S...
2621 Views|3 months ago
2022 Porsche 911 GT3 RS video review
10473 Views|1 year ago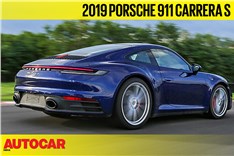 2019 Porsche 911 Carrera S video review
13915 Views|4 years ago