Toyota has unveiled a new entry-level variant of its GR Supra sportscar powered by a 255hp four-cylinder engine.
Like the 3.0-litre straight-six already offered in the Supra, the new turbocharged 2.0-litre motor is taken from BMW's sportscar engine line-up. It sends 255hp and 400Nm of torque to the rear wheels via an 8-speed ZF-automatic gearbox, while emitting between 156-172g/km of CO2.
Despite the 81hp power deficiency as compared to the 3.0-litre model, the 2.0-litre Supra is just 0.8sec slower going 0-100kph (5.2sec) and it can be expected to match the 240kph top speed of the BMW Z4 sDrive30i, which uses the same engine.
Toyota says the new engine is more compact and 100kg lighter than the 3.0-litre unit, so it can be mounted further towards the middle of the car for 50/50 weight distribution. This, it is claimed, "improves the car's inertia characteristics and chassis balance for even sharper handling."
Tetsuya Tada, the Supra's chief engineer, said, "To achieve agile steering and stable cornering, we worked very hard to reduce the new car's weight, while aiming for a 50/50 weight balance. This presented us with huge challenges, but we did not want to compromise on our targets."
From launch, the new model is equipped as standard with 18-inch alloy wheels, Alcantara-trimmed sports seats, an 8.8-inch infotainment display and a range of safety functions including pedestrian detection, lane-keeping assistance and automatic emergency braking.
The optional Connect trim package brings satnav and heightened connectivity features, while the Sport Pack includes an active differential, adaptive suspension and upgraded brakes.
The entry-level Supra will go on sale in Europe in March, with prices to be confirmed nearer to the time.
The GR Supra's BMW sibling, the Z4, was launched in India at Rs 64.90 lakh (ex-showroom, India). Available in sDrive20i and M40i variants, the Z4 won us over with its sharp styling and fun-to-drive nature, as you can read in our review.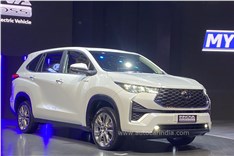 Toyota Innova Hycross image gallery
65346 Views|11 days ago
New Toyota Prius image gallery
8201 Views|20 days ago
Toyota Innova Hycross video review
8738 Views|16 hours ago
Toyota Innova Hycross walkaround video
20129 Views|11 days ago