BMW has officially confirmed an M-badged electric performance model will be unveiled this year, bringing a "completely new manifestation of the distinctive M feeling".
Electric BMW M car likely to be derivative of the i4 electric sedan
i4 M expected to be an 'M-lite' model similar to a M340i
M performance variant of electric iX SUV also on the cards
The carmaker confirmed the development of an M electric model in its release detailing its performance arm's 2020 sales performance. While there is no official confirmation as to which electric model will get the M derivative, our sister publication Autocar UK understands this is expected to be an M-badged variant of the forthcoming BMW i4 electric sedan.
All-electric car from BMW M will be similar to the M340i and not M3
However, unlike the new M3 and M4, the i4 M is believed to be an 'M-lite' model rather than a fully-fledged M product, like the current M340i.
The standard i4 is expected to be unveiled in final production form in the coming months,with sales in global markets expected to start by the end of the year.
BMW confirmed back in 2019 that the Tesla Model 3 rival would be available with a 530hp powertrain, enough for a 0-100kph time of around 4.0sec and a (likely limited) 201kph top speed. A range of more than 595km was originally promised, too. That would give it the necessary firepower to easily take on a Model 3 in Long Range guise – but despite having more power than the 490hp Model 3 Performance, it would fall a bit short of that car's quoted 0-100kph time of 3.1sec. That's likely intentional, leaving the door open for a future full-fat M version of the i4.
BMW iX electric SUV to also get M performance model
Also on the cards, as Autocar UK understands, is an M performance version of the electric iX SUV. Details of that have yet to be confirmed but expect a similar motor output if that materialises.
M managed to buck the global, pandemic-induced trend for a decline in new car sales with a record number of its models registered in 2020. A total of 1,44,218 models found homes, a 6 percent increase on 2019.
BMW cites the strong mix of M performance variants in cars such as the new 3 Series and 4 Series, as well as the popularity of the latest X5 M SUV and the critically acclaimed M2 CS coupé.
BMW in India
BMW recently launched its first new product for 2021 with the long-wheelbase 3 Series Gran Limousine, along with introducing the petrol derivative of the 2 Series Gran Coupe. Also on the cards are a host of updated models that include the facelifted 5 Series and 6 Series GT.
In a recent interview, the carmaker also confirmed plans for the launch of some of its M models, including the all-new M4, revealed last year, and M performance derivatives of the 3 Series and the X3.
Also see:
BMW 3 Series Gran Limousine video review
Vikram Pawah talks about the BMW 3-Series Gran Limousine and more
Cross-country drive in a BMW M8 Coupe: Fly Another Day
New BMW i5 image gallery
2105 Views|7 days ago
New BMW 5-series image gallery
5919 Views|7 days ago
2023 BMW XM Label Red image gallery
2692 Views|1 month ago
BMW i7 India video review
6954 Views|21 days ago
Triumph Trident 660 vs BMW M340i drag race video
3333 Views|1 month ago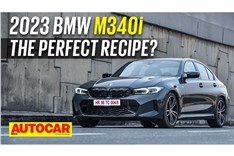 2023 BMW M340i facelift video review
9233 Views|2 months ago