Cross-country drive in a BMW M8 Coupe: Fly Another Day
Why fly when you can fly instead? Confused? We make a case for the seriously fast BMW M8 on an impulsive drive from Delhi to Mumbai.
Published On Jan 09, 2021 09:00:00 AM
23,315 Views
Follow us on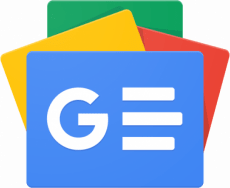 The best sports seat out there makes light work of a 4-day, cross-country drive.
Fantastic Laserlight headlights make night driving a breezy affair, letting you average great speeds.
Spotting a sambar on an exciting dash through Rajasthan is just a bonus!
Who would have thought that driving could be safer than flying? It isn't actually, and certainly not in India, where a life is lost every four minutes in a road accident. The pandemic, however, has turned everything on its head. With the virus still lingering, a lot of people find it safer to spend long hours (even days) on our highways, risking life and limb, rather than sit next to a stranger on a short flight. Compared to a plane, a car is your own private space, your bubble on wheels and it's this form of isolated travel that only a car can offer, which has unwittingly rekindled the romance of the road. Driving is, indeed, the new flying.
This is why, on an impulse, I tore up my Vistara ticket and decided to drive down from Delhi to Mumbai, something I haven't done in years. No doubt, the key of the BMW M8 I was handed, triggered the urge but there were other good reasons to embark on this cross-country drive. The office gang was on a palace-hopping soiree across Rajasthan in a pair of Audis so, it would be fun to catch up with them.
Be prepared for sudden diversions on the otherwise super-smooth road to Jaipur.
Also, I had The Taj Group of hotels laying it on for me in Jaipur and Jodhpur, and a cousin in Ahmedabad to stay with, so the issue of comfortable, safe and sanitised accommodation in this virus-infested world was sorted. There was also the bother of my hand being stamped on landing at Mumbai airport to mark a 14-day quarantine period. But you can (legally!) dodge this inconvenient restriction if you arrive by road – yet another reason to drive instead of fly.
More than anything, this road trip was a chance to break free after seven months of a torturous lockdown. There's nothing more liberating than a long drive in a fast car and, so, a plan was quickly hatched to meet the Autocar team in Jaipur and join them for the Jaipur-Jodhpur leg, before peeling off to Mumbai, via Ahmedabad. You can easily do Delhi-Mumbai in two days but when you have an M8 it's much nicer to take the long way home. In fact, I would have loved a detour via Munich but…
PULLING A FAST ONE
Before hitting the road, Mugdha (Mishra) from our sister brand What Car? India, hijacks the M8. She knows this is her only chance to review the car because once it gets to Mumbai, it won't come back in a hurry. Unless I wanted to do the return journey in it, that is! The What Car? shoot takes the better part of the day so it's a late start from Gurugram which ordinarily wouldn't have been a problem except that I had a meeting with Sachin Pilot and Vishvendra Singh Bharatpur, the former tourism minister, that evening. In fact, it was Singh's idea to invite Autocar India for a mega road trip, which we've covered over two issues - our November 2020 and December 2020 issues.
Packed lunches lack the charm of lounging around at a roadside dhaba.
I quickly settle into the M8, which is going to be my office for the next four days. The sports seat is the most supportive I've sat in and after finetuning all the adjustments, it fit me like a glove. My iPhone hooks up easily to the infotainment system via Apple CarPlay, I squeeze my water bottle into the narrow door pocket, and the box between the seats is perfect for storing and accessing my GoPro.
Travelling solo, there's just my carry-on bag, which fits easily in the boot. But with snapper Gaurav Thombre joining me in Jaipur with all his kit, I make a mental note of the limited luggage space, most of which is consumed by the space saver that sits above the boot floor. So, prepare to travel light if you're going on a long trip. And prepare to travel fast, because the M8 feels happiest when driven hard.
Space saver eats into boot space but good for an overnighter.
When driven hard, however, it also feels as thirsty as a husky in the Sahara. The 68 litre tank empties at an alarming rate and, therefore, needs frequent replenishing, given that it's just impossible to resist the brutal and addictive acceleration.
The M8 will rocket from 0-100kph in just 3.45sec but on the Golden Quadrilateral it's the 0-(whisper it) 200kph time of 10.82sec that you'll appreciate more. That appreciation comes at a price, one you pay at every fuel stop! So, first things first, which is to tank up, a ritual I would do twice a day till I hit Mumbai. There's no high-octane petrol in Gurugram so I have no choice other than 91 octane. Does the lower grade of fuel affect performance, then? Until I found 99 octane in Jaipur, I would have said 'absolutely not!'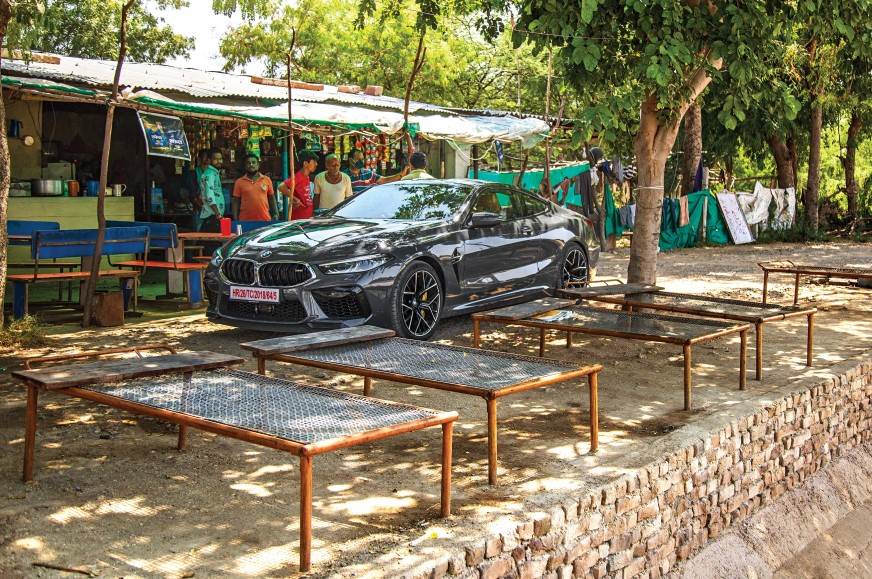 The roadside dhabas were sadly empty, but in times such as these packed lunches are a much safer bet.
BMW's fabulous S63 4.4 litre V8 powers all the range-topping M cars and is an engine I'm quite familiar with, having tested it in the M5 Competition only a month ago. In its ultimate spec, exclusive to 'competition' variants, it belts out a colossal 625hp but in the 'regular' M8 I'm driving, power is capped at 600hp – not that I'm complaining.
The 240km run to Jaipur was perfect to get reacquainted with BMW's twin-turbo V8 that's always ready and willing to play. Stabs of the throttle pedal are met with a corresponding slam of my skull into the headrest. The savage acceleration is an incredibly effective overtaking tool on the Delhi-Jaipur highway, which was choc-a-bloc with trucks hogging all three lanes. The only way to get past is to find loopholes in the lane discipline rulebook and surgically scythe your way past, giving a wide berth to truckers who have a nasty tendency to suddenly switch lanes. Google Maps says I'll reach the Jai Mahal Palace hotel with just 30 minutes to spare before my meeting, which is all the reason I need to not ease my right foot.It's the way this engine delivers its power that makes it one of the best high-performance V8s in the world. It'll spin happily beyond 7,000rpm all day long and on this initial stint, I left the brilliant ZF 8-speed 'box in 'D3' mode, which is mapped to automatically upshift at max revs. This was to be my default mode for most of the trip, simply because the auto shifts are a damn sight faster (and smoother) than clicking the paddles. This engine revs so fast and so ferociously that you tend to headbutt the rev limiter when you shift manually.
Trip log gives away fuel-efficiency – fair for the exciting performance.
The brilliance of this engine is that it's equally responsive at low revs. There's almost no turbo-lag from this 'hot vee', which has short exhaust tracts that keep the turbos on boost. Even the tiniest flex of your right foot – in any gear – triggers an explosive response and the way the M8 builds speed is fierce and unrelenting. It's this extraordinarily wide powerband of the V8 and how every one of its 600 horses can be easily accessed that gives the M8 its astonishing ability to gobble vast distances at a rapid rate. A rate that even Google Maps can't comprehend. The ETA to Jaipur kept tumbling and was finally slashed by a whole hour! This gave me extra time to freshen up and unwind in the majestic ambience of the Taj's fabulous Jai Mahal Palace Hotel.
The low-slung M8 flaunts its compelling profile against the Jai Mahal Palace's majestic silhouette.
Flopping into the lap of luxury was the perfect way to end an exhilarating day of intensely driving fast. Jai Mahal is a jewel of Rajasthan's rich heritage and the sprawling 18-acre grounds have an openness that makes you feel safe. The courtyards, verandahs and wide corridors are good for social distancing and Taj has gone to manic lengths to ensure absolute sanitisation. The place is buzzing on the weekend with road-trippers from Delhi, fed up of staying at home and desperate for a break. And why not? A road trip to a safe and sanitised hotel is the best way to get over your coronavirus-fuelled travel fears.
The Taj Jai Mahal Palace offers ample open spaces, great for safety.

CHEERS, M8!
There's only one Hindustan Petroleum pump in Jaipur dispensing 99 octane petrol and to my luck, it's only half a kilometre from Jai Mahal Palace. The 67-litre top-up after the 245km blast from Gurugram worked out to an eco un-friendly 3.8kpl but at Rs 118 for a litre of 99 octane (roughly Rs. 35 more than regular 91 octane petrol) the bigger shock was the Rs 8,000 bill. That's almost the cost of a return Delhi-Mumbai flight and I've still got 1,200km to go! But, since this is the last time I'll find high-octane fuel until Mumbai, it's a tankful to savour, especially since I'm on the best (and fastest) leg to Jodhpur.
Rs 118 for a litre of 99 octane fuel – a small price to pay for banging V8 thrills!
The improvement in performance is noticeable with 99 octane. The engine revs a bit harder and feels a lot stronger, especially at the top end. That's encouragement enough to spin the engine more frequently to the 7,200rpm redline on the tacho, which, by the way, is easier to read in the Head-Up Display (when in Sports mode) than the instrument cluster's angular rev counter. In fact, the fully digital and highly configurable TFT-screen seen in the latest BMWs isn't as clear or straightforward as the big, circular dials it has replaced. The big central area is reserved for the navigation function, with the speedo and tacho pushed to the sides. There's a myriad of displays you can pull up, like a G-force meter and a few other widgets. The infotainment system too has multiple menus and functions, accessed by either the iDrive's traditional rotary dial or a jab of the 10.25-inch touch screen.
M8's svelte interior isn't short on screens or goodies but misses the classic dials.
The M8 has its fair share of hard buttons, too. The steering wheel has a bunch of them to control the driving functions and the dashboard has two rows; one is a set of shortcut buttons for easy access to frequently used features and the row above is for the climate control functions. However, there's an overload of controls, a myriad of functions and displays to play with and, quite honestly, when you're tearing up a desert highway in Rajasthan, it can be quite a distraction.
Air-con buttons too small to operate when driving fast.
In fact, the cabin seems to have taken an ergonomic step backwards in some areas. You are forced to take your eyes off the road (and slow down) to operate the tiny silver climate control buttons, more so at night as they are poorly backlit. Pulling out my wallet from the narrow door pocket at every toll booth (this temp-registered car had no FASTag) was a struggle and the wireless charging pad charged my iPhone at an excruciatingly slow rate, overheating it in the process. It was easier to use a cable instead.
Wireless charger is slow and overheats phone.
The brains of the M8 are the multiple drive modes that let you adjust the engine and transmission response, steering weight and damper settings. There are lots of combinations to play around with and you can set up your two favourites on the red shortcut 'M1' and 'M2' buttons on the steering wheel. Steering and suspension in Comfort mode, the engine in Sport Plus and transmission in D3 was the perfect setup for this criss-cross-country drive which I stored in 'M1'. It gave me much needed pliancy on our roads but didn't compromise performance at all. Also, the M8's engine and gearbox is so smooth that even aggressive shifts at max revs are jolt-free and don't tire you into dialling down to a less intense setting. The engine's throaty roar, amplified by the speakers, isn't too loud, even with the exhaust flaps open, and doesn't quite have the higher pitched and louder bark of an AMG V8. True, the sound isn't soul-stirring but on long-distance, a bit of civility is a boon. In fact, it was on the run to Jodhpur that the M8 properly established its long-distance credentials.
Ideal drive mode combo for highway driving stored in M1 shortcut.
The 360km Jaipur-Jodhpur drive is just brilliant and illustrates why Rajasthan is by far the best state in India for a road trip. Traffic thins as soon as you leave Jaipur and a smooth, wide and relatively empty highway that allows you to safely hold serious speeds for long spells, welcomes you. You can see for miles and miles on this four-/six-lane divided highway that cuts through the flat and bleak expanse of the desert state.
It's on this road that the M8 shines as a GT cruiser. The faster you go the better it feels, and the suspension is supple enough to cushion you from the few bumps and broken bits that suddenly spring up on you. I was worried about the low, 130mm ground clearance and the front splitter that sits close to the road, but speed breakers and the several roadworks diversions we encountered posed no real problem.
Rajasthan's fantastic highways bring out the best in the M8.
Make no mistake, despite its practicality, the M8 is a full-blooded M car. The steering is responsive (though not overtly so), there's very little body roll, it's very agile for a near-two-tonne car and the only time I could sense the M8's bulk is when I slammed on the heart-stoppingly effective brakes to avoid something that shouldn't have been there in the first place! You can feel the weight transfer onto the nose, which made me wonder if such a heavy car can ever be a good track tool. We'll have to wait and see till our next track day but for now, all I can say is that there's no edginess or nervousness, no constant corrections at the wheel. It's a very engaging car but pretty forgiving too and, hence, driving the M8 fast is not a white-knuckled ride nor does it call for Zen-like levels of concentration. I just never felt tired even after a long day of hard and fast driving.
Distances are hard to be intimidated by, with a hotline to 600hp.
It was tempting to take a break at one of the many dhabas and just lounge on a khatiya sipping hot chai. But with hygiene levels in unknown places a worry, now more than ever before, I chose the safer option of carrying a packed lunch from the Taj kitchen and enjoyed a small but forgotten pleasure – a simple picnic by the side of a quiet road. Wherever I stopped, the M8 never failed to draw attention from the friendly Rajasthan folk, curious to know what a ballistic grey missile with temporary registration plates was doing in their neighbourhood.
Selfie-crazy India approves of the M8. Some masks, gentlemen?
Once again, we beat Google Map's ETA to Jodhpur, and this time by a good two hours! The time saved was well spent shooting the M8 in and around the magnificent Umaid Bhawan Palace. The grandeur of this heritage hotel with its massive dome was a fantastic backdrop and snapper Gaurav went wild shooting away. Equally fabulous was the five-course dinner the Umaid Bhawan kitchen laid out in the marble pavilion set in the centre of the palace's sprawling lawns. It was great to join the Autocar team that had arrived in the Audis a few hours after me for this special evening that made us all feel like royalty. The perfect end to yet another thrilling day.
FLY (S)LOW
Finally, we have some corners! After 1,000km on straight and flat roads, the twisty road that flows through the Aravallis was something to relish. This highway from Sirohi to Abu Road is pure M8 country, with its long and wide sweeping corners, gentle elevation changes and smooth tarmac. Powering through the sweepers, the M8 hunkers down on its haunches and holds a steady line. You can feel the lateral forces build up as the grippy Pirelli P-Zero tyres bite into tarmac. The M8 calls for minimal steering movements and you can build up a nice rhythm, flowing from one bend to the other. Through tighter corners, you can tell the M8 is a bit on the heavy side but the superb balance, exceptional body control and precise steering make it respond well to being pushed hard. Even in four-wheel-drive mode, it feels biased towards the rear, so when you put down the power mid-corner it nicely tightens your line, the standard active differential no doubt a big influence on the dynamics. That 60km stretch of twisty road was the high point of the drive, undoubtedly the most fun, I didn't stop grinning until I reached the Gujarat border.
The 600hp V8 gives the M8 an astonishing ability to gobble vast distances at a rapid rate.
The smile disappears on entering Gujarat. The border police aren't impressed with the M8 and check my bags to see if I'm carrying liquor (illegal in this dry state) and then politely wave me on. We've left Rajasthan's traffic-free roads behind and some of the joy of driving too because Gujarat's busy roads have put the brakes on the M8. There's dense traffic on the Palanpur-Ahmedabad highway and progress is slow, but the M8 isn't complaining. It's quite happy rumbling along at 50kph as it is at 250kph. Gaps in traffic are rapidly closed with bursts of ferocious acceleration immediately followed by hard braking to dodge slower vehicles that always hog the fast lane. It's frustrating to drive like this with on-off jabs of the throttle and brakes, and for the last 50km before Ahmedabad, I wind things down and drive the M8 like an M800, very gently and on part-throttle. Not the perfect end to what started out as a great day.
M8's low, 130mm ground clearance needs patience on poor stretches, but manages just fine.
It's a late start from Ahmedabad and we land smack in the middle of rush hour traffic. Threading through a thick and unruly mix of buses, cars, autoricks and cycles, I'm aware of the large dimensions of the M8 for the first time. This is a big car. In fact, it's almost as long and wide as an M5 but the rear seat has nothing to show for it. Gaurav, who jumped at the back to take some over-the-shoulder shots, just couldn't sit there beyond a point. The rear seats have no legroom, little headroom and, hence, the M8 should be considered strictly as a 2-seater. If you want more seats, there's always the M8 Gran Coupe.
Gaurav is all smiles but not a big fan of the rear seats!
It takes an hour to reach the Ahmedabad-Vadodara highway, which is undoubtedly the best road in Gujarat. The M8 gets into its stride once again, devouring kilometres at a rapid rate. Traffic is minimal, but since this is a two-lane road, you get blocked by slow-moving trucks – one doing 30kph trying to overtake another doing 31kph, which is pretty exasperating. The 538km Ahmedabad-Mumbai home run is the longest and, after three days in Rajasthan, the least enjoyable. We are on the busiest section of the Golden Quadrilateral and to make things worse, there are some major diversions which result in long red lines on Google Maps. Yes, we are back to the reality of driving in India – Rajasthan already seems like a dream!
You know you've entered Maharashtra not by the poor quality of roads but by the clutch of liquor shops just across the border. Thankfully, the last bit of the drive in Maharashtra covered at night was quite smooth, despite a fair bit of truck traffic. The M8's Laserlight headlights befit a 250kph car and have an intensity that can lift paint off the car in the front. The ultra-bright lights took a lot of stress out of night driving, nicely picking out unlit vehicles, a dangerous hazard that's sadly part and parcel of our highway system.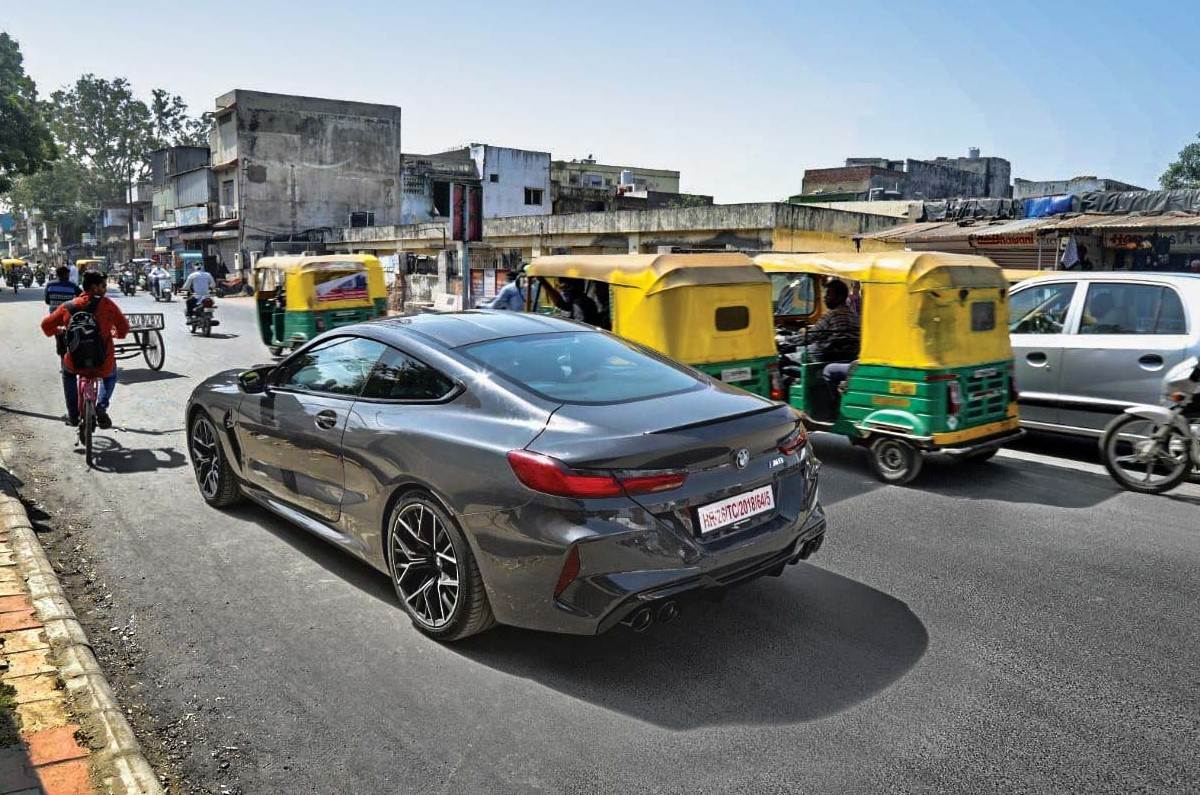 The M8's large dimensions are felt the most in city traffic.
The going was good until we hit the mother of all traffic jams, 50km from home. Being stuck for a ghastly 40 minutes when you're so close to home is no doubt frustrating but you learn to make the most of it. I hadn't heard the M8's B&W 16-speaker Diamond sound system and there was no time better than now, while I'm stationary and surrounded by noisy diesel trucks, to hit play on my playlist.
I finally roll into the Autocar office just before midnight but despite the gruelling journey punctuated with heavy traffic, roadworks and diversions, I emerge fresh from the cabin. I have never sat in a more comfortable sports seat and finished this four-day drive with not a single ache or twinge. This seat is that good. In fact, I never even felt tired or sleepy on this drive. The M8 just doesn't give you the chance to. Apart from being much more comfortable than I expected, the M8 is so engaging, so hilariously quick that it keeps you ultra-alert all the time.
Lovely 20-inch wheels survived the drive unscathed.
The trip computer, reset in Gurugram, reads 1,789km and 4.6kpl. Yes, the M8 is thirsty and cost me over Rs 40,000 in fuel bills, but what this trip proved is that you can drive a low-slung sportscar cross-country. The roads are genuinely good, especially in Rajasthan, and proof of that is no punctures and not even a scratch on those lovely 20-inch alloys. The underbody made mild contact just once with a nasty speed breaker in Ahmedabad.
That's what Rs 40,000-odd worth fuel bills look like – accumulated in just four days!
Also, I didn't need high-octane fuel. Apart from the one tankful of 99 octane in Jaipur, the M8's high-strung V8 happily survived on low 91 octane fuel with no sign of knocking even in high ambient temperatures with just a small drop in power. So, for all of you who have supercars, or won't buy one for concerns of practicality, there's no better time to hit the road than now and break free from a world gone crazy.
BMW M8 Coupe
Price
Rs 2.15 crore (ex-showroom, India)
Length
4867mm
Width
1907mm
Height
1362mm
Wheelbase
2827mm
Ground clearance
130mm (unladen)
Fuel
Petrol
Engine installation
Front, longitudinal
Type
8-cyl, 4395cc turbo
Bore/stroke
89.0/88.3mm
Compression ratio
10.0:1
Power
600hp at 6000rpm
Torque
750Nm at 1800-5600rpm
Gearbox
8-speed automatic
Weight
1885kg
Tyres
275/40 ZR19 (front) 285/40 ZR19 (rear)
Spare
Space saver
Type of power assist
Electric
Turning circle
12.2m
Also see:
BMW M5 Competition review, test drive
2020 BMW X6 review, test drive
Copyright (c) Autocar India. All rights reserved.