Aston Martin will unveil its next-generation grand tourer – an overhauled version of the DB11 – on May 24. It will bring a technological overhaul, and, as teaser images released by the British firm confirm, the ageing Mercedes-Benz infotainment system from the DB11 has been replaced.
DB11 successor likely to continue with V8, V12 engines
V8 gets a 50hp, 125Nm power bump from DB11
Design is expected to be an evolution of the current DB11
Aston Martin DB11 successor exterior design
The official teaser images show that the DB11's silhouette is largely intact, with changes concentrated on the styling at either end. There is a new headlight design, for example, and more aggressively sculpted bonnet vents. Prototypes were previously spotted with a lip spoiler at the rear, but it is unclear whether that will make it to the production car or not.
Aston Martin DB11 successor interior and tech
The interior of the new grand tourer is likely to see a more significant shift from that of the DB11. The official teaser image has previewed a brand-new centre console with physical buttons, new rotary dials, haptic touch buttons and even a small screen with an all-new interface.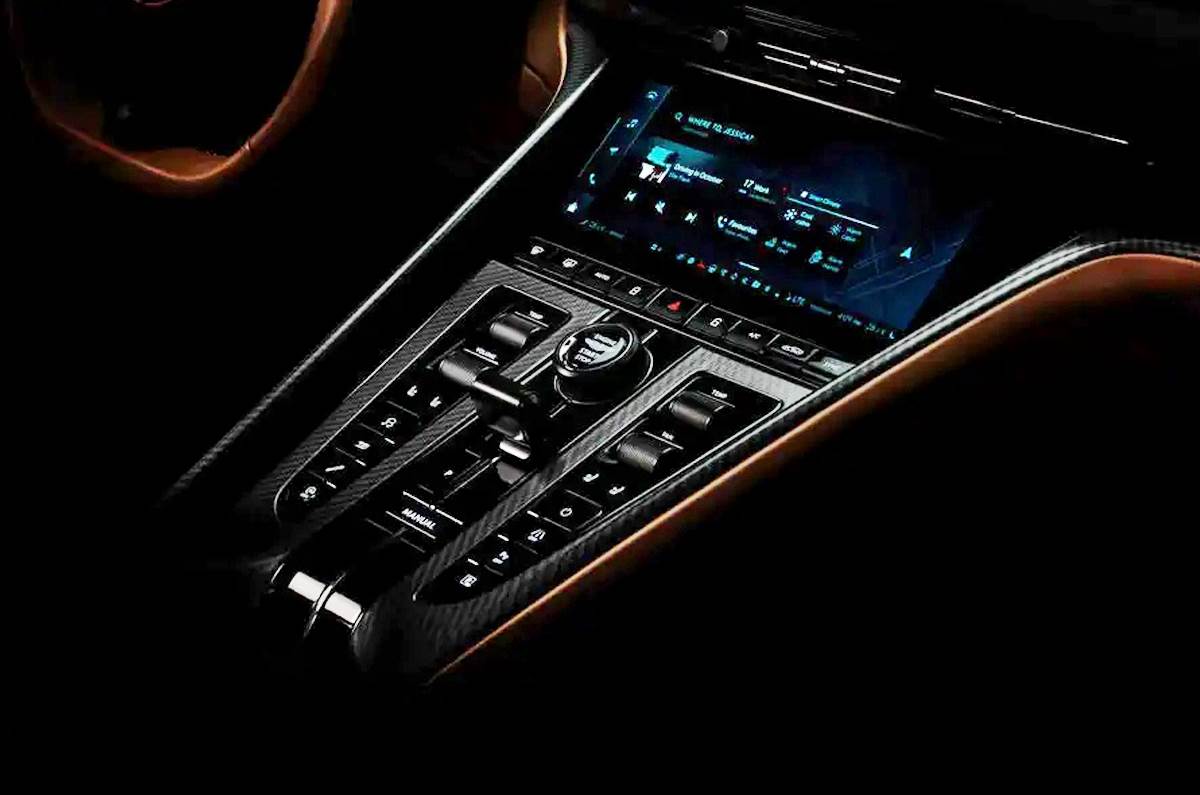 Company chairman Lawrence Stroll confirmed in early 2022 that the Mercedes system was to be discontinued, asking: "How can you have an Aston Martin that sells for £1,50,000 (around Rs 1.54 crore) with three-year-old technology?"
An agreement with Mercedes-Benz meant Aston Martin could only use the German firm's technology once it had been used in Mercedes models for three years – "a silly thing the previous management agreed to", according to Stroll.
He confirmed that the new car will get a touchscreen infotainment system, differentiated from Mercedes' tech by "our own faces, our own voices – a proper English accent".
Aston Martin DB11 successor powertrain
The choice between V8 and V12 models is likely to remain, with both being subject to substantial revamps. The V12 was recently uprated to 769hp for the swansong DBS 770 Ultimate, thanks to a 7 percent bump in turbo pressure and ignition tweaks.
Aston Martin product and marketing boss Alex Long told our sister publication Autocar UK that the V12 is "synonymous with the brand", adding that it has "a huge emotional connection for the customers". The eight-pot is anticipated to be the upgraded version of the M177 unit found in the new Mercedes-AMG SL 63, which produces 585hp and 800Nm – an uplift of 50hp and 125Nm compared with the current DB11 V8.
That a test mule was previously captured wearing 305mm wide rear tyres – 10mm broader than those fitted to the existing model – hints at a power uplift substantial enough to require the additional rubber.
Aston Martin DB11 successor launch timeline
The new car is expected to go on sale in international markets later this year, carrying the DB12 nameplate. Aston Martin filed to trademark 'DB12' in the US in March, but denied it would use the name on a car. An official statement said: "Aston Martin regularly files international trademark applications to protect names for possible future use."
Also See:
Ferrari combustion engines could live on beyond 2035 on e-fuels