Sunday, November 24 saw the streets of Juhu, Mumbai come alive with a procession of classic Volkswagens from across the country, as Volkswagen India and Autocar India co-hosted the 2019 edition of the Volkswagen Classic Car Rally – VolksDrive.
The rally saw the attendance of over 45 classic VW models ranging from a number of classic Beetles like the split rear window model, the super Beetle and the convertible, and at least two generations of the iconic Volkswagen bus, including the very desirable split window buses. Newer models such as the Golfs and Jettas from the pre-1999 era were in attendance too. Also marking their presence at the event were the famous Kublewagen and Kurierwagen – the latter also known as the Trekker or the Thing among VW enthusiast circles. Another Beetle that stood out was owned by Amol Sethi and featured a unqiue 'copper-chrome' finish on its front and rear bumpers.
The cars gathered at the Razzberry Rhinoceros in Juhu, Mumbai for a picturesque static display before setting off on a leisurely 2km drive on the Juhu-Tara Road. The rally was flagged off at 10:30am, filling the streets with the hums and thrums of engines from generations ago. Participants then returned to the venue, where they were felicitated. This one-of-its-kind event, was hosted to highlight the robustness and longevity of Volkswagen cars, and to preserve the heritage of classic Volkswagens in India.
Classic car collectors like Viveck Goenka, Keith Mascarenhas, Gaurav Gohil, Abbas Jasdanwalla, Siddhartha Khona, Anoop Thakur and celebrity photographer Vikram Bawa were just some of the attendees of the event.
"The cars you see here are mechanical marvels. Most cars here today have the legendary VW air-cooled engines that are known for their reliability over the years," said Autocar India columnist and classic car expert, Perseus Bandrawalla.
Speaking about the event, Steffen Knapp, Director, Volkswagen Passenger Cars, said "At Volkswagen, we've always believed in sharing and celebrating the spirit of impeccable engineering. The car lines present are not only niche but also have a personality that defines each one of them. It gives me immense pleasure to witness this large gathering of passionate Volks. Today, marks the start of a new journey and we hope to continue clocking miles today, tomorrow and forever."
Also see:
2019 VolksDrive Rally image gallery
Volkswagen ID Xtreme concept image gallery
2480 Views|2 months ago
2022 Volkswagen Virtus image gallery
23967 Views|8 months ago
2019 Volkswagen Virtus image gallery
48071 Views|3 years ago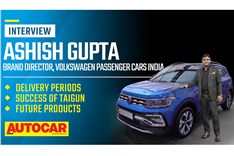 VW's Ashish Gupta on success of the Taigun, brand's futur...
2224 Views|1 month ago
VW Taigun, Skoda Kushaq crash test video
5473 Views|1 month ago
2022 Volkswagen Virtus 1.0 TSI MT video review
7710 Views|4 months ago