The arrival of the Nissan Kicks marks the entry of a new model in the hotly contested, and ever burgeoning, midsize SUV segment. The current segment leader, Hyundai's Creta, seems to be everyone's target and the Kicks, which has launched at Rs 9.55-14.65 lakh, will vie for the same space as its Korean rival. Nissan's sister brand, Renault, also has a model that contends with the Creta, the stylish Captur. We pit the three midsize SUVs against each other, on paper, to find out how well Nissan's Kicks compares.
First, let's take a look at the price tags of the Nissan Kicks, Hyundai Creta and Renault Captur:
Price (ex-showroom, Delhi)
Nissan Kicks
Hyundai Creta
Renault Captur
Petrol
Rs 9.55-10.95 lakh
Rs 9.60-14.15 lakh
Rs 9.99-11.46 lakh
Diesel
Rs 10.85-14.65 lakh
Rs 9.99-15.64 lakh
Rs 10.99-13.25 lakh
Dimensions
It's widely known now that the India-spec Kicks is larger than the mode sold abroad, as the Nissan shares its platform with Renault-Nissan models like the Renault Captur; this results in the Kicks and Captur having the same wheelbase, width and ground clearance. The Kicks' length stands at 4,384mm, which is 89mm longer than the model sold abroad, and makes it the longest model here. The Hyundai Creta is the smallest of the lot, but is taller than the other two and gets a larger boot.
Dimensions
Nissan Kicks
Hyundai Creta
Renault Captur
Length
4384mm
4270mm
4329mm
Width
1813mm
1780mm
1813mm
Height
1656mm
1665mm
1626mm
Wheelbase
2673mm
2590mm
2673mm
Ground clearance
210mm
190mm
210mm
Fuel tank capacity
50 litres
55 litres
50 litres
Boot space
400 litres
405 litres
392 litres
Powertrain
The Nissan Kicks also shares its powertrain with the Renault Captur. Both have the same 106hp, 1.5-litre petrol engine and 110hp, 1.5-litre diesel motor. Transmission options are identical too – a 5-speed manual for the petrol and a 6-speed manual for the diesel. For now, neither the Renault nor the Nissan come with an automatic option, though a CVT gearbox on the petrol and a torque convertor automatic on the diesel engine are expected with the Kicks at a later date.
Hyundai's Creta has the most powerful engines of this lot – a 1.6-litre diesel motor that produces 128hp and 260Nm of torque and a 1.6-litre petrol motor making 123hp and 151Nm. The Creta also gets a 90hp, 1.4-litre diesel motor mated to a 6-speed manual. The 1.6-litre engines get 6-speed manual and automatic transmission options, giving it the edge, for now. The Creta also is the most fuel efficient petrol SUV in this comparison, though the base diesel Nicks is the most fuel-efficient model here.
Powertrain (Petrol)
Nissan Kicks
Hyundai Creta
Renault Captur
Type
4 cyls, naturally aspirated
4 cyls, naturally aspirated
4 cyls, naturally aspirated
Displacement
1498cc
1591cc
1498cc
Valvetrain
4 valves per cyl, DOHC
4 valves per cyl, DOHC
4 valves per cyl, DOHC
Power
106hp at 5600rpm
123hp at 6400rpm
106hp at 5600rpm
Torque
142Nm at 4000rpm
151Nm at 4850rpm
142Nm at 4000rpm
Transmission
5-speed manual
6-speed manual/6-speed automatic
5-speed manual
Fuel efficiency (ARAI)
14.23kpl
15.2kpl (MT)
13.87kpl
Powertrain (Diesel)
Nissan Kicks
Hyundai Creta 1.6
Renault Captur
Type
4 cyls, turbocharged
4 cyls, turbocharged
4 cyls, turbocharged
Displacement
1461cc
1582cc
1461cc
Valvetrain
4 valves per cyl, DOHC
4 valves per cyl, DOHC
4 valves per cyl, DOHC
Power
110hp at 4000rpm
128hp at 4000rpm
110hp at 4000rpm
Torque
240Nm at 1750rpm
260Nm at 1900-2700rpm
240Nm at 1750rpm
Transmission
6-speed manual
6-speed manual/6-speed automatic
6-speed manual
Fuel efficiency (ARAI)
19.39-20.45kpl
19.6kpl/17kpl
19.91kpl
Equipment
A USP of the Kicks is that Nissan has equipped it with a segment-first feature – a 360-degree camera – at least in the top-spec trim. Other than that, the Kicks is as well equipped as its rivals, sporting four airbags, ABS with EBD, hill-start assist, rear fog lamps, an 8.0-inch touchscreen infotainment system with Android Auto and Apple CarPlay, LED headlamps, leatherette upholstery, cruise control, push-button start, automatic headlamps and wipers. The top-spec Creta gets six airbags, a sunroof and a power adjustable driver's seat, but does miss out on LED headlights. The Captur, even in the top-spec diesel Platine, gets just two airbags, but does have comparable creature comforts, baring the sunroof.
Equipment
Nissan Kicks
Hyundai Creta SX (O)
Renault Captur Platine
LED headlamps
Yes
No
Yes
Touchscreen infotainment
8-inch
7-inch
7-inch
Apple CarPlay/Android Auto
Yes
Yes
No
Alloy wheels
17-inch
17-inch
17-inch
Airbags
4
6
2
Cruise control
Yes
Yes
Yes
Sunroof
No
Yes
No
Is it competitive?
Thanks to the 1.4-litre engine option, the Creta's diesel range starts at Rs 9.99 lakh – prices for the 1.6-litre diesel start at Rs 13.36 lakh and go up to Rs 15.64 lakh. The petrol range starts at Rs 9.60 lakh and goes up to Rs 14.15 lakh. While the base petrol variant of the Creta is priced close to the Kicks and the base diesel undercuts the Hyundai's rivals, top-spec trims of the Creta, both petrol and diesel, are more expensive.
The Captur's petrol variants are priced between Rs 9.99 lakh and Rs 11.46 lakh, while the diesels cost between Rs 10.99 lakh and Rs 13.25 lakh. An interesting point to note is that the top-spec Platine variant is only available on the diesel Captur, which means the petrol Captur misses out on features like leather seat upholstery, two addition airbags, ESC and hill-start assist.
Like the Captur, petrol variants of the Kicks are not available in the top-spec XV Premium + variant. While the petrol Kicks' price tag undercuts its competition it misses out on equipment like a 360-degree camera, two more airbags, leather upholstery, cruise control and more. However, the lower variants of the Kicks are well-equipped for the price. Prices for the diesel variants of the Kicks do undercut the Hyundai Creta diesel's but are above each respective variant of the Renault Captur.
On paper, it seems like Nissan has a well-kitted and decently priced SUV. Whether it is enough to take on Hyundai's Creta remains to be seen. Only a proper comparison will tell.
Also see:
Nissan Kicks launched at Rs 9.55 lakh
Nissan Kicks price, variants explained
2019 Nissan Kicks India review, test drive
2019 Nissan Kicks India image gallery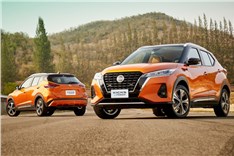 2020 Nissan Kicks e-Power image gallery
6534 Views|2 years ago
2019 Nissan Kicks India image gallery
28498 Views|3 years ago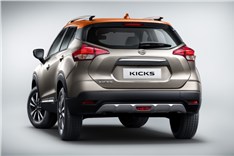 2019 Nissan Kicks image gallery
37227 Views|3 years ago