The 4.7 metre long Tiguan Allspace is an SUV that takes its time to work itself under your skin; it's so much more than just a 7-seater.
Volkswagen: German premium and luxury carmaker, one of the largest and most successful carmakers in the world, one with a long string of successful models.
Now, logically, you'd think, Volkswagen cars should have near-instant appeal, and you'd be right. But no. Since its cars are subtle, understated and anything but in your face, they are more 'slow-burn' than 'wow', and take their time to work themselves under you skin. This is something we have experienced in the past. So, the more time you spend with them, the more you drive them, the more you sit in them, the more you interact with the cabin, the more you experience the quality, the more you appreciate their subtle but not-inconsiderable charms.
In a way, it's business as usual when it comes to Volkswagen's Tiguan Allspace. A car we sort of already know well, as it is based on the regular Tiguan, the Allspace again isn't a Volkswagen you warm up to instantly. This part is due to its import car sticker price of Rs 33 lakh, which seems expensive for what you get, and then there's the fact that the third row, the reason it sort of exists in the first place, is tighter than that old pair of Levi's 501s you have somewhere in the back of your cupboard.
In The Box: The jump seats are tiny and placed on the floor.
True to form, however, the Allspace has started worming its way under my skin. First up, after spending a few days with the car, you soon realise that the Allspace is considerably bigger than the regular Tiguan, a car we tend to sub-consciously slot it in for size with. It's almost a foot longer, and a considerable 4.7 metres in length; take a look at just how long the doors are. The rear overhang is also considerable.
Micrometre Precise: VW's build on the Tiguan transcends its price point.
This is perfectly illustrated as I look down upon the Tiguan Allspace, parked right next to a five meter long Mercedes E-class in the belly of the Mumbai to Mandwa ferry: sure does put things in perspective. There's considerably more space in the second row when the bench is pushed all the way back; the wheelbase is 110mm up on the regular Tiguan. And let's face it, VW's seats are among the best around. Wide, long, and superbly supportive, the leather-clad front seats are a class act. I feel I could spend days here, and not feel worse for wear. And this is true of the second row too. Thing is, these big seats take up a lot of space. They are long in squab (edge of the seat to the seat back) and they are built so robustly, the backrests feel like they are a foot thick. This is why the third row is best folded down into the floor and used as luggage space. Haven't subjected anyone to solitary confinement or the third row yet; will tell you how that goes.
With the rear seats folded, there's a decent amount of boot space.
Spending the Diwali weekend in Alibaug, across the harbour from Mumbai, also highlighted just how at home the Allspace feels in our conditions. It isn't the widest SUV around, and that's perfect for ducking in and out of narrow dirt tracks and gravel paths. The light steering isn't ideal on a winding road and you do crave a bit more connection even in 'Sport', (oddly selected via the button on the four-wheel-drive knob), but for ducking in and out of these small lanes and for city traffic in general, the light helm is just right. And while a bit more initial urge would have been nice, the quick-shifting twin-clutch gearbox and zingy 2.0 TSI more than make up when you put your foot down.
It isn't too wide; perfect for the narrow dirt roads in Alibaug.
Must say I also really do like the deep bass and clarity of the audio system, and the classy manner in which the touchscreen functions is also deeply impressive. The screen is sharp and quick to respond, the interface is minimalist and slick, and while the shiny black surround does pick up a lot of fingerprints, the centre console does look fresh and modern. And yes, while the Tiguan isn't cheap, at Rs 33 lakh, the cabin is so well put together and built, it could easily pass muster on a Rs 50 lakh car.
Sharp And Slick: The quality of the screen is so good, the dials look real at times.
The ride at low speeds is stiff, however. And this only gets worse when you pump the tyres up for four passengers and a boot full of luggage. The Tiguan also misses out on in-fashion features like cooled seats and wireless charging. It does get an excellent four-wheel-drive system and a mode selector for different surfaces, there's a three-zone air con (important when you are married), hands-free park assist, a nifty rechargeable magnetic flashlight, a driver knee airbag, auto braking at low speeds (especially during parking) and, important in our conditions, front underbody protection.
Stiff Kneed: For such a large, heavy SUV, the ride feels a bit stiff at low speeds.
It is only early days, but already VW's Allspace is steadily moving up the ranks.
Also see:
Volkswagen Tiguan Allspace review, test drive
Volkswagen to exit motorsport overseas; India programme not affected
2020 Volkswagen Polo GT TSI video review
Hyundai Grand i10 Nios Turbo vs Volkswagen Polo 1.0 TSI comparison
Volkswagen ID Xtreme concept image gallery
2480 Views|2 months ago
2022 Volkswagen Virtus image gallery
23970 Views|8 months ago
2019 Volkswagen Virtus image gallery
48073 Views|3 years ago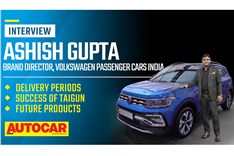 VW's Ashish Gupta on success of the Taigun, brand's futur...
2224 Views|1 month ago
VW Taigun, Skoda Kushaq crash test video
5473 Views|1 month ago
2022 Volkswagen Virtus 1.0 TSI MT video review
7710 Views|4 months ago