Ford's compact SUV slotted into our daily lives seamlessly and was a pleasure to drive.
Ford's attractive-looking EcoSport continues to be a popular and consistent seller. This, despite the fact that it first went on sale almost seven years ago. So, what is it that keeps customers coming back for this facelifted version, and does our automatic-equipped EcoSport still have something extra for those of you who enjoy 'wheel time' more than others? It's time to tabulate all the pluses and minuses we've gleaned after a year of it being in our fleet.
Nothing like taking a quick refresher drive, so it's key in pocket, and out for a quick spin.
First up, that door 'thunk'. Absolutely love it. It speaks volumes about the Ford's solid build and delivers plenty of confidence. And isn't it good to know you have some amount of protection if someone comes at you at a right angle.
Also, the more I use these seats, the more I like them. And that's especially true on this version. They are not just comfortable, with a wide base and good support; they also look good, especially with the horizontal ribs making them look sporty and inviting. Wish there was more width in the footwell, though; it narrows and, in places, restricts movement. This becomes apparent at times, on long drives.
No App-riciation: Apple CarPlay, Android Auto now missing; shouldn't there be an option to install?
Must say, I've grown to like the easy-to-use touchscreen too. My phone always pairs easily, the screen is responsive and while the design of the interface isn't the most sophisticated, it is clear and effective. Also, I like the fact that Ford's audio systems always sound clear, punchy and loud. I've often found myself cranking up the volume and really enjoying my music.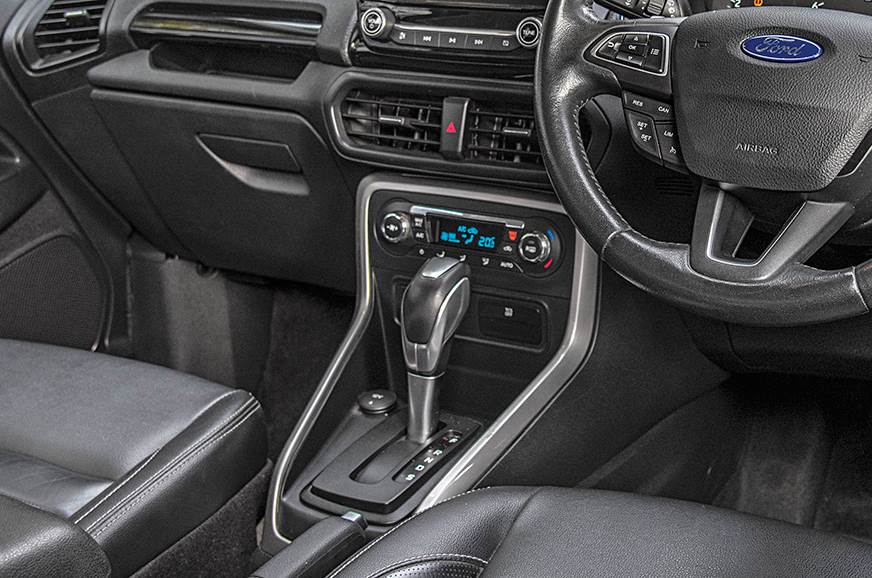 Symphony In Black: All-black cabin is meant to look sporty; but the hard plastics show up instead.
While the updated cabin looks better, many of the plastics feel hard. There's no doubt the cabin seems to have aged. This is especially true when you look at the area in and around the glove box. And the more I look at the bare instrument panel, the more I am puzzled by its unfinished look. Also, if you're planning to go on vacation in this SUV, make sure you remind all your passengers to carry only one soft bag: the boot is not large, by any stretch. And since it uses vertical space, once you've loaded it, getting something out is particularly difficult. Had bags topple out onto a rainy highway once; not nice.
I do like the compact size of the EcoSport though, especially when making my way through traffic. Also, since you are perched relatively high, you also have a good view out; makes driving through traffic so much easier. The A-pillars do impinge, though, and take some getting used to.
Smooth Operator: It spins so seamlessly, you'll never guess there's a three-cylinder engine under the hood.
The best bit about the EcoSport, however, is just how well it drives, and this is at all speeds and in almost all conditions. The torque-convertor automatic gearbox gives you a strong, smooth take off from the lights, progress is hesitation-free, and since the 123hp Dragon petrol engine has plenty of oomph, you always seem to have plenty of reserve under your right foot. This makes the EcoSport keen to take off when the traffic thins, and what makes the experience even nicer is that the 1.5 Dragon engine enjoys spinning fast too. Smooth, torquey and willing to rev, it has the ability to elevate your daily commute. And because it has a balancer shaft, you just can't tell it's a three-cylinder engine. Even the well-weighted steering has loads of feel and, like almost every Ford, the EcoSport has the ability to help you enjoy a winding road. The automatic gearbox has an 'S' or Sport mode, which makes throttle responses feel even more robust. However, It doesn't like to be hurried too much when the engine is spinning fast; which comes into focus when you use the paddleshifters. But that apart, the EcoSport aces the driving experience.
Talk To Me: Communicative and very direct steering helps elevate your everyday driving experience.
Even the ride is comfortable on these larger 17-inch rims. There is some of up and down movement and stiffness at low speeds, but once you are past walking speed, the ride settles down nicely. While some customers have complained of sidewall damage or blistering on these 17-inch rims, we've always maintained the correct air pressure and had no such problems; and that's despite throwing the EcoSport over every poorly paved road we've encountered.
The EcoSport facelift still looks good too. The chromed-over hexagonal grille is more impactful than the earlier two-part grille, the stubby dagger-like headlights and big fogs work well with the grille, and I even like the fact that the roof-rails are finished in shiny stuff... they go well with the bling in the headlights.
During our tenure, the battery died once. While that was down to us parking the car for an inordinately long time, the Ford recovery guys arrived in a flash – faster than some food delivery guys, according to one of our testers. Due to Mumbai's start-stop traffic and our press on driving style, fuel economy hovered between 7.5 and 10.5kpl, depending on the driver and conditions.
The Ford EcoSport, even in automatic form, remains the nicest-to-drive compact SUV there is. The design has a chunky, robust appeal and since Ford has just introduced a new, more affordable variant of the EcoSport automatic, you can now get even a well-equipped Titanium trim – which also gets the brand's connected-car tech or Ford Pass – for an ex-showroom price of Rs 10.67 lakh.
Also see:
2019 Ford EcoSport long term review, third report
2019 Ford EcoSport long term review, second report