Isn't it something that a six-year-old model still elicits such an excited reception?
Would you believe that the Ford EcoSport is six years old? Think about it. The Ford preceded all its current compact SUV rivals like the Maruti Suzuki Vitara Brezza, Tata Nexon and Mahindra XUV300 by a good few years. Yet, here we are in 2019 and I'm still excited and looking forward to my time with the new joinee in the Autocar India fleet. 2017's comprehensive update sure added life to the EcoSport.
Ours is a petrol-automatic EcoSport in the high-spec Titanium+ trim. It's come to us with just under 11,000km on the odo. That's 11,000 'auto journalist' kilometres which, by my calculations, equals 22,000 regular kilometres. The good news is, the EcoSport is still feeling tight like a drum. There are no squeaks or rattles, and the tough build has always been one of the hallmarks of the EcoSport. I like that the doors feel slightly heavy and I like the sense that I'm in something that's made from a thicker grade of steel than the average mass market car.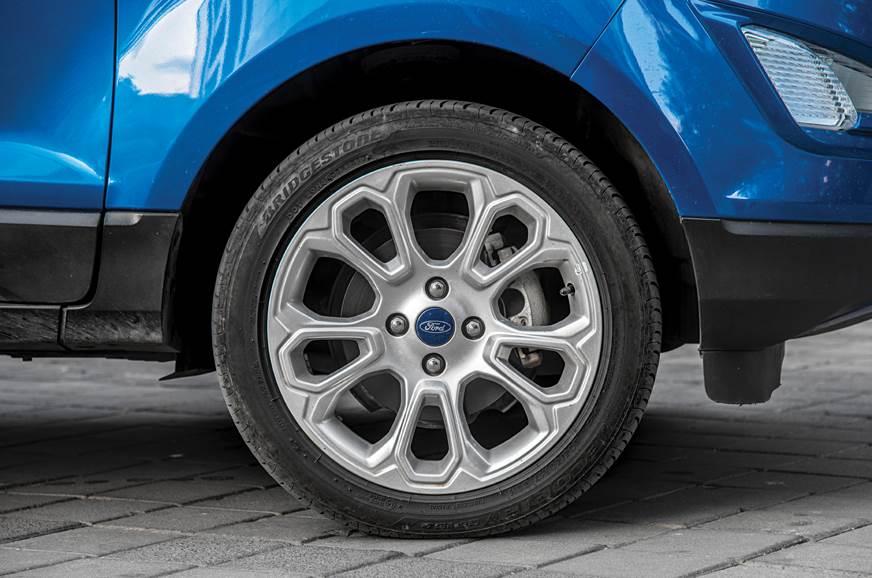 Titanium+'s 17-inch rims look sleek but low-profile rubber calls for caution.
My fondness for the EcoSport also has much to do with the way it looks. It's got a funky air to it and, to me, the spare tyre on the tailgate looks really cool. Ahem, I'll update you as and when I have a puncture; I remember dis-mounting and re-mounting the spare to be a chore. While on the subject, I have to make public I'm a sucker for wheels. To me, the design of the alloys can make or break the whole look of a car. Ford has a good track record in this department. The diamond-cut rims on the EcoSport Signature edition and the smoked ones on the EcoSport S look particularly sexy, and I'm quite taken by the ones on our Titanium+ car too. However, the 17-inch rims and the 205/50 R17 tyres they come wrapped in have got a bit of flak, with owners reporting blistering and sidewall damage. The Bridgestone Ecopias on our car have worked fine so far though I do consciously take it easy on jagged edges and broken roads. There is a bit of firmness to the ride too, but hey, what's a bit of pitter-patter when the wheels looks so damn good?
EASY DOES IT: Torque converter auto is way smoother than rival's AMT units. Paddleshifters are a boon.
Our EcoSport has spent the bulk of its time in congested Mumbai traffic. The going has been slow but relatively easy, all thanks to the smooth torque converter automatic. Initially, I did find the gearbox a bit overeager in its torque build-up, but I've since learned to be gentle with the throttle when starting from a halt. Gearshifts are smooth, performance is fine and there's little noise of that characteristic thrum to tell you there's a three-cylinder engine up front. However, the slow speeds and constant start-stop driving have taken their toll on economy. We've got 7.4kpl in chock-a-block city conditions. I do expect this to improve dramatically once the EcoSport gets a chance to stretch its legs outside of the everyday grind. I'm also looking for some seat time on good driving roads where I intend to make the most of the paddleshifters. A road trip to Goa in the rains sounds about right.
IN SYNC: 8.0-inch touchscreen is super slick. Bonus points for how quick it pairs with phones.
I like what Ford did with the EcoSport facelift's interior, but more than all else, I'm a fan of the new touchscreen infotainment system. The 8.0-inch screen is large and its high-set position makes it easy to glance at for navigation instructions every now and then. The system is also super quick to pair via Bluetooth and the screen's responsiveness is slick too. I've not tried the Hyundai Venue's connectivity-rich unit as yet but to me the EcoSport's system is the benchmark by which it will be judged. It's also thoughtful of Ford to include a second USB port up front, which gives the flexibility to juice up a second device, while the primary one is plugged in to use Android Auto.
DO YOU SEE WHAT I SEE?: Thick A-pillars create large blindspots. You'll have to peer over them quite often.
Of the other things, I'd bring up our car's plain-looking instrument cluster, but to Ford's credit, it recently upgraded the unit with a larger MID and new dials. What remains are some time-honoured EcoSport flaws. The thick A-pillars mean you have to do a double take at crossroads. Also, as before, high-spec EcoSports that get six airbags miss out on roof-mounted handles; I've had more than one passenger complain about this; and the side-hinged tailgate isn't a mall or hotel security person's favourite either because it opens so very wide. Sadly, the tyre-pressure monitoring system on our car has packed up.
GET A GRIP: EcoSports with curtain airbags don't get grab handles, so prepare your passengers.
The rains are upon us and there's confidence in knowing the EcoSport is Mumbai monsoon-ready. Its 550mm wading depth will come handy when others will be pussy footing through the undoubtedly submerged roads. Something tells me, I'm going to enjoy my time with the Ford.
Click here for Ford EcoSport prices, reviews, images, videos and more
Click here for Ford India models, prices, reviews, images, videos and more