Our EcoSport hasn't seen much action of late, but the ownership experience hasn't exactly been uneventful.
Blame it on the arrival of a volley of new cars and the travel related to their launches and media drives, or even the testing back home at Autocar India HQ, our EcoSport hasn't seen much action since the last report in June this year. The odo has just crossed 15,000km, which works out to less than 4,000km in 6 months. Unfortunately, one particularly long spell of no use resulted in the EcoSport's battery running out of juice. This being an auto, there was no option but to call for help to get it going. Ford's toll-free helpline was summoned and, to my genuine surprise, help came within half an hour of the call. Heck, food delivery takes longer! Following the technician's arrival, the car was jump-started and good to go in a matter of minutes. The whole experience left a very sweet after-taste, I can tell you that.
PLUS/MINUS: Auto shifts are nice and it's also fun to take manual control via the paddles every now and then.
After every spell away from the EcoSport, I do have to find my bearings in the car. And that's not for any fault of the EcoSport's. For some reason, I still associate cars from Ford to have a left-hand-drive orientation for the stalks (right stalk for wipers and left for lights), even though the carmaker switched to the more familiar right-hand-drive orientation for India years ago. Muscle memory in action I guess. What does make the reorientation programme a whole lot easier is the superb 8.0-inch touchscreen infotainment unit. I particularly love how quickly my phone pairs with the system. Sadly, there are differences between the infotainment units on our long-term EcoSport Titanium+ and the updated Titanium+ on sale today. Yes, you now get a larger 9.0-inch screen, but there's no Android Auto or Apple CarPlay which, to me, is a really disappointing omission. There's no tyre pressure monitoring system either but that's not something I'd miss; our car's TPMS has malfunctioned repeatedly. The rich-looking leatherette upholstery on the (ahem) form-fitting seats is gone too.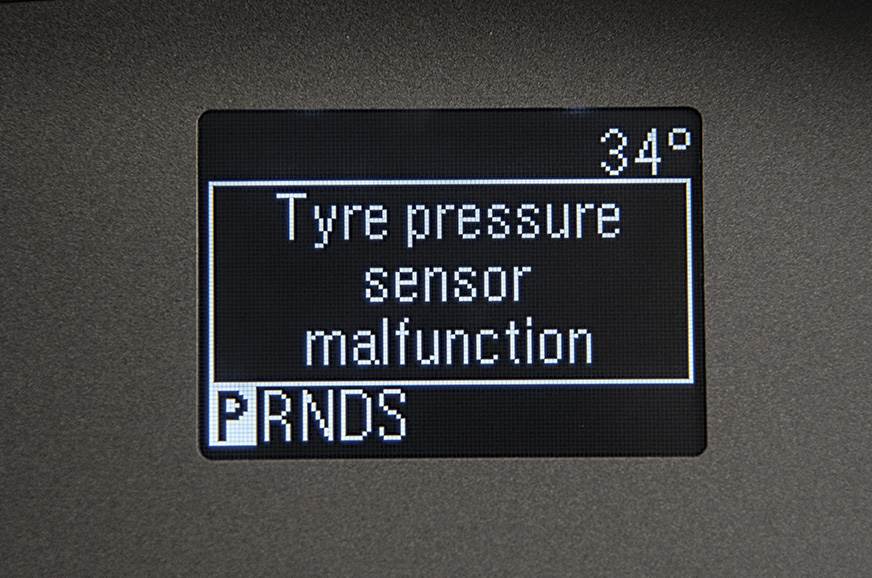 TOO TYRED: The temperamental tyre pressure monitoring system seems to have finally packed up.
Ford has also reverted to smaller 16-inch rims on newer versions following complaints of tyre damage on the 17-inch rim-equipped EcoSports. I've not faced an issue with our car's 17-inchers but, subconsciously, I tend to be extra cautious on Mumbai's perennially under-repair roads. With the metro and monorail networks, and new flyovers in concurrent development, the roads and traffic are the worst they've been. And the sad side effect is fuel economy. The EcoSport's been averaging 7.5kpl with the instant economy readout swinging between the high 9s and low 6s.
WARM EMBRACE: 'Healthier' occupants might not readily take to bolstered front seats. I talk from experience.
Still, this is a car I look forward to driving each time. I like the engine's josh, the convenience of the auto (at its smoothest, with well-modulated accelerator inputs) and the option to play boy racer, courtesy the paddleshifters. That fluid steering is a big strength too. And even so many years on, the EcoSport's chunky shape, spare wheel on boot and all still do it for me. Now if only I could get some quality time with it.
Also see:
2019 Ford EcoSport long term review, first report
2022 Ford Everest image gallery
35096 Views|1 year ago
2022 Ford Ranger Raptor image gallery
9401 Views|1 year ago
2022 Ford Bronco Raptor image gallery
13311 Views|1 year ago