Yezdi has filed a trademark for its upcoming motorcycle, the Roadking.
The motorcycle was spotted testing back in March 2021

Yezdi has also applied for the website name trademark

Expected to be the first offering from Yezdi
Back in November 2018, Classic Legends had announced that it was working on a Yezdi comeback. A government website now reveals that the company has filed for a trademark for the Roadking name and the yezdiroadking.com URL. While the trademark still hasn't been passed, it reveals part of the revival plan.
A few months ago, what looked like a Jawa-powered scrambler was spotted in action. While it featured an identical radiator and engine head design, the lower casing had the distinctive Yezdi stripes. While Classic Legends did a remarkable job at recreating the old-school Jawas' visual appeal, it looks like their approach is slightly different with the Yezdi brand.
The spy shots reveal that the company is going for a modern-day scrambler, featuring a narrow, short tail, a tyre hugger, tall handlebar and a flat seat. However, the test mule did not appear to be close to production-ready, which means a lot could change by the time it makes it to production.
2021 Yezdi Roadking: launch
It was only a few months ago that the motorcycle was seen in the early stages of testing and the pandemic is only expected to have delayed plans further; the trademark applications also haven't received the 'passed' status. All of this could mean that the upcoming motorcycle is still some time away. That said, we were given to understand that the Yezdi brand could be launched this year. Whether it will be with this bike or something else remains to be seen.
Also see:
2021 Jawa Forty Two review, test ride
Yezdi Bikes
Yezdi Adventure
₹ 2.57 - 2.65 lakh
Yezdi Roadster
₹ 2.33 - 2.51 lakh
Yezdi Scrambler
₹ 2.49 - 2.56 lakh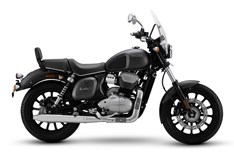 Yezdi Roadster image gallery
8164 Views|1 year ago
Yezdi Scrambler image gallery
4640 Views|1 year ago
Yezdi Adventure image gallery
5098 Views|1 year ago