UM's latest motorcycle is an obvious copy of the KTM 200 Duke
Published On Apr 20, 2018 12:43:00 PM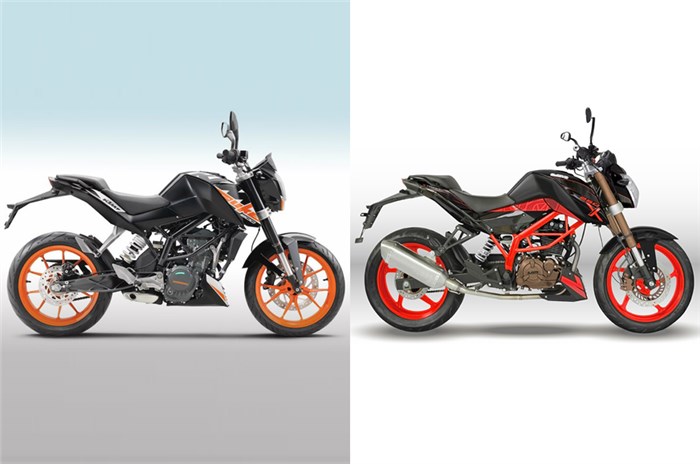 The new Xtreet 250X emerged on UM's international website as a replacement to the Xtreet 230 R.
It's said that imitation is the best form of flattery, but UM Motorcycles has taken the same to a completely different level. UM recently updated its international website and there's a new entrant to its portfolio – UM Xtreet 250X. As you can see, the styling of the new Xtreet 250X hasn't simply been inspired by the KTM 200 Duke, but instead, it's an outright copy of the Austrian motorcycle! The fuel tank profile is almost identical, while the split-seats and tail section look as if they have come straight from KTM's part bins. The trellis frame and belly pan design are also highly similar.
The components that do seem to have received some original design work include the exhaust muffler, headlight and alloy wheels. Where the KTM 200 Duke employs a liquid-cooled motor, the Xtreet 250X uses an air-cooled engine, probably to keep costs low. While it's called the Xtreet 250, the bike is powered by a 223cc, single-cylinder motor delivering 16.5hp at 6,600rpm and 19.6Nm of peak torque arrives at 5,100rpm (the KTM 200 Duke gets 24.6hp and 19.2Nm). The engine is mated to a five-speed gearbox. The UM Renegade Duty S and Duty Ace, which were launched at the 2018 Auto Expo also employ a similar 223cc mill. In this application, the single-cylinder engine makes 17hp at 8,000rpm and 17Nm of torque at 5,000rpm. Similar to the KTM offering, the UM Xtreet 250X features a USD fork at the front and a monoshock unit at the rear.
UM India's portfolio consists of only cruiser motorcycles and it's highly unlikely that it will get the Xtreet 250 to our market given the stringent intellectual property laws. It will be interesting to see how KTM reacts to this motorcycle, and at the very least, this move is going to have a negative effect on UM's brand reputation. What's your take on the UM Xtreet 250? Please share your opinion in the comments section.
Also see:
UMRenegade Thor electric bike launched at Auto Expo 2018
2017UMRenegade Commando Classic review, road test
2017UMRenegade Commando Mojave, Classic review, test ride
What do you think about this News