Road safety is increasingly becoming a hot topic in India, especially with the country aiming to reduce road fatalities by 50 percent by 2025, and bring the figure down to zero by 2030. If India is to stand a chance to achieve the ambitious goal, then two-wheeler safety warrants a greater attention.
Two-wheeler riders accounted for 37 percent of road accident fatalities in 2019
80-90 percent of private automobiles sold in India are two-wheelers
Rising costs, owing to new safety features, have impacted demand
Speaking on the topic at the recent 'Safer Mobility Conclave' organised by our sister publication, Autocar Professional, Rakesh Sharma, Executive Director, Bajaj Auto, said, "When you see the accident or fatality contribution, (a large part of it) is actually from the two-wheeler segment and so, that voice needs to be brought into the public policy at an early stage."
He commented that the agenda of road safety generally tends to be set by the four-wheeler segment, and that the requirements of the two-wheeler industry should have more weightage. "When it comes to two-wheeler manufacturers, it (safety) is not just an attribute, it's an existential issue," he added.
Road fatality risk for two-wheeler riders is 20 times higher than for car drivers
In 2019, India reported 4,49,002 road accidents, which resulted in 1,51,113 fatalities – the highest for any country in the world. Two-wheeler riders accounted for as much as 37 percent of the deaths, with pedestrians and four-wheeler occupants making up for about 17 percent and 16 percent of the total casualties, respectively. "The (accident/fatality) numbers are overwhelmingly contributed by the two wheeler segment," said the senior executive from Bajaj.
Sharma, who is also the President of IMMA (International Motorcycle Manufacturers Association), continued, "Most of the time, the two-wheeler rider is the victim, and this is a phenomena across the world. There are studies which tell us that a two-wheeler rider is about twenty times more likely to lose his life than an occupant of a car."
This has grave consequences for the two-wheeler sector. "There is a segment of potential customers who don't buy a two-wheeler because they consider it an unsafe option." He added, "Providing a safe experience is an existential issue for a two-wheeler company and the business is critically dependent on it."
Two-wheelers account for majority of private vehicles in India
With a career which began in the two-wheeler industry, C V Raman, currently the CTO of Maruti Suzuki, brought in an additional perspective. "I strongly believe that India is very unique. When you look at the regulations forming in Europe, Japan or the USA, 80-90 percent of the vehicles are four-wheelers, and very niche lifestyle vehicles are the two-wheelers. India is just the reverse in terms of the overall automotive production, usage and vehicle park," he said.
Putting it in numbers, India saw sales of 1.51 crore two-wheelers in FY21, compared to about 27 lakh passenger vehicles. "So two-wheelers are a very important aspect," he added. Consequently, better representation of the two-wheeler industry is crucial, right from the initial stages of a road safety framework.
Adding excess costs to up safety could be counterproductive
The cost of safety features is another metric which needs to be factored in. "The cost-benefit (analysis) has to be carefully done so that the delta cost is kept within reach. Otherwise, we may feel very righteous about these (safety upgrades), but we may not be able to make the desired impact which we want to have," said Bajaj's executive director.
For instance, April 2019 saw ABS become compulsory for all two-wheelers with an engine capacity of over 125cc. As a result, many models received a price hike of approximately Rs 5,000-8,000, a significant amount for the commuter segment.
Rising costs, bundled with other factors, led to a decline in two-wheeler sales in FY20 to 1.74 crore units, from a peak of 2.12 crore units in FY19. The shift to BS6, along with the COVID pandemic, saw the figures further slip to 1.51 crore units in FY21, which is lower than even the FY15 numbers (1.60 crore units). With demand already suppressed, adding excessive costs could be counterproductive and as such, the safety quotient of two-wheelers needs to be improved with much more prudence.
"My worry is that if we simply take regulations which are evolving in different parts of the world and bring them here, it just raises the cost, prevents the adoption and hits the industry. This has been the case, for example, with ABS on 150cc (two-wheelers) – nowhere in the world has this been done," said Sharma.
He added, "It's a tricky balance. In the end, if loading a vehicle with higher technologies, retards the adoption of the vehicle because of cost, then the whole purpose gets defeated. So the balance has to be carefully worked out."
Also see:
Government to set up new National Road Safety Board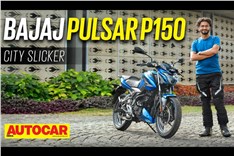 Bajaj Pulsar P150 video review
4371 Views|3 months ago
2022 Bajaj CT 125X video review
6779 Views|4 months ago
2022 TVS Apache RTR 160 4V vs Bajaj Pulsar N160 compariso...
19790 Views|6 months ago