Revolt has just launched the RV 400 and with it, a second model called the RV 300. The two are largely similar in terms of features, but the RV 300 sports a smaller battery and motor. We rode the RV 400 and considering it uses a single-speed gearbox, it's a lot like riding a scooter. The RV bikes also use a hand-operated rear brake lever instead of a foot-operated one like you'd usually see on a motorcycle. In effect, it's similar to a scooter to ride, so we've decided to pit it against two more established electric scooters in the market – the Ather 450 and the Okinawa i-Praise.
Availability and cost
We usually address this towards the end of our comparisons, but the Revolt offerings follow a very interesting pricing structure that also illustrates the differences between the two RV 400 options. This pricing format allows you to own the RV 300 for Rs 2,999 a month paid over three years. The RV 400, meanwhile, is available in two plans – one is a Rs 3,499 a month-plan while the other costs Rs 3,999 a month (over the same duration). The RV 400 available with either plan are identical, with the only differences being that the buyer will miss out on the customisable exhaust note and start/stop via the app on the more affordable package. This structure is unlike anything we've seen in our market before as it means you could effectively own an electric two-wheeler for as little as Rs 2,999. We did the math, and over the 36-month period, you will be paying a total of Rs 1,07,964 for the RV 300, and Rs 1,25,964 and Rs 1,43,964, respectively, depending on which model and plan you pick for the RV 400.
Revolt has also promised a battery warranty of 8 years/1.5 lakh kilometres, free maintenance benefits (3 years/30,000kms), product warranty (5 years/75,000 km) and insurance (1-year company-owned, 5-years third-party), making it an even sweeter deal. For now, bookings for the bikes have opened in Delhi and Pune with deliveries set to begin in September. Operations in Bengaluru, Hyderabad, Nagpur, Ahmedabad and Chennai are expected to follow in the next four months.
The Ather 450 is currently available in two cities – Bengaluru and Chennai. In Bengaluru, the 450 will set you back Rs 1.13 lakh and in Chennai, it costs Rs 1.22 lakh. The Ather also has a lease program that you can read about on its website. The i-Praise, on the other hand, is currently the most widely available of the lot and last we checked, the brand had over 200 authorised distributors across the country; the e-scooter carries an ex-showroom price tag of Rs 1.08 lakh.
Battery and performance
The most important parts of an EV are the batteries and motor, and on these three electric two-wheelers, they stack up pretty competitively. The Revolt RV 400 is equipped with a 3.24kWh battery pack that powers a 3kW motor. Range and performance vary depending on the three riding modes – Mode 1 that gives you an impressive range of 156km, but limits top speed to 40kph, Mode 2 that offers a 110km range with a 60kph top speed and Mode 3 will give you the least range of 80km, but with the highest top speed of 85kph.
The RV 300, on the other hand, uses a smaller 2.7kWh battery but also a motor that's half as powerful with a rating of 1.5kW. Since the motor is less powerful and draws less energy from the battery, the RV 300 offers more range but also much lower top speeds – a range of 80km in Mode 1 comes with a top speed of 65kph, 110km in Mode 2 with 45kph and 180km in Mode 3 with an extremely low top speed of just 25kph. It's worth noting that the tests for range are usually carried in controlled, ideal conditions and how these numbers translate to real world figures will be seen only once we've spent some time with the RV models. What sets the Revolt apart from the competition is the fact that its battery can be swapped out for a fully-charged one that the company will deliver to your doorstep. You also have the option to charge it yourself – the battery takes 3 hours to get to 75 percent and 4.5 hours for a full charge.
Now, onto a scooter that we have tested and spent a fair amount of time with – the Ather 450. The 450 is powered by a 2.4kWh battery that's linked to a motor producing a continuous 3.3kW of power, with the peak value rated at 5.4kW. Just like the Revolt, the Ather offers three riding modes that alter performance and range – Eco, Ride and Sport. Eco mode offers a range of 75km, Ride will take you 65km on a full charge, and Sport mode is capable of 55km. We haven't been able to put these numbers to the test, but Ather claims these are real-world numbers and the company has been rather honest about their numbers in the past. What we have had the opportunity to test is the performance (You can go here to read about all the performance numbers.) Ather has claimed a top speed of 80kph and a 0-60kph time of 3.9 seconds – numbers we achieved on our tests, too.
The last of the lot is Okinawa's top of the line offering – the i-Praise. The manufacturer has claimed some very impressive numbers and the 2.9kWh on the i-Praise is supposedly capable of a range between 160-180km – almost twice as much as the Ather 450 and even more than the RV 400, despite the smaller battery pack. However, we've never been able to test how legitimate these numbers are, so how the i-Praise's performance and range pan out in the real world remains to be seen. The motor on the i-Praise is a 2.5kW motor and this scooter, too, comes with three riding modes – Economy with a claimed top speed of 30-35kmph, Speed with a top speed of 50-60kmph and Turbo that will take you as fast as 60-70kmph.
Battery and performance
Revolt RV 400
Revolt RV 300
Ather 450
Okinawa i-Praise
Motor Power (Continuous/Peak)
3kW
1.5kW
3.3kW/5.4kW
1kW / 2.5kW
Torque
50Nm
NA
20.5Nm
NA
Top Speed
80kph
65kph
80kph
75kph
Range
150km*
180km*
75km**
160km*
Battery Capacity
3.24kWh
2.7kWh
2.4kWh
2.9kWh
Charging time (0-100 per cent)
4.5 hours
4.2 hours
4 hours 18 minutes
3-4 hours
*under ideal testing conditions
**real-world conditions
Hardware and design
If you've been following the updates on the RV 400, you probably know that it finds it has similarities with a couple of models from a Chinese motorcycle brand called Super Soco. That said, Revolt has revealed that it is working on increasing the localisation levels on the motorcycle. Both Revolt motorcycles are almost identical and compact – the RV 300 has a wheelbase that is shorter by 30mm at 1,320mm but a seat height of 826mm, which is 12mm more than on the RV 400. It also gets 10mm of extra ground clearance over the RV 400's 215mm.
Hardware like a USD fork and adjustable monoshock are common among the two models but the RV 300 gets a smaller 180mm rear disc in comparison to the 240mm unit on the RV 400. The RV 300 also gets a slimmer rear tyre profile – 110/80-17 instead of 120/80-17 – and is also lighter by 7kg at 101kg.
The two scooters in this comparison are the more practical offerings on the list – the 450 has a more approachable seat height of 765mm compared to the 800mm on the i-Praise, both are lower than the RVs'. The two also offer underseat storage – the Ather's is quite ample and we even managed to fit a small full-face helmet into it. The Okinawa's isn't as generous with only 7 litres of space. For reference, the TVS Ntorq 125 has 22 litres of boot space. The Ather uses a light-weight frame and has a kerb weight of 118kg. This is a rather impressive figure for an EV considering how heavy batteries are, but the Revolt surprisingly beats the Ather in this regard.
Design and dimensions
Revolt RV 400
Revolt RV 300
Ather 450
Okinawa i-Praise
Front Suspension
USD fork
USD fork
Telescopic Fork
Telescopic Fork
Rear Suspension
Monoshock
Monoshock
Monoshock
Twin Shock Absorbers
Wheelbase
1350mm
1320mm
1278mm
NA
Ground Clearance
215mm
225mm
160mm
175mm
Seat Height
814mm
826mm
765mm
800mm
Tyre Size (Front)
90/80-17
90/80-17
90/90-12
90/90-12
Tyre Size (Rear)
120/80-17
110/80-17
90/90-12
90/90-12
Brakes (f/r)
240mm disc / 240mm disc
240mm disc / 180mm disc
200mm disc / 190mm disc
Disc / disc
Features
Revolt has called the RV 400 India's first AI-enabled motorcycle and it comes with a host of features. Calling it Artificial Intelligence may be a bit of a stretch, but the Revolt app will let you track your bike, show real-time range based on your riding patterns, notify users about potential problems, and even allow the alteration of the artificial exhaust note. The RV 400 also gets reversible footpegs that improve ergonomics. The Revolts also come equipped with a 4G SIM card that constantly transmits information and ride statistics that can be monitored via the app.
The i-Praise's 'Okinawa Eco' app can be paired to an equivalent smartphone app, with features like geofencing, battery and trip status, and maintenance schedule details, among others. The LCD unit on the i-Praise is a simple digital cluster that displays basic information like speed, range, etc. These features, however, are eclipsed by what the Ather 450 has on offer. The scooter boasts a 7.0-inch capacitive touchscreen that also allows for navigation, can show a large amount of information regarding previous ride statistics, along with scooter diagnostics, much like what the Revolt is capable of. Ather is also continuously collecting information from its scooters to improve its scooters.
Summing it up
The Revolt bikes certainly seem like a promising deal but what remains to be seen is how reliable and efficient the company's battery swapping infrastructure and delivery system will be. That said, given the interesting pricing structure that Revolt is offering, the RV 300 and RV 400 are very lucrative propositions and if the company can get the aftersales and infrastructure right, it may just be the vehicle that pushes a lot of people towards electric two-wheelers.
Also see:
2018 Ather 450 review, test ride
Ather Bikes
Ather 450S
₹ 1.54 - 1.69 lakh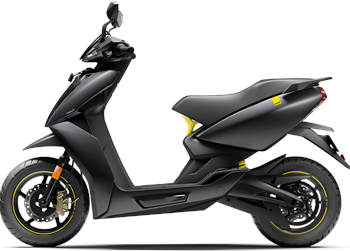 Ather 450X
₹ 1.63 - 1.64 lakh