Coming off of a promising Auto Expo 2018 outing, Piaggio India, having tasted success with the Aprilia SR 150, is betting big on the Indian market and is looking to more than double its dealer count by 2020.
Speaking to Autocar India on the eve of the 2018 Auto Expo, Diego Graffi, CEO and MD, Piaggio India, said, "Currently, as (dealership) figures are changing more or less every week, we are at around 150 outlets all across India. Our plan is to more than double it in the next 12-18 months."
However, while Piaggio is looking to aggressively expand its dealer network, Graffi maintained that the focus remains on providing a unique buying experience to the customer, which is central to its flagship Motoplex retail outlets.
"The willingness to tie up with us is increasing fast; but as we grow, we want to maintain the identity and the experience one has at a Motoplex. The matter is not only sales, not only profitability, it is to provide the customer a unique experience. That is our standard for selecting new partners", said Graffi.
At present, there are a total of five Motoplex stores all across India, with four of them located in the southern part of the country – Chennai, Hyderabad, Kochi and Bangalore. Graffi stated that demand for the SR 150 was rising quickly in certain regions down south.
"The success we got with the SR, considering how new the brand is in India, and the sales, were quite above our more optimistic expectations. In many cities, such as Goa and Bangalore, the percentage of customers looking for a riding experience like the SR can offer is growing rapidly," Graffi added.
Aprilia launched the SR 125 at the Expo and will introduce the SR 150 facelift by the middle of 2018, with the new Storm coming in towards the end of the year. The firm is also understood to be evaluating the RS 150 and Tuono 150 for India – two new motorcycles that generated plenty of interest at the Auto Expo. We expect both bikes to go on sale sometime in the middle of 2019. They'll be locally manufactured at Piaggio's plant, in Baramati. The resulting aggressive pricing will see Aprilia's bike closely rival competition, like the newly-launched Yamaha R15 V3.0.
Also see:
Aprilia RS 150, Tuono 150 first look video
Aprilia Storm 125 revealed at Auto Expo 2018
Aprilia SR 125 launched at Rs 65,310 at Auto Expo 2018
Aprilia unveils RS 150, Tuono 150 at Auto Expo 2018
Best scooters at Auto Expo 2018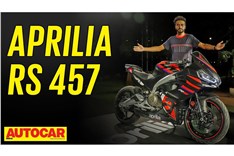 Aprilia RS 457 walkaround video
854 Views|4 days ago
2022 Aprilia SR 160 video review
7830 Views|1 year ago
Suzuki Burgman Street vs Aprilia SXR 125 comparison video
16676 Views|2 years ago