Kawasaki has unveiled a prototype of a hybrid motorcycle that could go into production in accordance with the company's 2025 plans. The manufacturer had recently announced that it would roll out 10 electrified models (hybrid or fully electric) by 2025 and have an entirely electrified lineup in certain markets by 2035.
Parallel-twin engine, electric motor

Fully electric or fully petrol modes possible

48V battery under the seat
While the three other mainstream Japanese bike makers have been decidedly quiet about large-scale EV plans, Kawasaki has been more proactive. It has openly been working on a fully electric motorcycle called the Endeavour and has now unveiled a prototype hybrid motorcycle.
By virtue of its headlight design and small parallel-twin engine, this prototype seems to be based on either the Ninja 250 or Ninja 400. To make packaging easier, it is more likely the former. Kawasaki says it has downsized the engine in order to accommodate a 48V battery and water-cooled electric motor (note the small heat exchanger below the main radiator). The electric motor can act either as a generator, topping up the battery, or as a prime mover, powering the rear wheel.
But before reaching the rear wheel, the drive will pass through a semi-automatic transmission, with gear changes seemingly executed using buttons on the handlebar. The clutch seems to be automatically actuated.
It is also possible to run the bike using exclusively the petrol engine or the electric motor (until the battery's charge is depleted), meaning that this prototype could be used in zero emission zones, albeit for short distances only.
While these are the only details available at the moment, Kawasaki's promises mean that the company is sure to be busy working on hybrids and electric bikes in the coming months and years. Stay tuned for more.
2022 Kawasaki Ninja 400 video review
6397 Views|4 months ago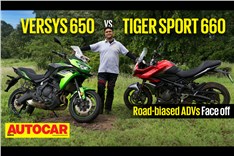 Kawasaki Versys 650 vs Triumph Tiger Sport 660 comparison...
6665 Views|5 months ago