Jawa sells only 569 motorcycles in July 2020 according to FADA data
Published On Aug 26, 2020 11:25:00 AM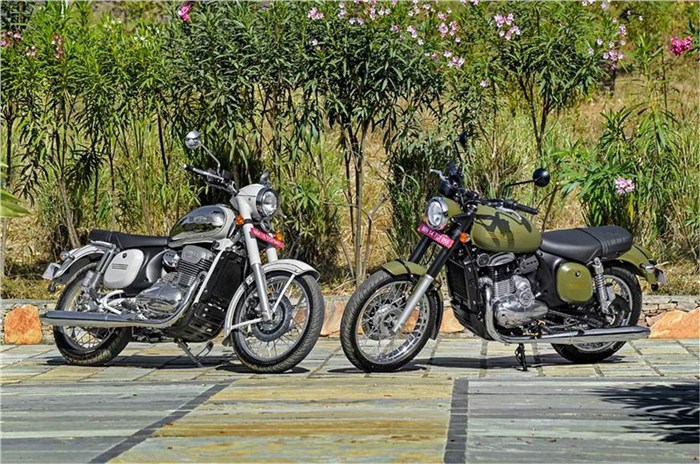 This is a near-50 percent decline in sales compared to the 991 units sold in July 2019.
It's not often we do articles on individual manufacturer sales. However, Jawa sales figures have been a complete mystery since the company stopped sharing its numbers with SIAM in April 2019. After over a year of no data, we finally have an idea of how the company has been faring thanks to the Federation of Automobile Dealers Association (FADA). The numbers don't look good.
Jawa sales account for 0.07 percent of the total market

Waiting periods continue to be long across the country

All Jawa models are now BS6-compliant
FADA's numbers indicate how many vehicles have been registered, whereas SIAM data indicates wholesale numbers from the manufacturer to the dealer. FADA data for July 2020 show that just 569 Jawas were registered in the month of July 2020. It is worth noting that the FADA numbers do not have figures from Andhra Pradesh, Arunachal Pradesh, Madhya Pradesh, Lakshwadeep and Telangana State as all these States/UT's are not yet on Vahan 4. Therefore, the actual sales number would be slightly higher than 569 units, but we will have to use this as a marker since Classic Legends refuses to share its official sales numbers.
While the current challenges have certainly contributed to this number, FADA's data for last year shows that 991 units were sold in July 2019. Interestingly, both numbers account for about 0.07 percent of the market.
Jawa recently announced that it had updated its entire range to meet BS6 norms and that deliveries of its handsome Perak bobber had finally commenced. The company even shared images on its social media pages of Peraks being delivered across numerous big cities. However, it appears that supply has dried up since those initial deliveries. We called dealers in ten major cities across India and were told that none of them had the Jawa Perak available. The waiting periods we were quoted for the new Bobber range were anywhere between two and four months.
It's been nearly two years since Jawa's grand launch in November 2018, one that created a level of online hype that has never been seen before in the Indian market. Customer interest was sky-high, and despite the claimed 100+ strong dealership network, the company appears to still be struggling to deliver bikes.
Classic Legends, the Mahindra co-owned company that owns the rights to the Jawa nameplate, was the first true rival to Royal Enfield in decades. The opportunity was and still is, huge. Unfortunately, these sales figures are a tiny fraction of the 34,313 units that Royal Enfield managed to sell in July 2020 – this despite RE facing a big drop in sales over the last year.
Also see:
Jawa working on an electric motorcycle
What do you think about this News