Pierer Mobility – the parent company of KTM, Husqvarna and GasGas – has uploaded a presentation revealing its future models on its website. The last time this happened was in December 2019, and it revealed some very interesting information. This time, too, the presentation shows us what's in store, and what really caught our attention is the arrival of a new electric Husqvarna motorcycle.
Husqvarna to launch E-Pilen electric motorcycle in 2022.

Will be manufactured at Bajaj plant in Chakan, Pune.
What will the electric Husqvarna be called?
The presentation has the upcoming electric motorcycle under the 'Performance and Urban E-Mobility' section, and is calling it the E-Pilen. Now, we've seen the 'pilen' suffix on Husqvarna's current street line-up, including the recently launched Vitpilen and Svartpilen 250. The 'E' in the name likely stands for electric.
What do we know about the bike?
The document doesn't reveal much about the upcoming model but it does confirm that the bike is in development and that it will use a modular battery system. It also mentions that the E-Pilen will be available with two electric motor options - 4kW (5.4hp) and 10kW (13.5hp). This indicates that the upcoming model will be an entry-level offering.
The presentation also has a design drawing of what the bike will most likely look like. Visually, it looks a lot like the entry level Svartpilen and Vitpilen and also sports similar hardware with a WP branded USD fork and monoshock. The bike in this particular render also features fluorescent highlights, four-spoke wheels and handguards, but it's likely these bits won't make their way to production.
When does the E-Pilen go on sale?
There's no information on how far into the development process the bike is, but the presentation does reveal that it is expected to go into production in 2022. We also know that the E-Pilen will be made by Bajaj at their plant in Chakan and that suggests we could be one of the first markets where it does go on sale.
Also see:
KTM 500cc parallel-twin to launch in 2022
Husqvarna Bikes
Husqvarna Svartpilen 250
₹ 2.17 lakh
Husqvarna Vitpilen 250
₹ 2.17 lakh
Husqvarna Svartpilen 200 image gallery
5214 Views|2 years ago
Husqvarna Svartpilen 250 image gallery
6988 Views|2 years ago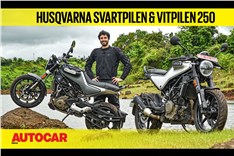 Husqvarna Svartpilen 250, Vitpilen 250 video review
17411 Views|2 years ago
Husqvarna Svartpilen 250, Vitpilen 250 first look video
23589 Views|2 years ago