There is a fairly well-established technological collaboration between Bajaj, KTM and Husqvarna in India, and the results of this alliance will soon be making an entry into the world of EVs. The companies have already agreed to jointly develop a shared platform for electric scooters, and it now seems that a Husqvarna e-scooter has been undergoing testing on our roads.
A test mule has been spotted on a couple of occasions, and while its camouflage does its job quite well, a closer look reveals some stark similarities to the Husqvarna Vektorr e-scooter concept that the Swedish brand had unveiled last year. The shape of the apron and the design of the seat and grab rail all very closely resemble the Vektorr concept. The swingarm, rear mudguard and shock absorber look quite similar, too, and while the camouflage hides some of the sharp creases in the bodywork, the overall dimensions and proportions seem to match those of the concept.
When it unveiled the concept last year, Husqvarna announced a top speed of 45kph and a range of 95km. However, the Vektorr will be based on the Bajaj Chetak platform, which itself is about to become a little more powerful as well as more localised. With that in mind, it's likely that the Verktorr could offer similar levels of performance and range as the Chetak, or that the Vektorr could be available in two or more variants, with different performance and battery specs.
Husqvarna Bikes
Husqvarna Svartpilen 250
₹ 2.17 lakh
Husqvarna Vitpilen 250
₹ 2.17 lakh
Husqvarna Svartpilen 200 image gallery
5527 Views|3 years ago
Husqvarna Svartpilen 250 image gallery
7282 Views|3 years ago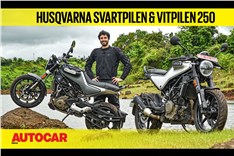 Husqvarna Svartpilen 250, Vitpilen 250 video review
18101 Views|2 years ago
Husqvarna Svartpilen 250, Vitpilen 250 first look video
23790 Views|3 years ago